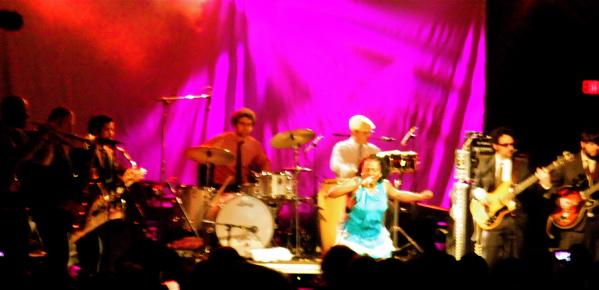 Sometimes - make that most of the time - the best thing you can do at an outsized gathering like SXSW is get away from the allegedy "must see" big shows and head out in pursuit of lesser known pleasures.
On Wednesday, I started out with four satisfyingly mellow country-rock songs at Club DeVille from Dawes - the Gram Parsons-influenced brother band led by Taylor and Griffin Goldsmith, well worth checking out. Then it was on to Wanda Jackson (see separate post here), before heading over to Stubbs for the big NPR Music show with Sharon Jones & the Dap-Kings, Broken Bells and local Austin heroes Spoon.
Sounds like a good time, right? And in the case of Jones, the Brooklyn old school R & B revivalist of the frist oprder, it surely was. That's her above, doing either the Tighten Up (in honor of Houstonians Archie Bell & the Drells), or the Funky Chicken (in tribute to Memphian Rufus Thomas). Jones & the D-Ks are a great live act, the soul revue recuscitated for a new generation, and nobody comes away from one of their shows not knocked out by her tireless energy. I Learned The Hard Way is due out April 6.
Broken Bells, the ballyhooed partnership between The Shins lead singer James Mercer and noted producer and serial collaborator Danger Mouse, a.k. Brian Burton. The BB's self titled debut is not without its charms, but it's layered tracks, delivered with a full live band, came off dull and sleepy in the extrme at the packed to the gills enormous outdoor venue, all soporific swirling light and swirling keyboards. I was hitting my first SXSW wall of the week, and if there weren't so many bodies crammed next to mine, I might have fallen flat over.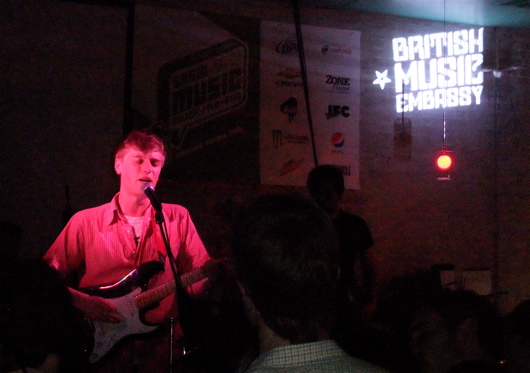 Change of plan: I forgot about Spoon - excellent band, but hardly a new story - and headed out boldly into the night. First stop, Johnny Flynn at the British Music Embassy at Latitude. I only made it for two songs, but left hungry for more. Backed by his band the Sussex Wit, and playing a little trumpet in addition to guitar, Flynn, pictured above, makes buoyant and prickly folk rock that bursts with intelligence and energy. "Pray for the people inside your head," he sang in "Tickle Me Pink." "For they won't be there when you're dead."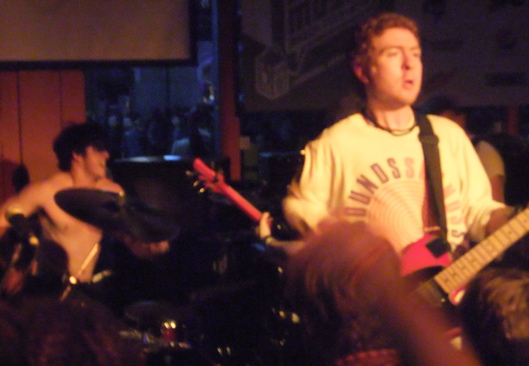 It was St. Patrick's Day - and Sixth Street was a multi-ethnic highly inebriated sea of green - so on to see one of the Irish bands playing across the street at Friends. I just went by the name - And So I Watch You From Afar - and the place of origin - Belfast, Northern Ireland. There's a whole lot of pent up rage there, I guess, or at least there is in the music made by the super-tight heavier than heavy ensemble led by Rory Friers. He may look like Danny Bonaduce, but Friers is a serious man, and the house at Friends grew more packed as ASIWYFA's set progressed, as people were pulled in off the street to see what was up with the industrial strength Fugazi worthy band inside making bodies bounce around like ping pong balls in a lottery machine.
Whew. Wide awake now. On to Galaxy to get there early for Everybody Was In The French Resistance ... NOW, the concept band led by brilliant Brit wit Eddie Argos of Art Brut, who's made an entire album of songs that answer famous pop songs - for instance "Billie's Jeans," is a reply to "Billie Jean," sung in the voice of the kid who MJ declared is "not my son" in the original. Got that? Good.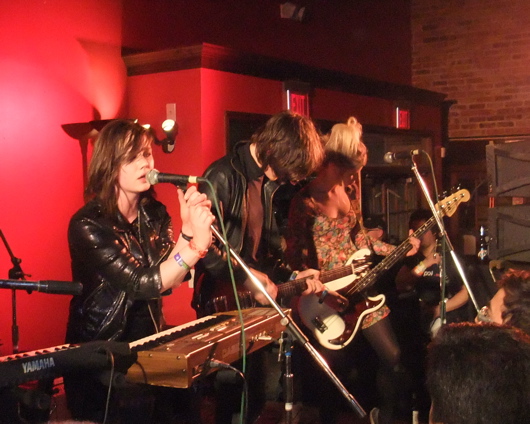 But first, a surprise treat. The preceding act at Galaxy was Elinor Rose Dougal, another Brit who I only reccognized when I got there. Dougal was one of the Pipettes, the nouveau girl-group that were a buzz act out of SXSW a few years ago. She's since struck out on her own, and her solo songs are less cutesy and coy than the Pipettes, and perhaps a little more twee as well. Quite catchy and keyboard heavy, too, and clearly the work of somebody who's got a personal vision to impart, rather than play a dress up role in a neatly packaged act. That's her on the left.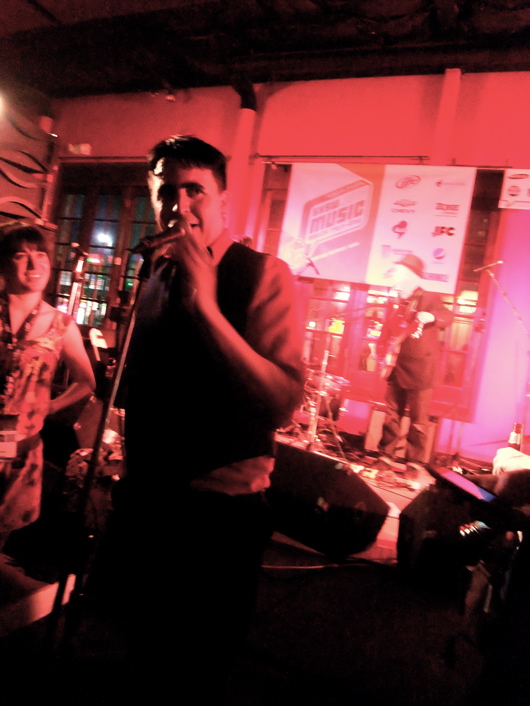 Finally, after many sound difficulties - which it's a wonder there aren't more of, considering bands are playing si bak to back 40 minute sets in any given club - EWITFR...N took the stage. Or at least two thirds of the band took the stage, while Argos played most of the show from the middle of the crowd. Partly "for dramatic effect" said the man who's at least as funny as Ricky Gervais, and partly so he could hear himself sing. He answered Kanye West's "Gold Digger," with "Coal Digger" and Bob Dylan's "Don't Think Twice, It's Allright," with his own "Think Twice, It's Not Alright," and pointed out the commonalities betwen Dylan and himself. "He can't sing and he mumbles: We're similar that way."
Argos is perhaps not quite as important in the scheme of things, but as a small crowd gathered around him in the wee hours of Thursday morning, he was a self-referential rock star of epic proportions, at least until the lights went up on the first full-on night of SXSW 2010.
Previously: Kinda Fonda Wanda