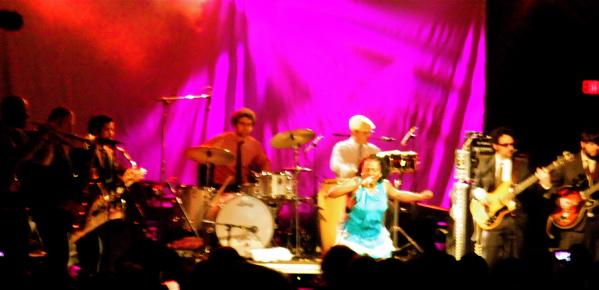 Sometimes - make that most of the time - the best thing you can do at an outsized gathering like SXSW is get away from the allegedy "must see" big shows and head out in pursuit of lesser known pleasures.
On Wednesday, I started out with four satisfyingly mellow country-rock songs at Club DeVille from Dawes - the Gram Parsons-influenced brother band led by Taylor and Griffin Goldsmith, well worth checking out. Then it was on to Wanda Jackson (see separate post here), before heading over to Stubbs for the big NPR Music show with Sharon Jones & the Dap-Kings, Broken Bells and local Austin heroes Spoon.
Sounds like a good time, right? And in the case of Jones, the Brooklyn old school R & B revivalist of the frist oprder, it surely was. That's her above, doing either the Tighten Up (in honor of Houstonians Archie Bell & the Drells), or the Funky Chicken (in tribute to Memphian Rufus Thomas). Jones & the D-Ks are a great live act, the soul revue recuscitated for a new generation, and nobody comes away from one of their shows not knocked out by her tireless energy. I Learned The Hard Way is due out April 6.