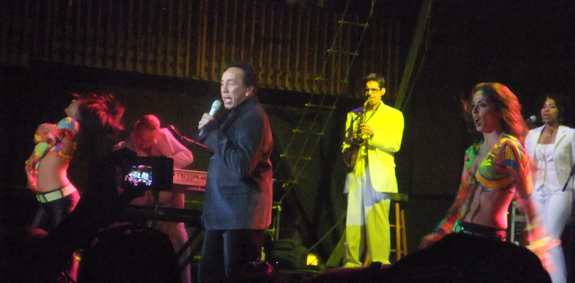 Friday seemed like a not-all-that-insanely busy SXSW day to me, but still, I did see a few things in 14 hours out on the town. In chronological order, it went: Elizabeth Cook, the film fest movie No Crossover: The Trial Of Allen Iverson, the new documentary by Hoop Dreams' Steve James which premiered in Austin), Citizen Cope (at an WXPN sponsored showcase at the Convention Center), Elevators, Courtyard Hounds, Hole, Billy Bragg, Black Joe Lewis, Smokey Robinson, Quasi, Courtyard Hounds again, Rye Rye (the subject of a separate post to come) and Nneka.
Here's a selective sampler, starting with Smokey. The man Bob Dylan once called "the greatest living poet" was interviewed by Dave Marsh for a SXSW keynote on Thursday, and was the centerpiece of a fairly awesome R & B bill at the Austin Music Hall on Friday that also included Mayer Hawthorne, Lewis and his Honeybears, Raphael Saadiq and Sharon Jones & the Dap Kings.
Robinson's polished stage show - that's his "Going To a Go-Go" opener above - is way slick by SXSW standards, and you might wonder: What on earth is a 70 year old mainstream legend like Smokey Robinson doing at a indie-centric (albeit ginormous) festival like SXSW? The answer, of course, is that he's doing business. Robinson went into the indie label business himself last year with his album Time Flies When You're Having Fun, and he fits quite well into the esteeemed elder statesman category that has previously beeen occupied here by Robert Plant, Quincy Jones, Pete Townshend and Lou Reed.