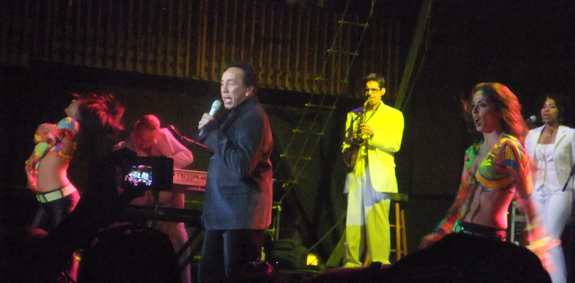 Friday seemed like a not-all-that-insanely busy SXSW day to me, but still, I did see a few things in 14 hours out on the town. In chronological order, it went: Elizabeth Cook, the film fest movie No Crossover: The Trial Of Allen Iverson, the new documentary by Hoop Dreams' Steve James which premiered in Austin), Citizen Cope (at an WXPN sponsored showcase at the Convention Center), Elevators, Courtyard Hounds, Hole, Billy Bragg, Black Joe Lewis, Smokey Robinson, Quasi, Courtyard Hounds again, Rye Rye (the subject of a separate post to come) and Nneka.
Here's a selective sampler, starting with Smokey. The man Bob Dylan once called "the greatest living poet" was interviewed by Dave Marsh for a SXSW keynote on Thursday, and was the centerpiece of a fairly awesome R & B bill at the Austin Music Hall on Friday that also included Mayer Hawthorne, Lewis and his Honeybears, Raphael Saadiq and Sharon Jones & the Dap Kings.
Robinson's polished stage show - that's his "Going To a Go-Go" opener above - is way slick by SXSW standards, and you might wonder: What on earth is a 70 year old mainstream legend like Smokey Robinson doing at a indie-centric (albeit ginormous) festival like SXSW? The answer, of course, is that he's doing business. Robinson went into the indie label business himself last year with his album Time Flies When You're Having Fun, and he fits quite well into the esteeemed elder statesman category that has previously beeen occupied here by Robert Plant, Quincy Jones, Pete Townshend and Lou Reed.
At the Music Hall, Robinson was much more energetic on stage than I would have guessed, and he showed he's got enough of his vocal range left to put over the parade of hits he wrote for himself and others, from "You Really Got A Hold On Me," to the Temptation's "The Way You Do The Things You Do." And he seemed genuinely moved by the sustained ovation he got for really pouring himself into "Ooh Baby Baby."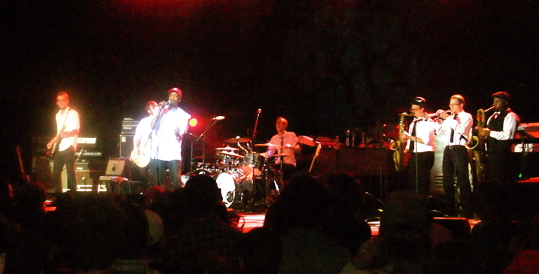 The only other one I caught on that bill was Black Joe Lewis (in the red cap), who was great, as always, with his Otis Redding meets Texas roadhouse R & B revue. It's been cool to watch him rise from an untested bandleader playing the backyard of Yard Dog a couple of short years ago to a stage-commanding Austin home town hero.
Next, it was over to Antone's for Quasi, the Portland, Ore. power trio featuring former Sleater-Kinney drummer Janet Weiss on drums, her ex-husband Sam Coomes on guitar and newly added bassist Joanna Bolme. Good stuff from this year's winningly depresive American Gong, but I wish Coomes brought his keyboard along. The raw guitar jams were propulsive and inventive, but strung out and samey after awhile.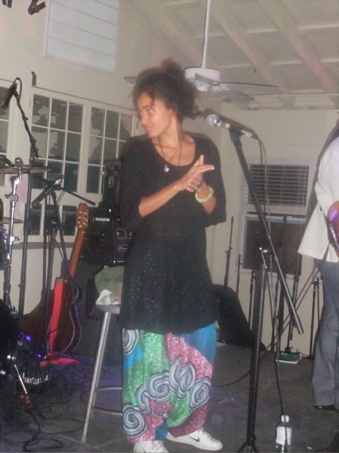 Then, boldly across Congress Avenue on my bike to the Beauty Bar Palm Door for Rye Rye (more to come), with the surprise of fining that the two-thirds Dixie Chicks Courtyard Hounds were there, and half way through their set. Their songs sounded stronger and more relaxed the second time around (or actually third, since I also saw them for a second at the XPN showscase earlier). Joe Ely was watching like a proud papa, telling me stories about how Emily Robison and Martie Maguire used to open for his band back in the pre-Natalie Maines days, before they were superstars. Ely laid low for this SXSW, and is getting ready to tour Australia with Jimmie Dale Gilmore and Butch Hancock in The Flatlanders.
After Rye Rye, it was Nneka, the Nigerian-German soul woman you see above, whose Concrete Jungle, released in February, point her in a Lauryn Hill-Erykah Badu hip-hop and reggae flavered neo-soul direction. Her Beauty Bar gig settled into a laid back grooove, but she's got the quiet confidence and vocal and songwriting chops to make a big noise. Watch for her.
Previously: Courtney Love's Hole at Stubb's