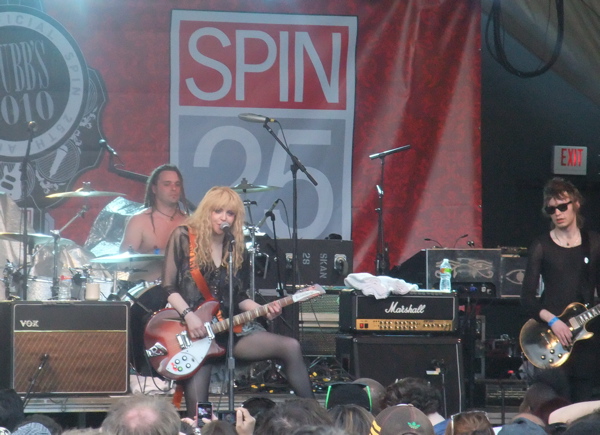 With a guitar monitor as a foot rest, Courtney Love is once again up to no good. One of the most anticipated - or dreaded - events at SXSW this year was the return of the Hole front woman, which began at the top of the bill of the Spin magazine party at Stubb's on Friday afternoon, carried on at the Dirty Dog last night, and will continue at celebrity blogger and fellow attention seeker Perez Hilton's annual blowout tonight, which will also feature Snoop Dogg.
Kurt Cobain's 45 year old widow was not demure in her return. Tossing a bit of the Rolling Stones' "Sympathy For The Devil" into her opening, she led a five man band that included neither cofounder Eric Erlandson nor any of the original members of the grunge-era Hole. "We are Hole, whether you like it or not, you little sucksh---," she told her loyal fans, after promising "I can kick your scrawny little ass," in the new "Skinny Little Bitch," from Nobody's Daughter, due in April, which is the first Hole album since 1998's Celebrity Skin. "I didn't say big floppy vagina. I said Hole!"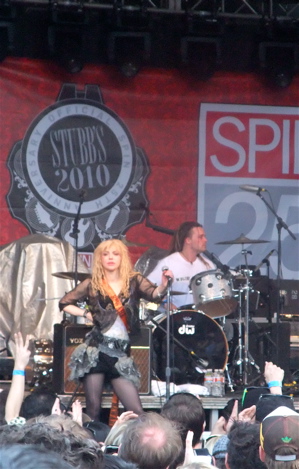 The almost an hour long set - which, predictably, featured Love reaming out a female stage manager when informed she only had one more song to play - was split between classics like "Doll Parts" and "Violet" (whose performance occasioned the singer to announce "I just came!"). Like Love or not, Hole was one of the great bands of the 1990s, and some of the selections from Nobody's Daughter rocked hard and showed promise.
She mocked Rock Of Love star Bret Michaels ("I'm the one for you, Bret! .... I'd get him hair plugs so fast"), before delivering an earnest power ballad that included lines, if I heard them right, like "I never wanted to be some kind of comic relief, I never wanted to be the person you see ... I am writing you this letter, please help me."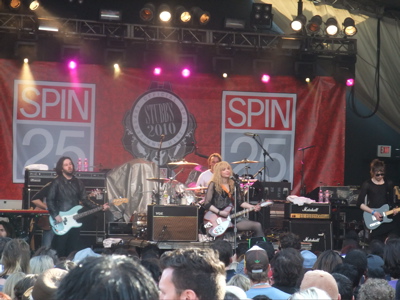 The one last song Hole did on Friday afternoon was "Samantha," the second Nobody's Daughter single, not quite so impressive in its unhinged fury as "Skinny Little Bitch." Still, it rounded out a comeback performance that was far from the train wreck a reasonable person might have expected. And with that out of the way, Love declared herself so pleased that "I'd stage dive, but I'm far too elderly," and flipped off the crowd with both hands. Good copy, as always.
Previously: Austin Americana