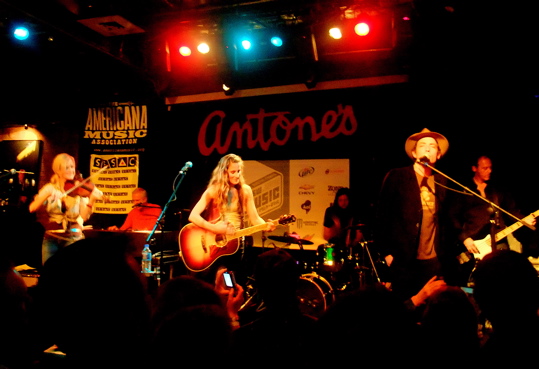 With all the indie-rock overtaking the town at SXSW, it's easy to lose track of Austin's once defining identity as the capitol of cosmic country, the home of the still live annd kicking Willie Nelson and the long gone Armadillo World Headquarters.
The American Music Association showcase at Antone's on Thursday did its part to address, bringing a touch of Western wear twang to Austin's increasingly corporate seeming downtown. (Sorry to report this, but Las Manitas, the great Mexican cafe and meeting place on Congress Avenue in view of the giant state capitol building down the street, is gone. Knocked down to make way for a Marriott which isn't being built now that the economy's collapsed.)
The big name on the Americana bill on Thursday was the Courtyard Hounds. Who's that, you ask? It's the side project sister act of Dixie Chicks Emily Robison and Martie Maguire, whose self titled debut album is due in May. "We are so happy to be debuting at SXSW in Austin," said Robison, who lives down I-35 in San Antonio. "Right in our backyard." (Maguire, who lives in Austin, got in a dig at her sister: "You know those bumper stickers that say 'Keep Austin Weird'? In San Antonio they say 'Keep San Antonio Lame'.")
Without Natalie Maines out front, the Hounds are, not surprisingly, less spunky, and more musical. Robison, who stood stage center and played banjo, dobro and acoustic and electric guitar, sang lead on all but one track. That one, though, was sung by Maguire, who played fiddle and mandolin, was a mournful minor key breakup song and a clear standout.
Early in the set, the tunes tended too much towards the tepid and overly polished, but the Hounds started to growl a bit as their hour long first set ever wore on, particularly after Jakob Dylan, who's all over town this week, showed up. The son of Bob did a duet with Robison from the album, then stuck around for a sweet, seemingly unrehearsed altogether charming run through of Rod Stewart's "You Wear It Well." After that, the last batch of Hound's tunes, wore quite well, mixing in sunny harmonies, Texas barrelhouse piano and bluegrass flavored breakdowns.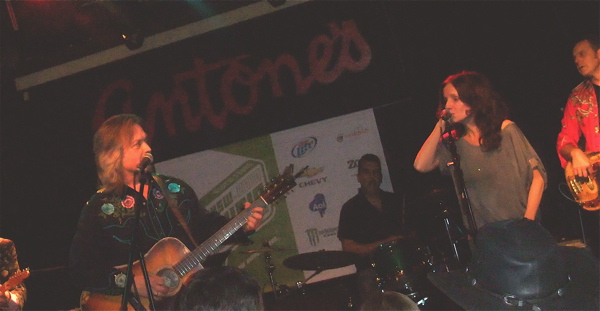 The show put on by the Nashville based Americana association, who were celebrating their new Grammy category this year – Levon Helm won – got started with North Carolina bred ace songwriter Jim Lauderdale, who's a man who knows how to wear a fancy shirt. Also, the alt-country veteran is on a career roll. The songs he played from Patchwork River, which comes out in May, were all written with Grateful Dead scribe Robert Hunter, and they were uniformly superb. He sang two of them with the angelic voiced Patty Griffin (that's her), including the gorgeously blue "Louisville Road." He also sings and plays on Elvis Costello's coming country flavored album, and told me before the show that he'll be hitting the road in Costello's band this summer.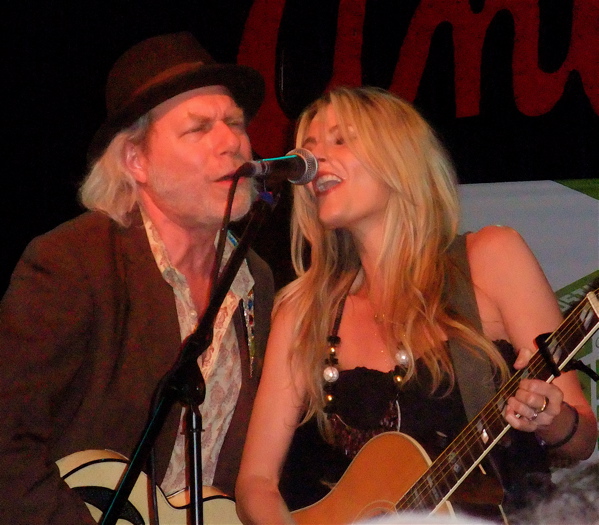 Following Lauderdale was Elizabeth Cook, the smart as a whip songwriter and Outlaw Country satellite radio host, who has a fine new album of her own, The Welder, also due in May, shortly before she plays the Sellersville Theater with Iris Dement. That's her singing with Buddy Miller, and she also put down her guitar and wowed the crowd with a display of clog dancing while her husband Tim Carroll took the lead. "I just learned there's a reason that clog dancers don't wear strapless dresses," she quipped. "There's only so much old Victoria can do."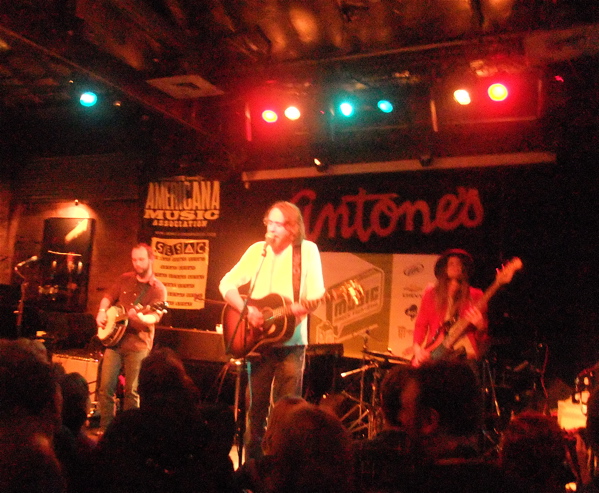 Next up after Cook was Hayes Carll, the by-turns droll and deep Austin songwriter who played a couple of new tunes – "It's hard out here, I know it don't look it," he sang in one, "I used to have a heart, but the highway took it" – mixed in with crowd pleasers like his Ray Wylie Hubbard co-write "Drunken Poet's Dream." "I got a new album coming out in the summer … of 20014," the bearded bard dryly cracked. "That's what South By is all about, isn't it? Getting' the buzz started on your new project?"
Previously: The xx Marks The Spot