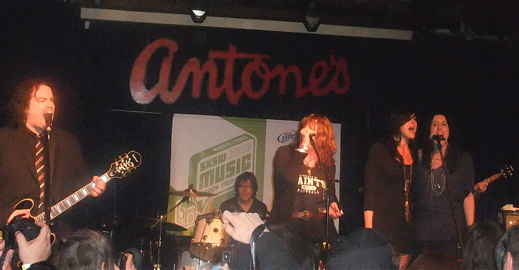 It would take more than the death of a venerated indie legend to slow down a non-stop promotional event like SXSW, that carries on for four straight 14 hour days of beer, barbecue, and balmy weather. The freak winter chill that descended on the Texas hill country and left underdressed out-of-towners shivering at Austin's many outdoor venues on Saturday, though? Now that did succeed in putting a damper on things.
And the frosty weather also set an appropriate the-party-is-over vibe for the much anticipated closing night tribute to Alex Chilton, the man Paul Westerberg once fantasized would have "children by the million" waiting for him, who died on Wednesday in New Orleans of an apparent heart attack, just days before he was to play a Big Star tribute at SXSW in celebration of last year's thoroughly fabulous Keep An Eye On The Sky box set.
Instead of that show, there was a hastily but impressively pulled together heartfelt musical wake that ran for 90 emotional minutes on Saturday night and featured the core band of Big Star drummer Jody Stephens with Ken Stringfellow and Jon Auer of the power band The Posies, who served as one half of the occasionally reuniting Big Star since the early '90s.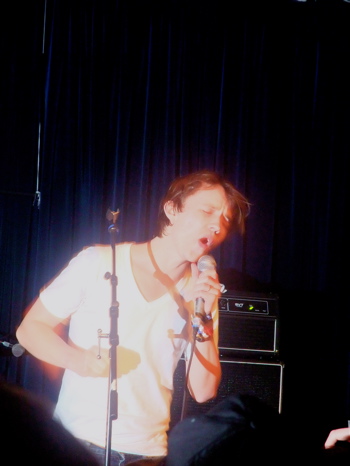 Joining them were guests M. Ward, John Doe, Evan Dando, Chuck Prophet, the Watson Twins, Susan Cowsill (pictured up top with the Watsons, Auer and Stephens), Sondre Lerche (that's him), original Big Star bassist Andy Hummel, Curt Kirkwood of the Meat Puppets, and Mike Mills of R.E.M., among others. And happily, it was held indoors at Antone's, so the mourners and celebrants at the church of Chilton, at least, were not left out in the cold with their grief.
The night began with a message being read from Chilton's widow Laura, who married the 59 year old songwriter, guitarist and former teenage leader of the Box Tops just last year. She wrote about Chilton's analytical nature and how he "lived life as he pleased," how proud he was to have produced albums by shockabilly band The Cramps, and how much he liked the Beach Boys and Bach, Carole King and Teenage Fanclub. And how had the same blasé attitude about death that he had about sleep. "He said to me the other day," she wrote, "that he wished he could be up 24/7. Life was just too interesting to make time for sleep. It was funny, but at the same time I knew he was serious."
The surprise standout was Lerche, the 27 year Norwegian singer who was the youngest Big Star acolyte on stage. He absolutely killed "The Ballad Of El Goodo," his sweetly upward gliding voice evoking the innocence of the young Chilton as well as the song's steely, heart-swelling resolve to stay true to one's convictions in the face of "unbelievable odds."
Other highlights: Matt Ward transformed "Big Black Car" into a spare, haunting mood piece. The Him to Zooey Deschanel's She lingered over lines like "Nothing can hurt me, nothing can touch me/Why should I care?/Driving is a gas/It ain't gonna last."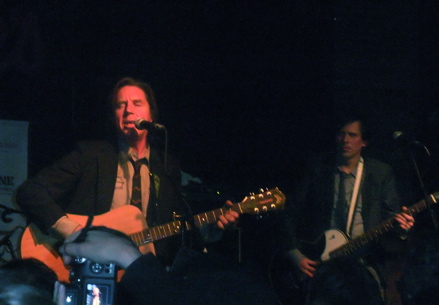 John Doe of X - that's him, with Stringfellow - did a wonderful job in capturing the tender sense of discovery in "I'm In Love With A Girl," and served as a reminder of how brilliant early Big Star - a band named after a supermarket - was at crafting pop songs that conveyed the fraught awkwardness of adolescence. Chuck Prophet's "Thank You Friends," caught the mixture of forthrightness and sarcasm that was an essential part of Chilton's makeup.
Evan Dando, after neatly expressing the roomful of Chilton fans' collective sorrow with an expletive, gave an appropriately shell-shocked reading of the desolate "Night Time." (That's Westerberg's favorite Chilton song, the profoundly uncomfortable yet gorgeous tunes that goes "I hate it here, get me out of here/Get me out of here, I hate it here.") And on "Jesus Christ," Mills (that's him below) showed off the vocal chops that usually support Michael Stipe in a band that was deeply influenced by Big Star.
The only wrong note struck all night came with Austin songwriter Amy Speace's too earnest take on "I'll Try Again," which, shorn of Chilton's ever-present edge could have passed for an uplifting Protestant hymn. One other complaint: Somebody should have done "The Letter," the 1967 hit for the Box Tops that Chilton sang, sounding like he was 40 years old, at the age of 16, and inspired Tennesee congressman Steve Cohen to almost break out in song on the House floor on Thursday (see below). And I wish somebody had sung "Volare," or something else cheesy from the lounge and blues singing third act of Chilton's perplexing career.
The show nicely recovered, though, with the most-hands-on-deck "September Gurls," sung by Chilton's fellow New Orleanian Susan Cowsill, the Watson Twins, Dando, Mills, Stephens, Stringfellow and Auer, who acted as MC all night long and distinguished himself with dignity and grace whenever he spoke or sang.
At the end, Stephens came to stage center alone to talk about his friend who will go down as one of the greatest of Memphis musicians, alongside the likes of Elvis Presley, Isaac Hayes, Furry Lewis and Al Green. "It's been 40 years that Alex and I shared a creative heart and spirit," he said. "Thank you so much. You wrapped your arms around us. We appreciate it."
Previously: Photo File