The everything-is-happening-at-once all-over-the-place nature of SXSW is a perfect fit for attention deficit culture consumers. Now in its 27th year, the festival's endless options and enticing distractions work kind of the same way the Internet does, pulling you in one direction even after you made the tough decision to go in the other.
On Thursday morning, I started out at the Dave Grohl keynote speech at the Convention Center, which turned out to be happening at the same time as a party clear across town hosted by Philadelphia recording studio/music venue Milkboy, and featured a number of 215 acts, including Lushlife and Lantern.
After Grohl, it was over to the Warner Bros. party at The Belmont to inteview Lianne La Havas, the British jazzy pop songstress who's playing the World cafe Live on April 7. Dear reader, you can read more about that in an upcoming feature story in the Philadelphia Inquirer.
The SXSW day party scene is an exercise in chaotic wonder. Bands plays multiple gigs all over town, and if you ask them where they're going next - as I did to Nashville guitarist and producer Buddy Miller this morning when I ran into him in my hotel lobby - there's an excellent chance they don't even know. Somebody will tell them, hopefully.
Caitlin Rose
That makes the unofficial part of SXSW hard to keep track of, but it also can lead to happy accidents. I was hoping to catch Nashville songwriter Caitlin Rose - who plays Milkboy in Philly on April 3 - but I didn't have a grip on her schedule. Turns out she was playing right next door at the Austin Ale House, and going on with her sharp five piece honky tonk rock band approximately thirty seconds after I walked in the door with photographer Dan King.
Most of the days parties are free, but many, like the massive Fader Fort fete in the rapidly hipsterfying formerly Mexican American neighborhood of east Austin involve RSVPing on the web, standing in an endless line to get a wristband, and then standing in line again to get into the popular shows. But other times, you can just walk in, as we did for Rose, whose songs from the new The Stand-In sounded strong even as her vocals were lost in the mix.
Right down the street at Antone's, Billy Bragg was playing, but I'd already seen him the day before, so we moved on up the street, where an acoustic folk band was playing in a parking lot. Turned out to be Brooklyn buzz act The Lone Bellow, whose four part harmony singing was absolutely lovely and who step right up to the head of the class in the sons of Mumford & Sons competition. They're at Johnny Brenda's on April 16, with Ivan & Alyosha.
Having seen Grohl talk in the morning, I elected to skip his mega show at night with the Sound City players, who in this incarnation included Stevie Nicks, John Fogerty, Rick Springfield, the Meat Puppets and Rick Nielson of Cheap Trick at Stubb's. Sorry Dave, but that's too much time stuck in one place with too many legacy acts acts for SXSW.
Instead, I started off quiet and sorrowful at the Victorian Room at the historic Driskill Hotel - the site, for you history buffs, of Lyndon Johnson's election night headquarters for his runs for the U.S. Senate and Presidency. The attraction early Thursday evening was Aisha Burns, a chamber folk guitarist and violinist from San Antonio with a new album due on Western Vinyl records. The room was hushed, the songs were compelling. She's worth watching.
From there, I hoped to check out Robert DeLong, the Los Angeles dance music multi-instrumentalist generating big buzz who was playing at the converted garage on Empire Automotive. Fat chance: A huge line ran way down Sixth Street. Instead, I slid up the street and caught Ray Wylie Hubbard, the legendary Texas country-blues songwriter who I had never seen and was doing his delightfully deranged twangy Lighnin' Hopkin' talkin' blues singalong accompanied by a wry sense of humor and a lone drummer at the Stage on Sixth. Great.
Next was Mount Moriah, the North Carolina quartet fronted by the quietly charismatic Heather McIntire, the high cheekboned singer who sounds a whole lot like Dolly Parton on the band's terrific droney alt-country album on Merge, Miracle Temple. On stage at The Parish, the band came off as more rock than country, brooding with closed eyes intensity, then ripping free at the close, Neil Young style. They were high on my SXSW to do list, and didn't disappoint. They'll be a Johnny Brenda's on March 26.
Alright, enough with the alt-country! SXSW is about many kinds of music, and hip-hop does not get short shrift. On Thursday, there was a oversized show with Public Enemy and LL Cool J on the giant Dortios stage downtown, and nouveau '90s upstart rapper Joey BadA$$ was playing all over town. My next stop, however, was the Scoot Inn, where the night before I had attempted to see Odd Future emcee Earl Sweatshirt, only to be stymied on account of a bill that was running over an hour behind schedule. (A SXSW rarity.)
On Thursday, it was a more tantalizing bill: A Wu Tang centric lineup that featured U God, the gruff voiced rhymer who delivered a highly entertaining midnight set focused on the pleasures of marijuana and women. "You don't got no more weed out there in the streets," he told the Lone Star State capitol. "I smoked it all."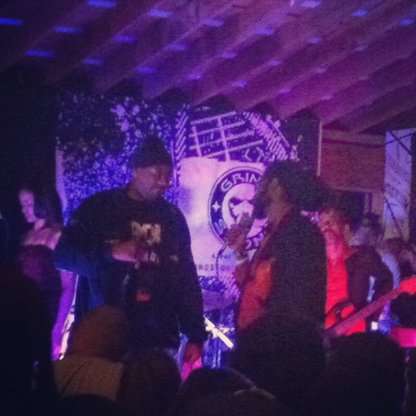 Ghostface Kilah and Adriane Young, talking about the 12 DeLucas.
The real attraction, however, was the combination of bandleader-producer Adrian Younge and Wu Tang rapper Ghostface Killah. the Los Angeles based Younge has a tantalizing new project with William Hart of Philly soul greats The Delfonics called Adrian Younge Presents The Delfonics, and he also collaborated with Ghost on 12 Reasons To Die, the rapper's new cinematic concept album in which fictional gangsta Tony Stark does battle with a dozen mobsters known as ... wait for it ... the 12 DeLucas.
At the Scoot, the dreadlocked Younge came out with a high class band, plushly decked out in scarlet and black, and played lushly cinematic 25 minute set that drew heavily on Spaghetti Western soundtrack music and smooth blaxploitation funk form the 1970s. It was so good that the ready for Wu Tang mixed race (but largely white male) crowd couldn't show their impatience as they waited for the brilliantly verbose Ghost to appear.
When he did, the crowd went nuts, but the experiment didn't quite work. Ghost's flow is so adept that he sounded good rapping with a band that included a flute, but what the crodd was hungry for was their Wu main man rhyming over the banging beats of a DJ, and they weren't in the mood for Younge's between song encomium's to the greatness of Ghost. "Shut up and let him rip," was one shout heard in my ear. When Younge stepped back and did, the place went even more bonkers.
Ghostface and Young have plenty of time to work the kinks out. They're headed on a two month tour, which comes to the Blockley in West Philly on May 11.
Previously: Dave Grohl's keynote Follow In The Mix on Twitter