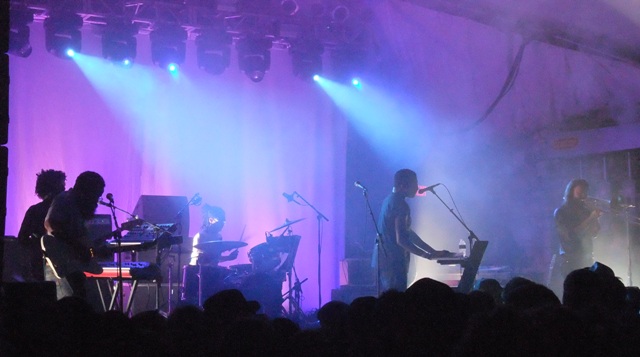 Your feet hurt. You're living on beer, caffeine and Ibuprofen. Cee-Lo cancelled. The lines were too long to get into Bright Eyes or The Civil Wars, and that Mexican band Los Impostors you knew nothing about and decided to take a chance on in hopes that they might be great turned out to suck.
SXSW is a forced march, a sleep deprivation fest where thousands navigate the massive crowds on Sixth Street where everyday is seemingly Halloween and sometimes St. Patrick's Day too. Everyone is unified in a determined effort to find the great music that they know is out there, damn it. Because if you don't find something great, what are you going to tell your friends at the Convention Center the next day when they smugly regale you with tales of all the awesome bands they saw the night before while you were at the Canadian Blast party wondering when Buck 65 is going to come on and why some dude with an acoustic guitar is on stage singing covers versions. Are you even in the right bar?
On Thursday night, after an inauspicious beginning with the Strokes, I had one of those nights worth bragging about. After a couple hours of regrouping in the hotel, I went on an 11 o'clock to 2 a.m. hot streak.