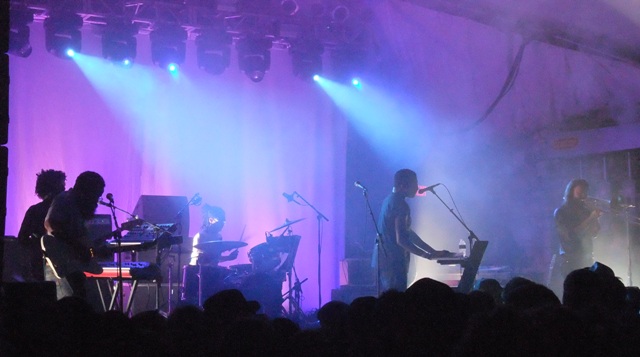 Your feet hurt. You're living on beer, caffeine and Ibuprofen. Cee-Lo cancelled. The lines were too long to get into Bright Eyes or The Civil Wars, and that Mexican band Los Impostors you knew nothing about and decided to take a chance on in hopes that they might be great turned out to suck.
SXSW is a forced march, a sleep deprivation fest where thousands navigate the massive crowds on Sixth Street where everyday is seemingly Halloween and sometimes St. Patrick's Day too. Everyone is unified in a determined effort to find the great music that they know is out there, damn it. Because if you don't find something great, what are you going to tell your friends at the Convention Center the next day when they smugly regale you with tales of all the awesome bands they saw the night before while you were at the Canadian Blast party wondering when Buck 65 is going to come on and why some dude with an acoustic guitar is on stage singing covers versions. Are you even in the right bar?
On Thursday night, after an inauspicious beginning with the Strokes, I had one of those nights worth bragging about. After a couple hours of regrouping in the hotel, I went on an 11 o'clock to 2 a.m. hot streak.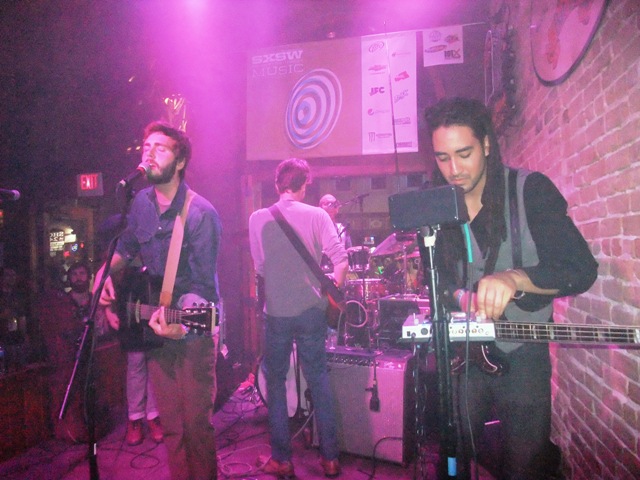 First to the Bat Bar for Lord Huron, the bubbly Los Angeles tropical pop band led by Ben Schneider. Bruce Warren odf WXPN tipped me on these guys, and he was among the many muckety mucks in the crowd. That's Schneider on the left, and yes the guy on the right is playing the theremin. Infectious.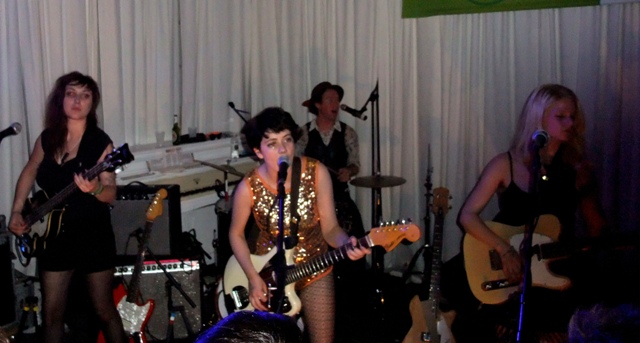 From, there, it was over to the Swan Dive, this tear's alt-country headquarters on Red River, for Those Darlins. That's them above. Sorry about the red eye, darlin'. I've missed this band - whose second album, Screws Get Loose, comes out on March 29 - on several occasions, so I was quite pleased to squeeze into their only SXSW gig. (A rarity these days: Most people play 10). It's a Ramonesy garage rock sound, with a touch of twang and growing songwriting skills.
From there, off to TV on the Radio at Stubb's. (That's them up top.) The Brooklyn art-rock band, who will reelase Nine Types Of Light in April and play the Electric Factory on April 8, have added another texture to their layered sound with the addition of a trombone player, and Tunde Adebimpe and crew's new stuff was as captivating in it metal-edged atmospherics as older faves like "Staring At The Sun." Killed it.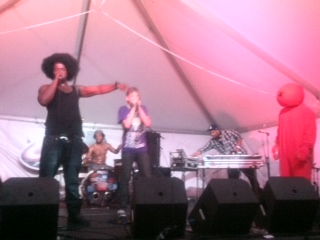 All that was good, and for a little extra I was pulled into Emo's Annex on the way home by Big HEED and Alien, and chaotic, raw and very funny Atlanta new school-old school rap crew with a live drummer and a hype man in a red fuzzy suit. More on them later. For now, let's just say I went home happy.
After all that, though, Friday night was a different story. Yes, I saw the always awesome Waco Brothers at the Yard Dog Folk Art Gallery early in the evening and I also caught excellently laid back Laurel Canyon style Portland country rockers Dolorean at 9, and closed the night with a riveting set by Austin heroes Okkervil River at Antone's.
But in between, as I roamed the streets of Austin with Fresh Air's Amy Salit, whom I rely on for guidance in all things, we couldn't catch a break. We met a dude who used to be in the band Red Kross who is now in OFF who works for Warner Brothers and is interested in signing The Civil Wars to a label deal, but even he couldn't get into their packed show at the Driskill and had to content himself with showing support by watching through the window on the street, where you couldn't hear a thing.
From there, it was off to Friends for Los Impostors, who were just a cheesy vocalist and a percussionist with a sparse crowd for good reason. Then to Paradise for hip-hop smart guy Buck 65, who I decided wasn't worth waiting around forever for. Better to try to get into the Dears and Fitz & the Tantrums all the way across town at Mellow Johnny's.
Dang, there were only abut 2000 people in line for that one. Okay, over to Momo's, at least there's not a line there. First, the North Mississippi All Stars - not bad at all, Luther Dickinson is a great guitar player, but not what I came to SXSW for. And then the much hyped Louisiana band Givers, who were just too peepy and perky and Paul Simon Gracelandy for their own good (and not as good as Lord Huron, who work similar territory).
Praises be that Will Scheff and Okkervil River, whose I Am Very Far comes out May 10 and who play the Trocadero June 3, came though in the end. Will Scheff, unusually emotive, articulate and hard rocking band leader and songewrwriter that you are, you saved by evening. Now I can go out and face the other SXSW badge holders with my head held high.
Previously: SXSW: Last Days Here