Let's keep this short and sweet: I've seen a lot of great music in Austin this week, but the most fun I've had so far was at this globalFEST showcase at the Speakeasy, at which I caught Malian trance blues band Terakraft and Brooklyn bhangra brass band Red Baraat back to back.
A couple of members of Terakraft, who are currently based in Algeria and whose name means 'caravan' in the native langauge Tamasheq, which they sing in, didn't make it to the U.S. due to visa issues. No matter: They got their bus driver Manny Flores to wear a beret backwards to approximate the traditional keffiyeh nomad garb, and the two masterful guitarists in the picture laid down a richly hypnotic Saharan drone groove, along the Ali Farka Toure-John Lee Hooker-Chuck Berry continuum, complete with fancy footwork referencing the latter's famous duckwalk. Mesmerizing.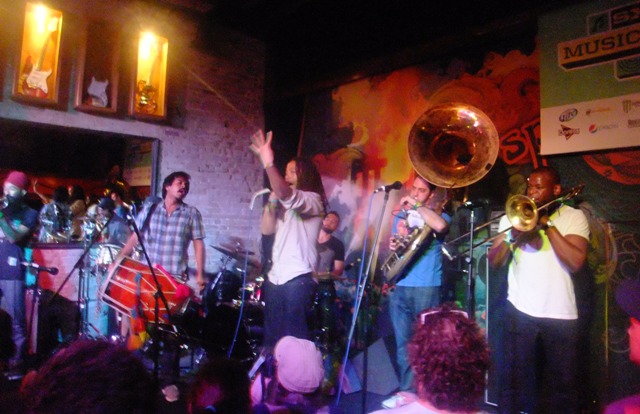 Terakraft were followed by Red Baraat, the Sunny Jain led Brookyln consortium that I've been foolish to never see until now. The eight piece band Dhol n' Brass sound mashes together strains of Indian music with New Orleans brass sounds and makes productive use of hip-hop, but it's really entirely its own thing, a magnificently robust multi-cultural menage built entirely on brass and drums. (Though it's not entirely "organic": The dude who plays the tuba does some cool on-the-fly electronic manipulation of his sound, when he's not rapping, that is.) Sorry if everybody didn't make it into the picture. I was standing too close and the band is too big.
A double bill to make me wonder why I spend so much time watching wan indie rock bands. Red Baraat play the World Cafe Live March 28.
Previously: SXSW: Green Day Follow In the Mix on Twitter