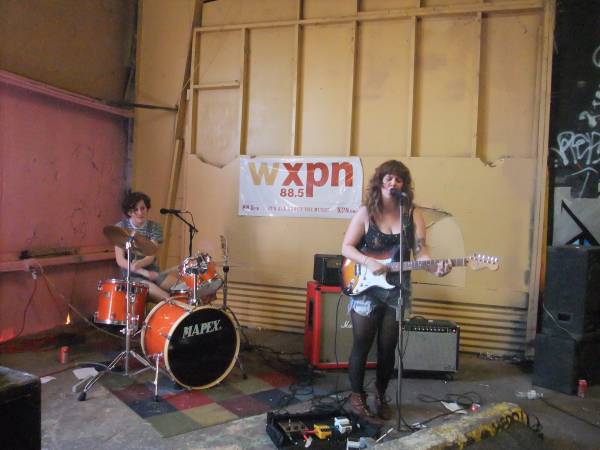 After catching Emmylou Harris' mini-set at the Convention Center - a radio interview plus two songs, one about Gram Parsons, the other about Kate McGarrigle from The Road, due in late April - I took a road trip of my own into east Austin on my bike. Down Cesar Chavez Boulevard past the Pinata Party Palace and the Veracruz All Natural Juice Bar - which I highly recommend - I made my way to the Broken Neck on Red Bluff Road, which turned out to be a warehouse venue a la South Kensington's The Ox.
That was the not so convenient locale for the all Philadelphia band day party sponsored by Fishtown blog YVYNYL and WXPN local music blog The Key. I met and got to hear the colorful road warrior tales of the guys in the Philadelphia band Golden Ages, who are dpoing 10 shows down here and the ones who sell their songs in 45 sized record sleeves that have no records in them, b ut do have a download code on the back. More about them later.
The band I caught was the excellently named punk-noise band Slutever, the duo of Rachel Gagliardi and Nicole Snyder, who switch off on drums and guitar - love that - and who released a four song EP called Sorry I'm Not Sorry last year. How hard do these two rock? So hard that the WXPN banner that was on the wall when they started lay crumpled on the ground by the time they were done, as if no adult alternative station could contain their fury.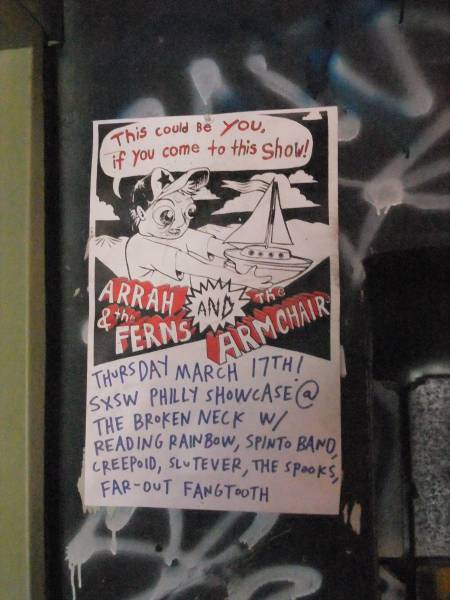 Previously: SXSW: A Night At Stubb's, with Duran Duran