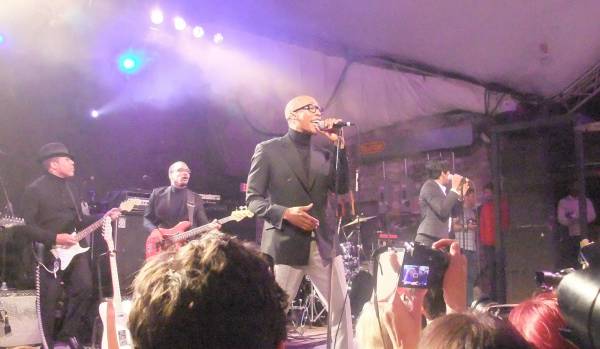 Dear reader, it's true. As much as I admire their initials, I didn't stay for Duran Duran at Stubb's on Wednesday night.
Instead, after three hours of worthy buzz bands, plus natty retro-R & B showman Raphael Saadiq (that's him), I left the Simon Lebon and John Taylor worshsipers alone with the objects of their affection. Saadiq is a fabulous entertainer, with great energy and impeccable fashion sense, and he's a pretty darn good singer and guitar player, too. The former Tony! Toni! Tone! frontman's new album is called Stone Rollin', though he did not bring his friend Mick Jagger, with whiom he performed a Solomon Burke tribute on the Grammys, with him to Austin. Ersatz is too strong a word, but when it comes to his songs, Saadiq suffers from an overly precise passion for recreating something great from long ago. His music is like a fastidious facsimile of his forebears. Now there's some alliteration for you. Still, a really really fun live act. Unfortunately rectangular video below.
Preceding Saadiq on stage were the Smith Westerns, the young Chicago quartet whom I hesitate to call indie-pop because that implies a lack of polish. And these guys are anything but ragged: At one point lead singer Cullen Omori (he's not that big in real life) made a point of smirking and saying "I just want you to know that we're not playing to tracks up here. This is all us." That may have been a snark at the hair band to come, or a pre-emptive strike against anyone tempted to dismiss the Smith Westerns as Jonas Bros-type lightweights, what with their potential teen pop appeal. But as Dye It Blonde (Fat Possum) demonstrates, these guys are melodic pop sophisticates, and whatever that first song they played was, it reminded me of John Lennon's "#9 Dream."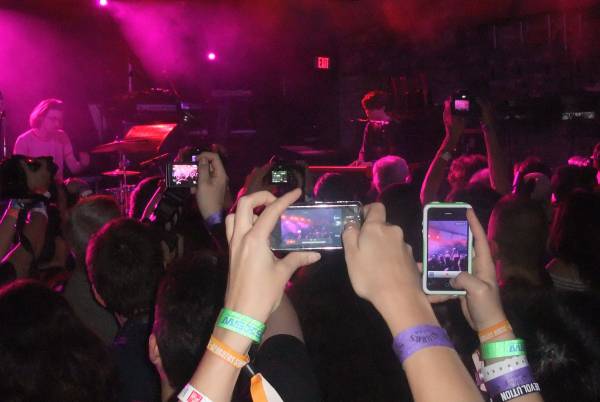 Before the Case Westerns, there was James Blake, the guy on the right sitting at his keyboard that everyone wanted to get a picture of. That was difficult to do: the stage was dark, the mood was blue. But the music was impressive. Blake's tagged to be one of the break out stars of 2011 for good reason. The 22 year old Brit comes out of the booming bass micro-genre known as Dubstep, but along with innate productions skills and a feel for glitchy beats, Blake is also a songwriter of substance, who knows that less is often more when it comes to song composition who appreciates the space between the notes more than the next man. And he's also got a warm, mildly heartbreaking voice, and a quite creative cover of Feist's "Limit To Your Love" that your barista will be playing for you in the months ahead. Not a lot of stage presence, but at this point, he doesn't need it.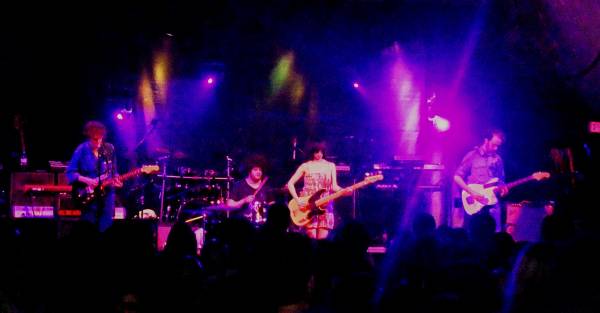 First up was Yuck, another buzz band I've already crossed off my list, and here it is, only Thursday morning. Yep, they lived up to expectations too. Yuck are also young Brits, but their referince points are '90s American indie-rock acts from Pavement to the Pixies to Dinosaur Jr., with frontman Daniel Blumberg stading way over on the left hand side, off kilter, just like Stephen Malkmus. Like their inspirations at their best, Yuck's songs are quite catchy, with hooks that shine though a veil of distortion. That prolonged psychedelic meant-to-be-mind-blowing opus they closed with was a mess, however.
The whole show has been archived an can be streamed live at NPR Music.
Previously: SXSW: Jack White's Surprise