The Roots, the Philadelphia band led by drummer Ahmir "?uestlove" Thompson and rapper Tariq "Black Thought" Trotter, have been making music that combines catholic taste and rigorous execution for over two decades now.
In recent years, though, thanks to the combined force of their nightly television presence as the Late Night with Jimmy Fallon house band and ?uestlove's two million strong Twitter feed, the greatest live hip-hop band in the land's status as pop cultural players and influencers has magnified.
That impact made itself plain this weekend at the 5th annual Roots Picnic, held on the Philadelphia side of the Delaware River at Festival Pier, which grew into a two day affair for the first time this year. The two-stage Picnic affords the band the opportunity to put into play the full range of its interests, and the shuffle-culture festival did just that on Saturday.
The Roots closing set on Saturday kicked off as a tribute to Adam "MCA" Yauch of the Beastie Boys, who died last month, with a cover of the Beastie Boys "Paul Revere," which the band played a second time when Black Thought realized his microphone had been dead the first time through.
By the time the band left the stage three hours later, The Roots had brought up Washington, D.C. rapper Wale (pronounced wah-LAY), who had sound problems of his own, and backed up "daisy age" rappers De La Soul. The latter reached back to the late 1980s in a loose, good natured full length set that attracted plenty of old school fans who helped give this year's Picnic an intergenerational and interracial familial vibe.
Also included in the party was surprise guest Mos Def (the quick-tongued rapper also now known by new name Yasiin Bey), who closed out the marathon on a high point by going mic-to-mic with Black Thought on "Double Trouble" and "The Next Movement," sterling tracks that reach back to The Roots 1999 album Things Fall Apart. As Roots performances go, this one wasn't as majestic or smooth as many, partly because there were so many featured acts and guests to accommodate that the latter stages of the evening had a unfocused feel.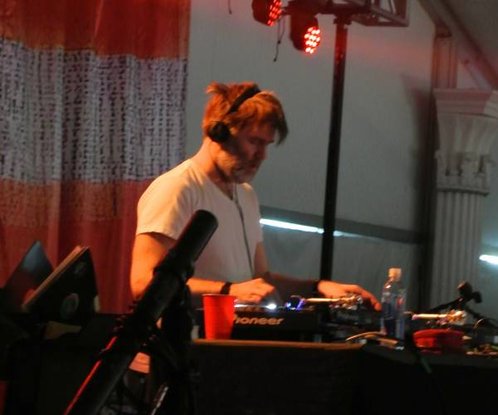 James Murphy
The day as a whole, though, was a smooth running success. Early afternoon performances by buzzed-about hip-hop acts Shabazz Palaces and Danny Brown preceded DJ sets by Chicago electro duo Flosstradamus and LCD Soundsystem auteur James Murphy, whose casually masterful turn at the turntables mixed electro pop with post-punk and classic rock, ranging from Orange Juice's "Rip It Up" to Gary Wright's "Love Is Alive."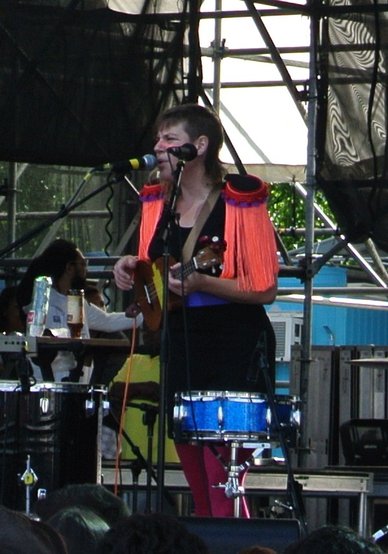 Merrill Garbus of Tune-Yards
The table setting acts included Tune-Yards, the band fronted by war paint wearing magnetic front woman Merrill Garbus. Looped drum beats and guitar licks recorded in real time were overlaid with live keyboards, saxophones and bass, put over most effectively by Garbus on the rebelliously patriotic closer "My Country."
Annie Clark a.k.a. St. Vincent
As hot as Garbus' richly rhythmic music runs, the arty guitar rock of St. Vincent, the four-piece band fronted by frizzy-haired axe woman Annie Clark was equally cool. Early on, St. Vincent's set was also interrupted by sound snafus. Clark recovered nicely, though, playing dazzling lead guitar on "Cruel," adding spooky theremin to "Northern Lights," and doing a jagged cover of the Pop Group's "She is Beyond Good and Evil." She turned that closing tune into an indie-culture anthem for the assembled Picnickers with the battle cry: "Our only defense is to gather like an army."

The Roots Picnic is scheduled to continue on Sunday, with Kid Cudi, Diplo, Major Lazer, and Rakim playing the 1987 hip-hop classic album Paid In Full in full, with the Roots as his backing band.
Previously: The Roots Picnic, Day One Follow In The Mix on Twitter