Reunited rap duo OutKast, Canadian alt-rock heroes Arcade Fire and British stadium rockers Muse will headine the Coachella Valley Music and Arts Festival, the first mega music festival of the season to announce its full lineup.
Other notable acts on the three day fest, which once again will take place over two weekends from April 11-13 and April 18-20 in Indio, California, include The Replacements, Broken Bells, Bryan Ferry, Haim, Blood Orange, Lorde, Lana Del Rey, Girl Talk, Skrillex, Beck, Neko Case, Empire of the Sun, Neutral Milk Hotel, Trombone Shorty, Disclosure, Chance the Rapper and Philadelphia's Waxahatchee.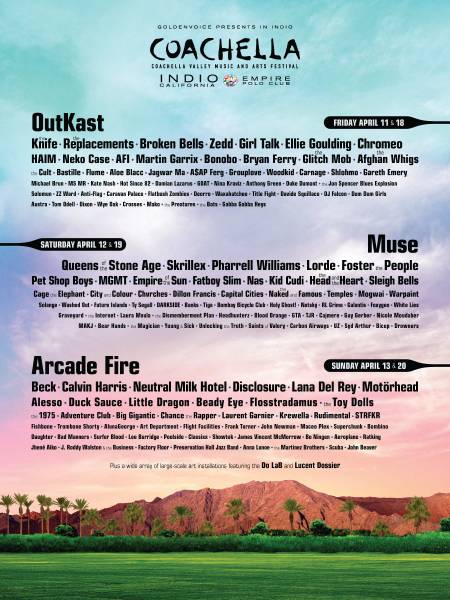 The lineup for Delaware's own outsized Firefly Music Festival, which will take place in June and expand to four days this year, is expected to be announced soon.
OutKast's "Ms. Jackson" is below.
Previously: Stream the Springsteen album Follow In the Mix on Twitter