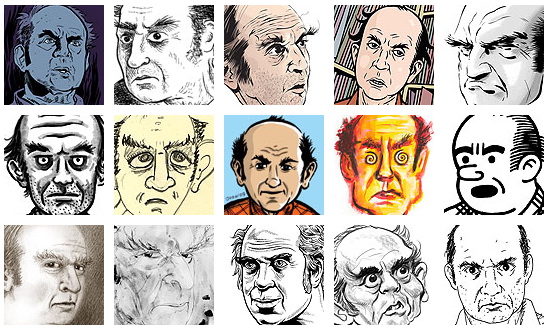 Back in 1995 when I interviewed Harvey Pekar - the great Cleveland comic book storyteller, jazz critic and Everyman who died on Monday at 70 - he had only recently survived a scare with death.
Harvey and his wife, Joyce Brabner - who were portrayed by Paul Giamatti and Hope Davis in Shari Springer Berman and Robert Pulcini's inventive 2003 movie adaptation of American Splendor, Pekar's epic autobiographical investigation into the vicissitudes of everday life - were in Philadelphia to promote Our Cancer Year, their comic collaboration about the feisty hospital file clerk's early '90s bout with lymphoma.
At the time, Harvey - who's represented above in 15 of the 70 drawings commissioned by Smith Magazine for the Pekar Project, one of his many ongoing endeavors at the time of his death - had been cancer free for three years. Sitting on the edge of the bed in his Holiday Inn hotel room, he pooh-poohed the actual threat to his life. "My life was never in danger," he insisted, an opinion Brabner disagreed with.