SXSW greeted me with the sound of a theremin.
It seemed that way, anyway. I arrived at this year's SXSW Music Festival on Wednesday afternoon, a day later than planned. That's thanks to you Stella, for causing the cancellation of my flight and making me miss Tuesday night's REC Philly showcase, which by all accounts was a big success with headliners The Districts and other 215 acts ranging from The Dove & the Wolf to Bilal to Queen of Jeans.
When I did get in, I made my way down Red River, close by where tragedy struck when a drunk driver plowed into a late night crowd in 2014, on my way to the Austin Convention Center.
But well before I could get across town to the Austin Convention Center, I heard a spooky sound calling me, like something out of a Lon Chaney movie or the Beach Boys "Good Vibrations." Emanating from the outdoor stage at the Mohawk, it turned out to be The Octopus Project, the Austin, Texas four piece in which Yvonne Lambert plays the pre-synthesizer electronic instrument by shaping soundwaves with her hands.
One of the things that can be thrilling - and also tiring - about SXSW is that there seems to be live music everywhere. In that mid-day / noonish time frame, the free day parties are just getting going, and with crowds hungover from the night before, lines are rarely long.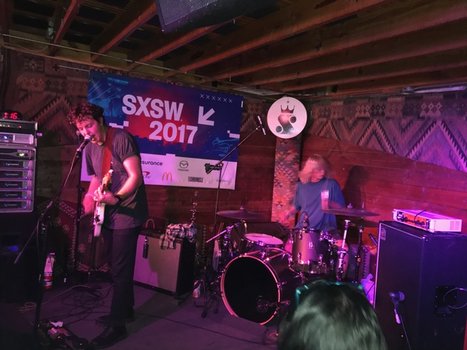 Hockey Night.
So you just stroll into club after club and check out one band after another to see what grabs you. After Octopus Project's revved up set, I got lured into another Red River venue called Sidewinder, and found a two man punky duo with surf rock energy ripping it up in the front room. 'Who's that?' I asked the dude at the door. He was pretty sure it was Lo Moon, a band from L.A. that includes Sam Stewart, son of Eurythmics Dave Stewart. But Lo Moon are a trio, and one of the members is a woman, so that couldn't be right. And it wasn't: Turned out to be Hockey Dad, a duo not from Canada but Windang, New South Wales who never let up with their energy and are worthy of further exploration. Lo Moon, it turned out, were playing at the same time in the club's backyard.
The rest of my initial SXSW afternoon was spent hanging out with Thomas Hughes and Gretchen Lohse of the Philadelphia Indie-pop band Carol Cleveland Sings, who are in town because they scored a movie about an ape who works at a debt collection agency called Sylvio. (More on that tomorrow.)
Then, two bands at the Radio Day Stage at the Austin Convention Center, where Philadelphia station WXPN-FM (88.5) will co-present a show featuring New Pornographers, Valerie June and other that will be broadcast live on Friday afternoon.
On Wednesday, the bands were put on by KCRW in Los Angeles. First I caught Real Estate, the New Jersey five piece that specializes in understated jangle pop that can border on the sublime. Unfortunately the band, whose new album In Mind comes out Friday, was fighting a bad vocal microphone mix, and Martin Courtney's voice was barely heard throughout the room, at least in the first batch of songs I heard.
After a break, I came back for Temples, the British big-haired neo-psychedelic band that played before curtains shaped to look like melting lava. Why? Because their new album is called Volcanos, silly. From the harmonies to the fuzz tone guitar, they sounded smashing. They'll be at Underground Arts on May 15.