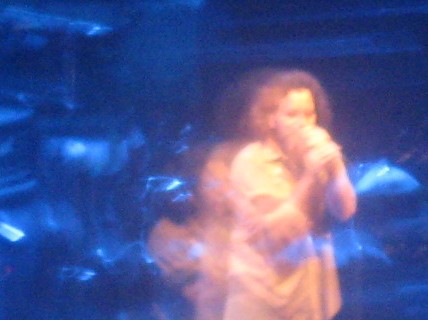 There are more good things that come from Seattle besides Raul Ibanez. There's also Pearl Jam, the rock band from the Pacific Northwest that played the second of their four final shows at the Spectrum on Wednesday night. You know, the guys who dedicated "Wishlist" to "our friend Raul Ibanez," and "Given To Fly" to Shane Victorino, and "Save You" to Brad Lidge on a night when Eddie Vedder took to the stage early to join openers Social Distortion on "Ball and Chain" and then brought Social D.'s Mike Ness out for "Down." Vedder (multiply exposed, above) was very much aware that there was something else besides his band's 2 1/2 hour performance on Philadelphian's minds. "I know there's a big baseball game going on, I'm very curious myself," he said before bringing out a boxing round card girl named Katie who showed up periodically with good news Phillies-Yankees score updates.
Vedder again came armed with praise about the Spectrum: "This is an incredible sounding room and a great place to play. My cousin was outside at 4 p.m. during soundcheck, and he said it even sounded great outside...Around that time there were these shafts of light coming through these side windows. It was like God's light, if there is one. It was amazing." Vedder also gave a shout-out to J.C. Dobbs, the South Street venue they first played in Philadelphia, while playing to the back of the house on "Last Kiss," the Wayne Cochrane and the C.C. Riders cover that kicked off the second encore.
A great show, really, that kicked off with "Animal " and ended with "Yellow Ledbetter," which included the Who's "The Real Me," a tribute to Dr. J, and lots of excellent Mike McCready guitar work along with Vedder's sonorous vocals and heartfelt showmanship. Beautiful singalong on "Better Man," too. And in case you've gone to one show PJ show already and are thinking of going back, get this. In the five hours and over 60 songs the band has played in two nights so far at the Spectrum, they've repeated only two: "The Fixer," the revved up single from the new Backspacer, and that album's "Just Breathe," which was done with the aid of a homegrown string quartet. Other than those two, the night-to-night setlist has been completely different.
Here's the list from Wednesday's show:
Animal/All Night/World Wide Suicide/Small Town/I Am Mine/Johnny Guitar/Nothing As It Seems/Gone/Evacuation/Even Flow/Comeback (truncated)/No Way/Half Full/Down/Wishlist/Grievance/Given To Fly/The Fixer/Save You Encore 1: Just Breathe/Lukin/Speed of Sound/Push Me, Pull Me/Garden/Blood Encore 2: Last Kiss/Wasted Reprise/Better Man (w/Save It For Later)/The Real Me/Porch/Yellow Ledbetter
Previously: Pearl Jam Setlist, Night One