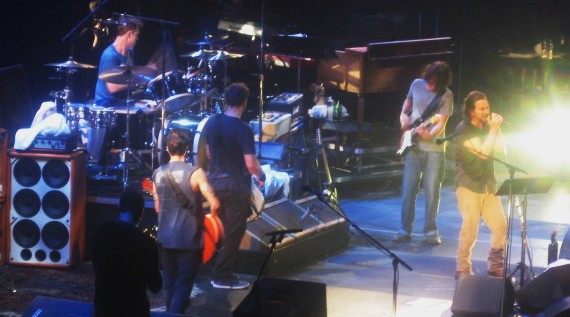 Pearl Jam shut down the Spectrum for good on Saturday with a show that stretched into Sunday morning. It started off with "Why Go," a question Spectrum lovers have been asking since the treasured old building's impending doom was annouced last year, and ended about 3 hours and 40 minutes later, much more happily than the Phillies game across the street, with a Mike McCready interpretation of Jimi Hendrix's "Star Spangled Banner." (Despite the rumors, Jimi Hendrix did not show up to play with him, although earlier in the show, Eddie Vedder did bring out 89 year old Spectrum stage hand Charlie DiFabio, who's worked at the Spectrum since 1967, for a moment of onstage glory.)
There were as many songs in the encores as there were in the main set, including a Halloween surprise cover of "Whip It," with band members dressed as Devo from their red flower pot hats down to their yellow jumpsuits. Vedder and crew whipped out the obscurities, too: after failing at first, Vedder got through his accordion parts on the creepy, crawly "Bugs," from 1994's Vitalogy, which had never been played live before. That's also apparently true of "Sweet Lew," the stripped down Kareem Abdul-Jabbar-Lew Alcindor inspired trifle, which was sung by Jeff Ament (while wearing a Wilt Chamberlain Sixers throwback jersey, nice touch) as Vedder palmed a basketball to his left. That one was followed by "Do The Evolution," with a Julius Erving tribute intro: "First we crawled out of the sea, then we learned to walk upright, and then Dr. J taught us how to fly!"
Along the way, the band pulled out rarites like "Out Of My Mind", and "Pilate," and again employed the Philadelphia string quartet of Marjorie Goldberg (viola), Kaveh Saidi (violin), and the wife and husband team of Jennifer Lee (violin) and Glenn Fischbach (cello) on extended chamber rock section at the start of the first encore that included a gorgeously rendered "Just Beathe," from Backspacer, as well as "Low Light" and "The End." (Backstage on Saturday, Goldberg said that all week Vedder had been "exceptionally nice," and Fischbach called the expereince "incredible" and note that Vederr "knows my name. That's kind of cool.")
Meanwhile, Vedder himself seemed star struck when he told of meeting Dave Schultz and Bernie Parent of the Flyers back stage. And at one point the everything-but-the-kitchen-sink show, spurred by a Halloween reveler dressed as Kiss' Gene Simmons, led to Vedder and McCready to exchange dirty innuendos about their mothers. ("We don't tape these shows, do we?," quipped Vedder.)
The four show marathon came to a close not with any of the rumored special guests materializing - Vedder had put the kibosh on that earlier in the evening - but with a more than fair share of majectic rockers, including "Jeremy," "Alive" and a particularly powerful after-midnight audience singalong "Better Man," which Vedder said he had added to the set list "because I want to hear this in this building one more time." Before the closing "Yellow Ledbetter," which led into McCready's Hendrix move, the over-the-top intended showstopper was a cover of Neil Young's "Rockin' In The Free World."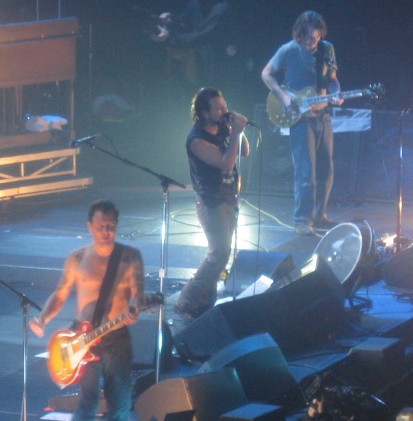 I was happy to hear it, because I missed the opening night show that was the only other time PJ performed it on this stand. But as a blistering rocker intended to blow the roof off the hallowed hall one last time, it was misconceived. Or at least the bells and whistles - or, more literally the tons of red, white and blue balloons and confetti that showered the room while Vedder was singing Young's protest lyrics about "a kinder, gentler machine gun hand" - came off forced and awkward.
All week long, Pearl Jam did yeoman's work as it faced an uphill battle: Living up to the example of Bruce Springsteen's four October shows in closing down the cramped, beloved Philadelphia showplace whose history covers most of the rock era. Vedder was clearly humbled by the task, and along with his rugged, heroic band, he strove mightily and delivered thrill after thrill to to their massive, deeply loyal audience. The balloons and confetti felt hokey, though, a party trick for a party band, which Pearl Jam decidedly is not. And while the last show was probably the sweetest music to the ears of hard core fans who can never get too much of their favorite band, it was a bit too loose and baggy in comparison to its predecessors. Friday's was tighter, with a more impressively, impossibly roaring crowd, and Wednesday's was more flat-out fun.
Though maybe that was just because a Phillies win produced a giddy mood in the room that night, while on Saturday the news of the Yankees overtaking the Fightins spread via iPhone and Blackberry and dampened the mood on a rainy Halloween night. And it was partly due to the realization that the improbable run of great shows that the outdated old hall has hosted over the last year - Neil Young, Green Day, Springsteen, Pearl Jam - was finally coming to an end. In any case, by the time Vedder said: "Thank you Philadelphia, thanks for being so good to the band. Goodbye to the Spectrum. We love you. Good night. Peace," and Frank Sinatra's "High Hopes" played, it felt like it really was time to go.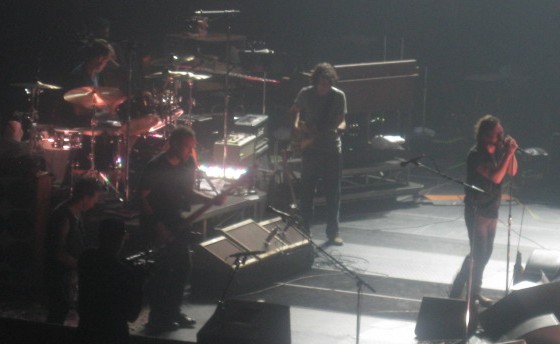 Here's the set list:
Why Go / Last Exit / Corduroy / Severed Hand / The Fixer / Elderly Woman Behind The Counter In A Small Town / You Are / Amongst the Waves / Even Flow / Pilate / Unthought Known / Daughter / Johnny Guitar / Rats / I'm Open / I Got Id / Glorified G / Out Of My Mind / Black/ Insignificance / Life Wasted
First Encore: Just Breathe / The End / Low Light / Speed of Sound /Jeremy / Inside Job / Bugs / Spin the Black Circle / Porch
Encore 2: Whip It / Got Some / Crown of Thorns / Satan's Bed / Sweet Lew /Do The Evolution / Better Man (w/Save It For Later)/ Smile / Alive / Rockin' In The Free World /Yellow Ledbetter/ Star Spangled Banner
Previously: Pearl Set List, Night Three