This year's Non-Comm radio convention wrapped up on Friday night, with standout performances from Laura Mvula, The Lone Bellow, Free Energy and The Relatives, the re-united gospel quintet from Dallas, Texas.
First up was Mvula, the seriously talented British singer-songwriter with an arresting stage presence and distinctly dignified vocal delivery. On stage and on her just-released debut album, Sing to the Moon, Mvula, who's from Birmingham, plays piano and proffers her own brand of chamber-soul. On Friday, her band featured a harp, cello and electric violin, with surprising arrangements putting handclaps and multi-part harmony to use, while puling from gospel and funk. She bears watching.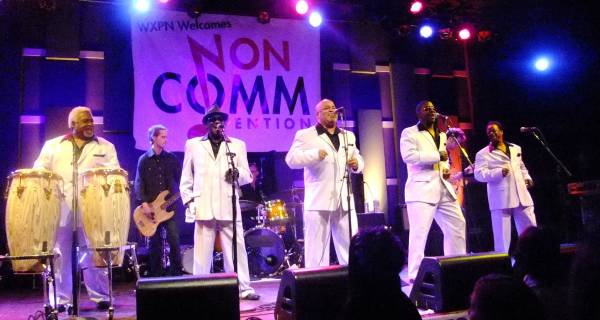 The Relatives closed out the confab, dressed in matching white suits and sporting (not too) choreographed stage moves. Formed by brothers Gean and Tommie West (second from left and far right) in 1970, the band broke up ten years later before recently reforming and recording their new album The Electric Word with Jim Eno of Spoon producing. The unique niche is psychedlia and funk-flavored gospel. While praising the Lord - "Make time for The Man / Try to live right if you can," they sang on Friday, while backed by a band of young white musicians - they came on like "Psychedlic Shack" era late period Temptations.