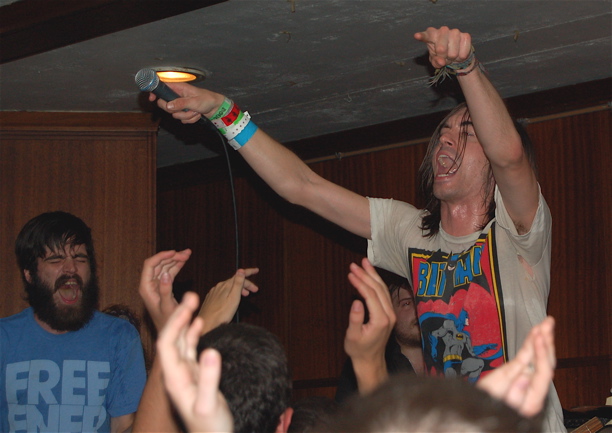 The Free Energy show with Titus Andronicus at the First Unitarian Church on Thursday night happened to fall on Bruce Springsteen's 61st birthday, and Frenergy singer Paul Sprangers brought out bountifully bearded Titus leader Patrick Stickles to celebrate with a raucous, all-in cover of "I'm Going Down" that turned up the heat in the wood paneled sweatbox. Philadelphia and New Jersey, perfect together. Has a Springsteen song ever been sung before at the indie-centric FU Church? Not with this much enthusiasm and complete absence of irony, I'm saying.
Speaking of Free Energy, who kicked their set into overdrive on Thursday with the non-album cut "Something In Common," joined by Titus guitarist Amy Klein, if you think you already read all there is to read about them in last Sunday's Inquirer Arts & Entertainment section, you would be incorrect. (And if you haven't read that already, you can do so here.) There's more where that came from: Part Two of the Free Energy and the music business opus will be in this Sunday's A & E.
Springsteen's own live version of "I'm Going Down," from Lincoln Financial Field at the tail end of The Rising tour in 2003, is below.
Previously: Philadelphia Film and Music Festival Kicks Off