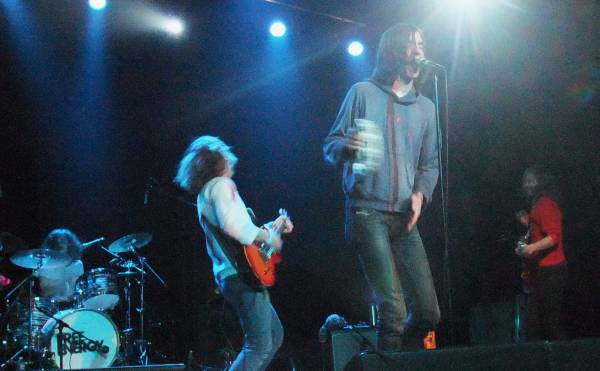 I've got a rather large story in this Sunday's Inquirer A & E section that looks at the various ways the music business has been turned upside down in the last decade. The story is here. It follows Philadelphia rock band Free Energy as they work to make a name for themselves in the business.
I've been keeping an eye on Free Energy - who are led by singer Paul Sprangers and guitarist Scott Wells, who are from Red Wing, Minn. and moved here in 2008 - going all the way back to a Haiti benefit they played at the Trocadero in January which I had completely forgottten about and which is where the photo above was taken. If I'm counting correctly, I've seen them seven times since then, and they've always delivered the goods live. On Thursday, they share a particularly strong double bill with well-read North Jersey punks Titus Andronicus at the First Unitarian Church.
Here's a bunch of Free Energy clips, starting with the videos for "Free Energy" (note the Girard Avenue trolley car rolling through) and "Bang Pop," shot at Pennwood Middle School in Yardley, and including clips shot at a club in Cleveland, at an in-store appearance at Main Street Music in Manayunk, and in drummer Nick Shuminsky's back yard. The Free Energy home page is here, and their MySpace is here. Look out for more about Free Energy and the biz next Sunday. (UPDATE: Free Energy, Part Two, is here.)
Previously: Sanity vs. Fear
Free Energy, "Free Energy"
FREE ENERGY "Bang Pop" from Free Energy on Vimeo.
Free Energy, "Bang Pop"
Free Energy, "Hope Child," at Main Street Music in Manayunk, 5/28/2010
Free Energy, "C'mon Let's Dance," Cleveland, Ohio.
Wood Talk with Nick Shuminsky