Before beginning their Sunday evening set at the Firefly music festival on Sunday in Delaware, Wayne Coyne of the Flaming Lips gazed out on the idyllic grounds of The Woodlands of Dover International Speedway.
"Steven, this is going to be a beautiful night," Coyne said to Steven Drozd, his Lips collaborator, as thousands gathered before them on the fest's Lawn stage. "Look out there. This is just perfect. I hope this festival is successful and they can do it again. This is special."
With that, Coyne, Drozd and the Lips launched into "Race For The Prize," confetti and beach balls flew, and one of two simultaneous penultimate sets were under way on the final night of Firefly. (Girl Talk, the one man unstoppable perpetual motion party band that is copyright flouting DJ Greg Gillis, began playing at the same time on the other side of the trees on Firefly's Backyard stage.)
It's a big festival summer in the mid-Atlantic region, and with Firefly now in the books - The Black Keys, whose drummer Patrick Carney is pictured, finished off the festivities with a blistering blues-rock set on the main Firefly stage - two of the three brand new oversized hoping-to-be-annual fests within driving distance of Philadelphia are over and done.
The Metallica headlined Orion Music + More fest transpired over two days at Bader Field in Atlantic City in June, and the Jay-Z- and Pearl Jam-headlined Made In America is still to come, Labor Day weekend on the Benjamin Franklin Parkway in Philadelphia.
Wayne Coyne of the Flaming Lips
Firefly, which began on Friday with Jack White topping the bill, took place the same weekend as WXPN FM's Xponential Festival, which grew to larger than ever proportions in Camden this year, spreading from Wiggins Park to the adjacent Susquehanna Bank Center with back-to-back shows topped by Wilco and Counting Crows. Read Jonathan Valania's rave review of the Xponential Saturday here and Steve Klinge's take on the first two days of Firefly here. Both are in Monday's Inquirer.
I was out of town and / or stuck in traffic most of the weekend, so it wasn't until Sunday until I got a chance to lay my eyes on Firefly, the inaugural music fest put on by Chicago-based Red Frog Events, who rather presumptively billed their weekend, which featured 45 acts on four stages over three days, as "The East Coast's Premier Music Experience."
Firefly is getting a little ahead of itself there, but for the first time out, the festival got pretty much everything right. Of the seven acts that I heard on Sunday - Keys, Lips, Girl Talk, plus indie singer-songwriter heroes Death Cab for Cutie, mellow-soul man Allen Stone, black Brit rapper Tinie Tempah and revved up retro-R & B revue Fitz & the Tantrums - there wasn't a slack act in the bunch.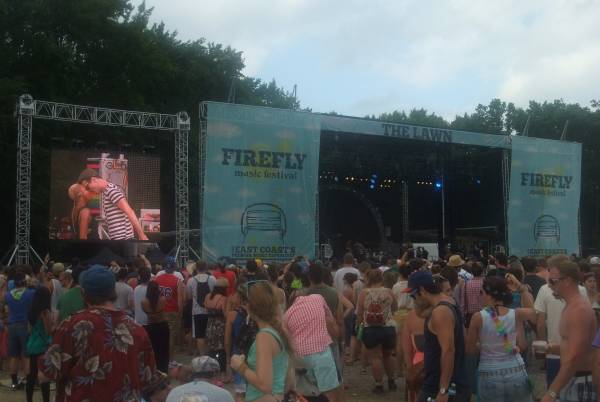 Noelle Scaggs and Mike Fitzpatrick of Fitz & the Tantrums, up on the big screen.
Tempah's hit "Written In The Stars" brought the house down and Fitz's Mike Fitzpatrick and co-lead vocalist Noelle Scaggs generated heat, strutting their stuff in style. Resistance was futile during Girl Talk's just-as-night-fell set mashed-up Kelly Clarkson and Rick Springfield with Ozzy Osbourne and Jay-Z and Kanye West, hitting one sweet spot after another and making many people happy.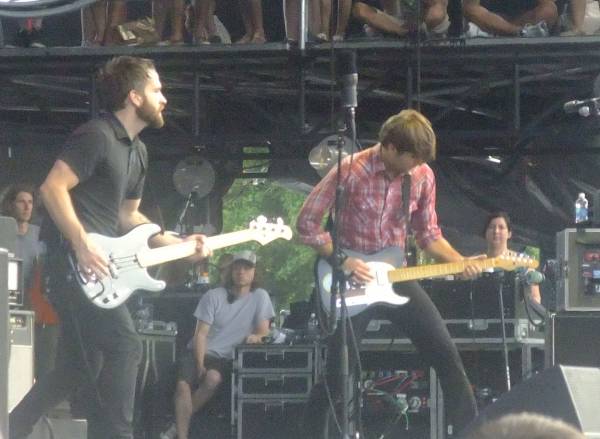 Death Cab For Cutie.
Death Cab's Ben Gibbard's late afternoon set included the winning stage quip of the day: "Enjoying the festival?" he asked the overwhelmingly under 30 crowd before "Grapevine Fires." "Doing all sorts of bad stuff? I'm currently on my favorite drug of all time: DayQuil."
Much of what makes a gathering like Firefly fly or die is what people in the concert business call "the festival experience." Not just the bands, but the context the bands are placed in. Firefly gets high marks, first of all for the lovely setting on an 87 acre site that was laid out in two adjacent clearings in the woods, each several football fields long. The areas were divided by a forest full of trees that prevented sonic bleeding, so if you were seeing say, Chiddy Bang on Saturday afternoon, you'd have to run over to the other side of the fest to check out Cake, who were on stage at the same time.
Other good stuff: The Brewery, an air conditioned tent featuring beers by Milton, Delaware craft brew kingpins Dogfish Head, including Firefly Ale, a delicious American pale ale custom made for the fest. A + for that. There was also a less crowded wine selling area called the Vineyard, and varied food options from burgers and corn dogs to Korean tacos and quesadillas.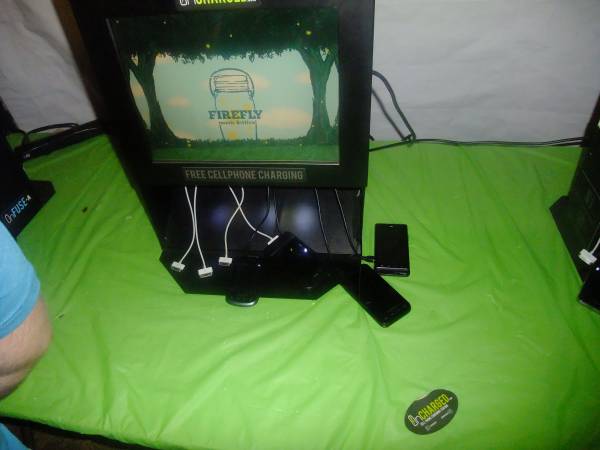 Also quite cool, literally, were the Cool Down, Charge Up tents, where air conditioning, not so essential on a mild and drizzly though mud free weekend, was paired with lots of charging cables for the smart phone addicted to juice up. And in an also AC'd Arcade tent, vintage pinball machines, video games and carny attractions - Skee Ball, yes please - could be played for free.
Quibbles, complaints? There was a plenty of parking available in the racetrack lots, but unless you live in Delaware, Firefly, which organizers said drew 30,000 per day, is a long haul drive. It took me 90 minutes each way on a summer Sunday that, for me anyway, was remarkably free of traffic. The solution is to camp - or more glamorously "glamp" - a tactic which many people took, though I overheard some grousing about the long walk to the camp grounds, nestled by Route 1.
Tinie Tempah.
Firefly was pretty wide ranging musically, with a taste of hip-hop in Tempah and Saturday headliner Lupe Fiasco and electronic dance heavyweight Bassnectar on Friday night. The fest was short on female fronted acts: Besides the requisite women in cheerleader outfits with the Flaming Lips and hearty-partying audience members during Girl Talk, the only female I saw on stage was Fitz & the Tantrums attention-commanding Scaggs. (By contrast, Firefly had two of its three headlining acts qualify as white guy blues-rockers whose basic aesthetic approaches, in these everything-old-is-new-again retromania pop music days would have ben as in step in 1966 as they are in 2012.)
In his review, Klinge makes the salient point that Firefly still needs to define what it's music mission is, whether it means to make a play to be the east coast answer to Bonnaroo jam band leanings or Coachella's indie-electronic aspect. In its first year, though, it took a little-bit-of-everything approach that worked out just fine, playing to shuffle culture catholic tastes, and not tying itself too strongly to any one artist, the way Orion did with Metallica, or Made In America is associated with curator Jay-Z.
Two down, one to go. You're up next, Made In America.
Below, video of White playing "Dead Leaves and The Dirty Ground," via the Wilmington News Journal, on Friday night.
UPDATE: On Tuesday, Firefly announced it will be coming back to Dover in 2013. No acts announced yet, naturally, but advance tickets go on sale on 7/25 at FireflyFestival.com.
Previously: Summer Playlist Follow In The Mix on Twitter