Dogfish Head, the justly esteemed craft brewers out of Milton, Delaware, have made music their business many times, from the Miles Davis-honoring fusion stout B*tches Brew, the annual Analog A-Go Go music fest and the Jon Langford artwork that adorns such specialty brews as Burton Baton and Raison D'Extra.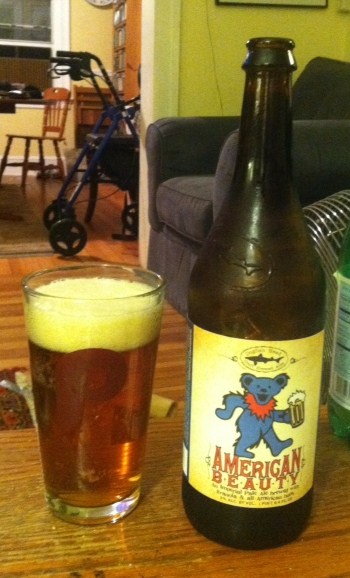 The latest synergistic endeavor to come out of the hop head of Dogfish top man Sam Calagione is American Beauty, an Imperial Pale Ale that shares a name with the 1970 album by the Grateful Dead. That's the LP with "Friend Of The Devil," "Truckin'," "Sugar Magnolia" and "Box of Rain." It's as good of a record as the Dead ever made, and along with Workingman's Dead, which contains "Casey Jones" and "Uncle John's Band," its hippie hillbilly music brew served up the radio songs that were most identified with the band for decades to come.
American Beauty, the beer, is a 9% alcohol pale ale whose hoppy kick is sweetened by a special Dead friendly ingredient. (No, it's not "Ripple.") A call for suggestions about what to to mix in with the hops, barley and water brought 1500 responses, and the winner was a Deadhead named Thomas Butler who wrote in that "granola was the main course in millions of parking lot meals, and [he and his father] both agreed it would be a sweet and toasty complement to the pale ale's all-American hops and barley."
Sweet it is. American Beauty, pictured here poured into my old school Phillies logo pint glass, goes down easier, with a nut and honey aroma, and without as much bite, as Dogfish Head's other high alcohol American music beer, the Robert Johnson inspired Double IPA Hellhound On My Ale, which swaggers with a 10% ABV. That's fitting, I suppose, since in their musical apotheosis, the Dead were indeed a very sweet band, as time spent revisiting Jerry Garcia's pearly note guitar playing and liquid vocal work on American Beauty confirms. And they were never ones to come close to kicking with the frightening urgency of Johnson, trying to keep one step ahead of the bedeviling beast at his heels.
Below, check out Dogfish's Calagione talking about American Beauty, and feel free listen to all 80 minutes of American Beauty.
American Beauty is for sale at various beer distributors, liquor stores and watering holes in the area. The Dogfish Head Fish Finder widget can tell you where.
Previously: Pearl Jam, Night One Follow In The Mix on Twitter