I know that it's supposed to one big beer and BBQ fueled bacchanal, but for me, actually enjoying yourself at SXSW can be a challenge.
It's too crowded, it's too corporate, it's to much of a cluster.... Well, you know what I mean.
I've been coming to Austin for over 20 years, and at some point during at least half of those visits, I told myself, while gaping at some gigantic round-the-corner line formed two hours before showtime, or after being caught in a cattle shoot with a crowd of inebriated bros on Sixth Street, I told myself, 'That's it: I'm not coming back next year!"
That was my thinking on Thursday evening as I headed out, once more into the breach. Since peaking with big names earlier this decade, when Jay Z, Kanye West, Lady Gaga, Prince and Justin Timberlake all played SXSW, the fest has eased up on the giant star dropping in on the once humble festival parlor trick.
That's been largely to the good, as those gigantic acts tend to elbow out the striving up and comers that the fest is allegedly designed for.
The downside of not having some giant must see attraction to focus all your energies on - and brag about when you get home and tell all your friends how cool you are - is that leaves you to scroll through an endless seeming list of lesser known acts on your SXSW app and be paralyzed with indecision as to what to do with yourself.
The answer is always to go with the flow, try out some new stuff, see what happens. Focus on "music discovery" to use an industry catchphrase that is rapidly becoming hackneyed.
That's what I did on Thursday night, and guess what, dear reader? It all worked out fine.
First though best thought: Go see a band you know little about, just because you're taken with their name. I started the evening with All Our Exes Live In Texas, playing on the second floor of Congress Avenue eatery Cooper's BBQ.
They turn out to be not the honky tonkin' country band you might expect from an outfit named after a George Strait song, but an all female Australian folk quartet who had never previously been in Texas in their lives. Witty repartee ensued about how the foursome - accordionist Elana Stone, mandolin player Georgia Mooney, ukelele player Hannah Croft and guitarist Katie Wighton - were intent on getting married and divorced in the Lone Star State.
More importantly, they're all sharp songwriters, with a knack for inventive vocal arrangements and multi-part harmony, and as they took turns singing lead on their own tunes there was not a dud in the bunch. Their new and only album is called When We Fall, and "Boundary Road," one of the highlights from it, was included in the NPR 100 list of top acts playing SXSW.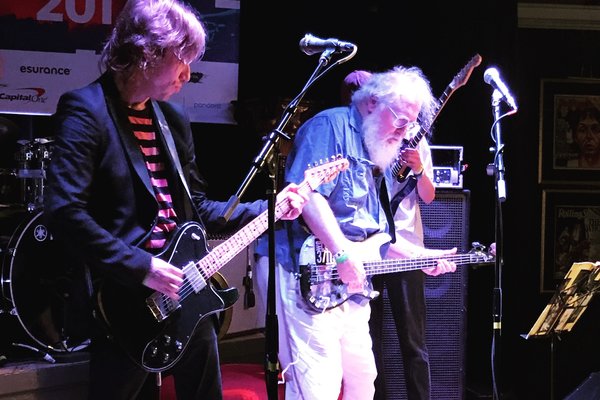 Jason Falkner & R. Stevie Moore.

From there, it was onto R. Stevie Moore and Jason Falkner upstairs at Maggie Mae's Gibson Room. This was another treat. Moore is the senior citizen white bearded super prolific songwriter who used to run the mail order R. Stevie Cassette Club, tough which he put out thousands of homemade songs in an array of styles that had significant impact on younger mad geniuses in training like Robert Pollard of Guided By Voices, Ariel Pink, and power pop wiz Falkner, with whom he's just released a collaborative album. I only caught a couple of songs of this, but it was a blast of fuzzy guitar and melodic energy, with Moore, who walks with a cane, some time seated and sometimes rising up as his junior partner ginned like a Cheshire cat. The melodic, cheerfully misanthropic songs seemed to be apolitical, but Moore ended the set by bellowing one word in keeping with this contentious SXSW: "Impeach!"
Next, over to a venue of more over political protest. My first time seeing Moor Mother, the moniker of North Philly spoken word / industrial artist and activist born Camae Ayewa. She played at Valhalla, a grungy Red River street club with a low stage and a crowd gather close around her. I had to climb a set of stairs to get a glimpse. She raps recites with intensely focused energy, placing her voice in a rugged, intentionally unpretty soundscape. I only saw two songs, the last of which, Deadbeat Protest, from last year's Fetish Bones on the Don Giovanni label, found her prone on the stage floor, repeating the last line desperate, ominous line: ":Get away from me, you can see my dead body at the protest."
Where to? Conveniently, Girlpool were playing across the street at Elysium. That's the duo of Cleo Tucker and Harmony Tividad who are from Los Angles, moved to Philadelphia a couple of years ago, and are now back in L.A. In Austin, the women were back by a rhythm section, rounding them out into a more fully fleshed out and not quite so folkie four piece, and sampling songs from Powerplant, their Anti- record debut, which Jeff Tweedy of Wilco made an offer to produce that they turned down because they didn't have time to wait for him to be available. The band's specialty are stately, forthright songs about navigating early adulthood sung with keening vocals that make the heart swell. the new ones sounded good. And "Chinatown," from their 2015 full length Before The World Was Big, which turns on the carpe diem question "Does it make you restless when you realize you're alive?," sounded great as always.
Next move was around the corner to Barracuda, the 7th Street venue which like so many Austin clubs, has the neat trick going on of an indoor room and second out door stage, soundproofed well enough to have two shows at the same time. Earlier in the day, I had been there to catch Coco Hames, the former leader of Memphis garage band The Ettes (and spouse of Replacements biographer Bob Mehr) and Chicago punk trio with a fitting name in a city that caters to carnivores: Meat Wave.
At this last hour, the Barracuda lure was Cherry Glazerr, the punky Los Angeles rock band fronted by Clementine Creevey, who I missed when they came through Philly earlier this ear. Unbeknownst to me, there was another formidable act playing at the outside stage: Khruangbin, the Houston and London-based soul-funk mostly instrumental trio fronted by Mark Speer and Laura Lee.
There was a wonderful yin and yang, push and pull between these two acts and the two sides of the room. Cherry Glazerr songs have a prickly, furious energy to them: Creevey is a formidable guitarist and a riveting performer, and the band is far more rhythmically adept than your average "punk" outfit. Reminded me of Fugazi at times. Khruangbin, meanwhile, is super silky and smooth, shaped by the Thai funk heard in Bangkok bars in the 1970s as heard on their 2015 album the Universe Smiles Upon You. Great hair, too. Loved them both.
Time for one more. While I was bouncing between the swinging doors at Barracuda, my pal Vince - who's gamely marching around the Austin streets while recovering from a torn achilles, so who am I to complain? - was texting me from a few blocks away at a club called Teller's, where first class piano pounding showman Adam Weiner and the rest of Philadelphia's own Low Cut Connie were about the start their set.
One they did, I skipped over there, and caught the band, who are about to let loose their louche and joyously rocking new album Dirty Pictures (part 1). That's for being a nudge, Vince. The quintet were roaring in fine form, crammed on a tiny stage that forced Weiner to spend a great deal of time either on top of his piano or in the crowd in an effort to direct his manic energy. The single, "Revolution Rock n' Roll" is a winner, and alive cover of The Misfits' "Where Eagles Dare" was fabulous.
I guess I am coming back next year, after all.
Previously: Ron Gallo at SXSW Follow in The Mix on Twitter