Archive: September, 2011
Mickey Melchiondo, who plays guitar most excellently in Ween under his not-given name Dean Ween and also will be happy to be your fresh or saltwater fishing guide, is hosting a charity baseball game this Sunday at New Hope High School in Bucks County. It's called Dean Ween's October Classic, and it costs $5 to watch, with all proceeeds going to the American Cancer Society.
Other luminaries involved include Josh Homme of Queens of the Stone Age; Glenn McClelland, formerly of Blood Sweat and Tears, and currently of Ween, who will be playing organ; and Gene Ween, a.k.a Aaron Freeman, who will sing the National Anthem. Gametime is 1:30 p.m. Sunday, at 182 West Bridge Street in New Hope.
Ween play the Hammerstein Ballroom in New York on Halloween, and Gene Ween and Dave Dreiwitz are on the Weezer cruise between Jan. 19-23. Ween's "Transdermal Celebrastion" is below.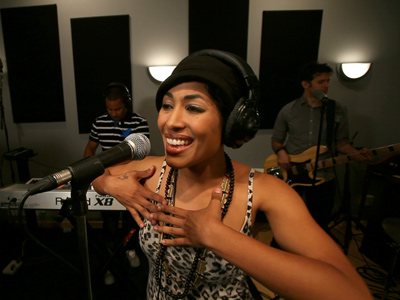 On Pennies In A Jar, her debut album, Philadelphia songwriter Nikki Jean collaborated with a host of songwriter's songwriters, some of whom are household names, like Bob Dylan, Carole King and Burt Bacharach, and others, like Luigi Creatore, who co-wrote "I Can't Help Falling In Love" and "Kisses Sweeter Than Wine" and Jeff Barry, who teamed with Ellie Greenwich and Phil Spector on "Be My Baby" and Da Doo Ron Ron," who wrote iconic pop songs without stepping out as perfromers.
In that latter category would be Thom Bell, the Sound of Philadelphia songwriting genius who specialized in penning fabulously titled pop songs like ""Betcha By Golly, Wow" and "(Didn't I) Blow You Mind This Time" for falsetto-blessed vocal groups like The Stylistics and The Delfonics,
Nikki Jean went to Bellingham, Washington to work with the man she always calls "Mr. Bell" and they wrote a song together with his name in the title. Earlier this month, she came to Aaron Levinson's Range Recordings studio in Ardmore and sang it, in addition to two other Pennies songs, and also sat down for an interview with me about how she went from Nouveau Riche to singing hooks for Lupe Fiasco to Pennies In A Jar. The whole show is here. Below, you will find "How To Unring A Bell" by the S-Curve recording artist, who plays the World Cafe Live on Oct. 18.
Wilco's 8th studio album, The Whole Love, comes out today. It's a keeper. My review is in the Tuesday Inquirer and here. So far, the Chicago sextet has not announced a Philadelphia area show yet, though they did play for a full hour on David Letterman last week - see that here - and did a show in Maryland the other night with Nick Lowe that was streamed live on NPR. (You can listen to that here, and hop on a plane to see both of them in Raleigh, N.C. tonight.) An interview I did with Jeff Tweedy in 2010 is here. The Whole Love's first single, "I Might," is below.
Previously: Music and Beer: World Cafe Broadcaster Ale Follow In The Mix on Twitter here Inquirer PopLife on Facebook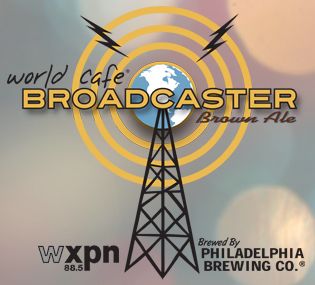 Music and beer, beer and music. They go together like Astaire and Rodgers ... Proscuitto e Melone ... Sacco and Vanzetti. The Philadelphia environs are a hotbed of craft brew activity, and the forecast for future growth is anything but flat, as Harold Brubaker's story in the Sunday Inquirer made clear.
And many a local brewer is in the synergy-with-the-music-business business. Sam Calagione's Milton, Delaware-based Dogfish Head put on a vinyl record fair this summer called Analog-A-Go-Go, and has released specialty brews tied in with Miles Davis and Robert Johnson re-issues.
This year, Philadelphia's Yard's Brewing Company released Yard's Folk Fest lager to celebrate the 50th anniversary of the Philadelphia Folk Festival this August. And not to be outdone, Philadelphia Brewing Company is releasing World Cafe Broadcaster Brown Ale in conjunction with the 20th anniversary of the WXPN (88.5-FM) based nationally syndicated show hosted by David Dye. Broadcaster Brown is "a medium bodied, deep red-brown hued ale" with a modest 5.0% alcohol by volume. More info on the beer here.
Radiohead did "Lotus Flower" from King of Limbs and the non-album "Staircase" on SNL last night, in the season premier episode hosted by Alec Baldwin. Check them out below, then head over to Dave on Demand to see the opening monologue featuring Baldwin, Schweddy Balls, Steve Martin and a special guest.
Previously: Live in the Mix with Nikki Jean Follow In The Mix on Twitter here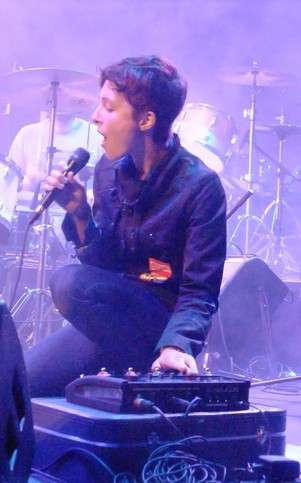 Union Transfer, the new rock club at 10th and Spring Garden, opened on Wednesday night with Calp Your Hands Say Yeah as it's first headliner. I wrote about it here and here.
The one thing I'd add to what I already said is that it would be good if Union Transfer put some bar stools in the place. It's a standing general admission concert venue, sure, but it wouldn't be a bad idea for those who tire of standing over the course of a two or three act bill to have some place to park their tuckus, particular in the back bars where you're not going to be watching the band, anyway.
Before it opened, philly.com camera guy Jon Anderson shot a video of R5 promoter Sean Agnew and I talking about what Union Transfer was, is, and aims to be. That's below. Channy Moon Casselle of Polica, the first band to play on the UT stage, is pictured.
I spent an enjoyable morning earlier this week talking on the phone to Noah Lennox, a.k.a. Panda Bear, the Animal Collective artiste who lives outside of Lisbon and whose new album Tomboy captures the lonesome, trippy sound of him singing in a Brian Wilson echo chamber in his own head.
Things I wouldn't have guessed about Panda Bear: That he went to see more Sixers and Flyers games than rock shows in Philadelphia when he went to high school in Phoenixville, that he's a huge fan of the Brazilian race car documentary Senna and the Portuguese soccer team Benfica (whose name he borrowed for the title of the last song on Tomboy), and that if he had to choose an alternate career, the chillwave poobah and indie-pomo Person Pitch auteur whose music is kept on an endless loop by coffee shop baristas everywhere would have opted to be a sports journalist. And yes, there is a new Animal Collective follow-up to Merriweather Post Pavilion in the works.
Panda Bear plays the moved to the Liacouras Center Popped! Festival tonight, with the assistance of Spacemen 3 producer Sonic Boom. He goes on at 8:55. The full schedule is here. My interview with Lennox from Friday's Inquirer Weekend section is here. Below, he plays solo at last year's Pitchfork Music Festival.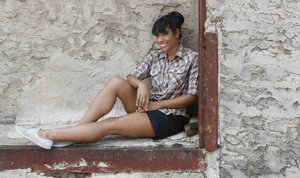 Philadelphia songwriter and singer Nikki Jean's debut album Pennies in Jar was released on S-Curve Records in July. It features the Minnesota native collaboratiing on new songs with Burt Bacharach, Bob Dylan and Thom Bell, among many other classic songwriters. This month, the singer came to producer Aaron Levinson's Range Recordings in Ardmore, and performed three songs with her three-piece band. Go to www.philly.com/nikkijean, or right here to hear "How To Unring A Bell," written with Philly soul architect Thom Bell and "China," penned with legendary '60s pop songsmith Jimmy Webb, plus my interview with the 28 year old piano player, Irving Berlin enthusiast and former Lupe Fiasco hook-singer. Read more about her here. And click below to hear her sing "My Love," which she wrote with the great Motown songwriter Lamont Dozier.
Nikki Jean has two daytime gigs this weekend. On Saturday, she's at the Liacouras Center as part of the all-day Popped! Fest proceedings, going on at 11:25. That schedule is here. On Sunday, the Manayunker has an in-store at Main Street Music at 1 p.m.
Previously: Behind the Scenes at Union Transfer Follow in The Mix on Twitter here