Archive: September, 2010
Dan DeLuca

, Inquirer Music Critic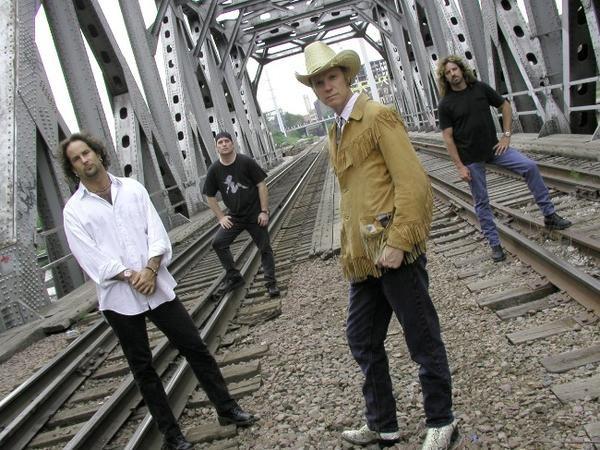 The great 1980 rockabilly cowpunk band Jason & the Scorchers play the Sellersville Theater 1894 in Bucks County tonight, with the high recommendable Massachusetts roots-rock band Sarah Borges & the Broken Singles opening.
Their fabulous 1983 album Fervor, J & the S - whose current reunited incarnation does include singer Jason Ringenberg and guitarist Warner Hodges - included one of the greatest Bob Dylan covers known to man, in the hyperadrenalized "Absolutely Sweet Marie," from Blonde on Blonde. The big-haired video is below.
Dan DeLuca

, Inquirer Music Critic

Guitarist Nick Zammuto and Paul de Jong - together, the band known as The Books - are slyly inventive collagists who specialize in turning found sounds (and video clips) into fascinating and compelling folktronica, by turns brittle and becalming and manically cacophonous. "A Cold Freezin' Night," from the new The Way Out, which is built from samples pulled from old self-help recordings, is on the crazier side, and features a pint-sized battle of the sexes between a boy and a girl talking back at one another. Keep your eye out for the Phillie Phanatic in the clip below. The Books are at the Trocadero tonight for an all-ages show with the Black Heart Procession.

Previously: John Legend and The Roots "Wake Up" The Arcade Fire
Dan DeLuca

, Inquirer Music Critic

When The Roots got together with John Legend in the wake of Barack Obama's election as POTUS and decided to do an album of covers of socially conscious songs, one of the first they recorded was the Arcade Fire's "Wake Up." The spirit-filled rocker by the rousing Canadian ensemble didn't make the final cut on Wake Up!, which came out last week and wound up veering more towards R & B tunes from the 1960s and 1970s, including Harold Melvin & the Blue Notes' "Wake Up Everybody." Last week when Legend and The Roots played Terminal 5 in New York, however, they pulled the Arcade Fire tune out of their hats. The Spike Lee directed clip is below. My review of Wake Up! is here. (Via Pitchfork.)

Previously: Sleigh Bells Ring
Dan DeLuca

, Inquirer Music Critic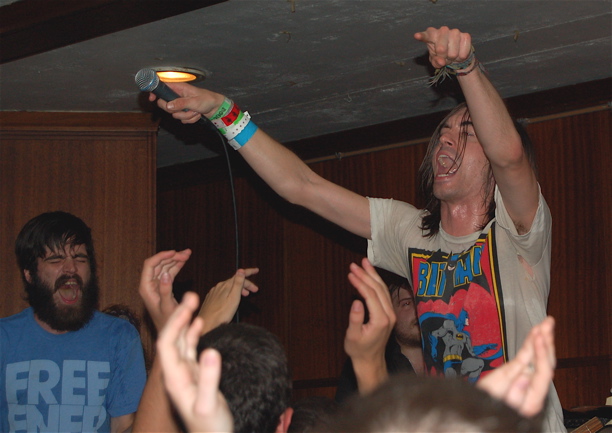 The Free Energy show with Titus Andronicus at the First Unitarian Church on Thursday night happened to fall on Bruce Springsteen's 61st birthday, and Frenergy singer Paul Sprangers brought out bountifully bearded Titus leader Patrick Stickles to celebrate with a raucous, all-in cover of "I'm Going Down" that turned up the heat in the wood paneled sweatbox. Philadelphia and New Jersey, perfect together. Has a Springsteen song ever been sung before at the indie-centric FU Church? Not with this much enthusiasm and complete absence of irony, I'm saying.
Speaking of Free Energy, who kicked their set into overdrive on Thursday with the non-album cut "Something In Common," joined by Titus guitarist Amy Klein, if you think you already read all there is to read about them in last Sunday's Inquirer Arts & Entertainment section, you would be incorrect. (And if you haven't read that already, you can do so here.) There's more where that came from: Part Two of the Free Energy and the music business opus will be in this Sunday's A & E.
Dan DeLuca

, Inquirer Music Critic

Are you listening? Electro-rock duo Sleigh Bells ring out at the Making Time at the Naval Cruise Terminal at the Navy Yard tonight, opening for LCD Soundsystem. Steve Klinge's preview is here. My interview with Sleigh Bells guitarist Derek Miller from July is here. Below, Alexis Krauss does damage with a baseball bat on "Infinity Guitars."

Previously: Free Energy Titus Andronicus Springsteen Birthday Celebration
Dan DeLuca

, Inquirer Music Critic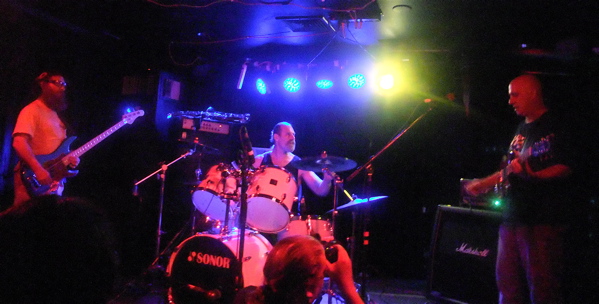 The Philadelphia Film and Music Festival begins on Thursday and carries on full force at over 30 venues around town through the weekend. Among the absolute best will be The Notekillers, the veteran Philadelphia experimental rock band who weld together a savage white-noise assault with the craftiness of a surf-rock band. That's them earlier this year at the M Room, where they'll play again tonight, with Kohoutek, American Speedway and Dark Sea Dream. Tonight's full F / M schedule is here.
Previously: OK Go Goes To The Dogs
Dan DeLuca

, Inquirer Music Critic

Aw, aren't those puppies cute. "White Knuckles," the latest one-take viral clip from the pop foursome justifiably known more for their videos than for their music must have taken many canine years of choreography practice to make perfect.

Previously: Following Free Energy