Archive: August, 2011
Dan DeLuca, Inquirer Music Critic
Here's the coolest Kickstarter campaign I've heard about in a good long while. Mike "Slo-Mo" Brenner, the lap steel guitar whiz and ace sideman who once led the Philadelphia acoustic pop band The Low Road, has been studying Hindustani classical music on the side, while also fronting Slo-Mo, his hip-hop roots groove band featuring rapper Mic Wrecka. In December, he hopes to go to Kolkata to further study the 22 string Indian slide guitar known as the chaturangui, with Debashish Bhattacharya, the acknowledged master of the instrument.
To get there, Brenner needs $5000 - which will pay for three weeks of study and recording with Indian musicians, with the tracks then brought back to Philadelphia and completed with Indian and American players. The aim is to create a recording that, in Brenner's words, is "a lush Indian steel guitar trance groove and East-West curried collaboration." So far, Slo-Mo has raised $2701 of his $5000 goal, and he only has until Sept. 11 to make it, or the project will not be funded. Give him $1000 and he'll give you back a guitar lesson, a T-shirt, play a concert at your house and serve up a catered Indian buffet dinner for ten. No, really.
Watch the video below. More info on the project and the Kickstarter campaign here.
Dan DeLuca, Inquirer Music Critic
David "Honeyboy" Edwards, the world's oldest first-generation Mississippi Delta bluesman, died in Chicago on Monday. He was 96. Edwards played with everybody: Charlie Patton, Muddy Waters, Robert Jr. Lockwood, Howlin' Wolf. He remained active until earlier this year.
"Blues ain't never going anywhere," Edwards predicted, in an AP interview in 2008. "It can get slow, but it ain't going nowhere. You play a lowdown dirty shame slow and lonesome, my mama dead, my papa across the sea I ain't dead but I'm just supposed to be blues. You can take that same blues, make it uptempo, a shuffle blues, that's what rock 'n' roll did with it. So blues ain't going nowhere. Ain't goin' nowhere."
A 2007 profile of Edwards frm the London Telegraph is here. Below, he does "Gamblin' Man," and talks some more, from Antoine Fuqua's 2004 music documentary Lightning In A Bottle.
Dan DeLuca, Inquirer Music Critic
Jay-Z and Kanye West - that's The Throne, to you - did "Otis," their Otis Redding-sampling single, at the VMAs last night. There was lots of fire, smoke and an American flag. The dynamic duo were topped only by Beyonce, who sang "Love On Top," the bouncy Motown-flavored standout from 4, and more importantly, opened her jacket at the end of the performance to reveal the bigger-than-Irene baby bump news that she is PREGNANT. Both videos are below.
Previously: Lady Gaga in drag at VMAs Follow In The Mix on Twitter here
Dan DeLuca, Inquirer Music Critic
Big ups to Lady Gaga for blowing people's minds by dressing up as her super-masculine alter ego, Jo Calderone, for her opening number, "You and I," at the MTV Video Music Awards tonight. This after she kicked up a fuss in the feminine direction by performing topless on the promo ad for the show. She smoked a cig, swigged on a beer, and brought on Brian May of Queen to take the staduim-sized rocker over the top. And in general she left everyone in the Staples Center in Los Angles, from Justin Bieber on up, looking flummoxed and non-plussed, like they had no idea what to make of what was going on, and were afraid to react one way or the other for fear of committing themselves on camera. Except for Dave Grol, who totally dug it.
Previously: Take us home, Leadbelly Follow In The Mix on Twitter here
Dan DeLuca, Inquirer Music Critic
Saturday night's Chiddy Bang show at the Liacouras Center on the Temple University campus has been postponed until Sunday. Irene has done the deed, but the Philadelphia hip-pop band and Taco Bell salesmen consisting of ex-Drexel University music program students Chidera "Chiddy" Anamege and Noah "Xaphoon Jones" Beresin are confidently planning to be back up on stage with only one day's delay. Info here. "The Opposite of Adults" is below.
Previously: Vieux Farka Toure Canceled Follow In The Mix on Twitter here
Dan DeLuca, Inquirer Music Critic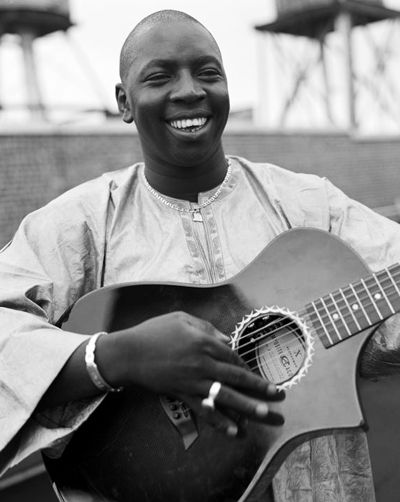 Predictably, the free outdoor Vieux Farka Toure and Kyo Daiko show scheduled for tonight at 40th and Walnut St. has been canceled. Irene is to blame. Info is here. David Stampone's review of the African guitarist's new album The Secret from last Sunday's Inquirer is here. Toure plays with Dave Matthews below.
Previously: Beanie Sigel at the Blockley Follow In The Mix on Twitter
Dan DeLuca, Inquirer Music Critic
Beanie Sigel has tax problems. But you, dear reader, have an opportunity to help ameliorate them. The South Philadelphia rapper from Sigel street born Dwight Grant is awaiting sentencing in November. And tonight, the State Property mahoff who was once Jay-Z's right hand man has a chance to make a few dollars for himself when he makea a rare appearance at The Blockley in University City. Big Ooh, Kid Boogie and Lynn Charles are among the openers. Details here. "The Truth," below.
Previously: New Florence & the Machine Follow In The Mix on Twitter here