Archive: June, 2012
Dan DeLuca

, Inquirer Music Critic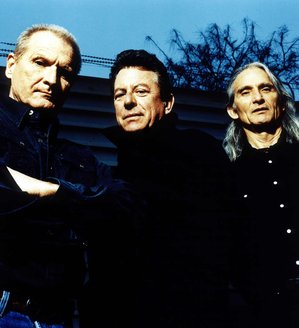 Lubbock, Texas legends The Flatlanders - country-plus song-poet troubadours Joe Ely, Jimmie Dale Gilmore and Butch Hancock - don't make it up to the northeastern U.S. as a trio all that often. But all three will be at the Sellersville Theater in Bucks County tonight.
The Flatlanders recorded there debut abum - complete with a musical saw - in 1972, but it went unissued until 1990, when it came out under the appropriate title More A Legend Than A Band. This August, the trio will release The Odessa Tapes, consisting of demoes that were recorded before their that 1972 demos was recorded.
Below, check out the band doing "My Wildest Dreams Go Wilder Every Day" from Austin City Limits in 2006. Show info here.
Dan DeLuca

, Inquirer Music Critic
The album cover to Norah Jones' new Little Broken Hearts bears a startling and intentional resemblance to the poster advertising Russ Meyer's 1965 movie Mudhoney, which also gave the gnarly Mark Arm-fronted Seattle grunge band its name.
In my interview with her in today's Inquirer, Jones explains why and how the image of Maitland - which she describes as "a little scary, a little vulnerable" - that hung in the Los Angeles studio owned by Danger Mouse, a.k.a. producer Brian Burton, impacted Little Broken Hearts. Read all about it here.
Jones plays the Mann Center in Fairmount Park tonight. "Happy Pills" from Little Broken Hearts is below. My review of the abum from when it was released in May is here. The Mudhoney trailer is also below.
Dan DeLuca

, Inquirer Music Critic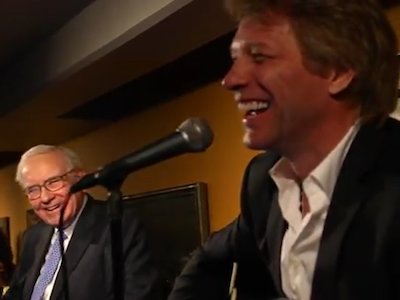 Yes, you read that right. Below you will see a video of a couple of super-rich guys sitting around singing Big Bill Broonzy's "The Glory of Love." (Click here to hear the great bluesman sing it.) The Berkshire Hathaway big boss is on ukelele, the rock star and former Philadelphia Soul owner, who topped Forbes' 2011 list of most charitable celebrities, plays acoustic guitar.
The occasion was the Forbes 400 Summit on Philanthropy in New York last night. The stage patter about the groupies soon to come Buffet's way is pretty cute. The song seclection was apparently made by Buffet, who's a fan of Bette Midler's version.
Previously: Ladies and Gentlemen, the Cabinet of Wonders Follow In The Mix on Twitter here
Dan DeLuca

, Inquirer Music Critic
It's quite the ska-punk-hiphop bill at Underground Arts in on Callowhill tonight, with California genre blending pioneers Fishbone, H.R., lead singer of D.C. rasta-punk punk pioneers Bad Brains and Philadelphia rap-soul revue Black Landlord all in one place.
Show details here. Fishbone's "Ma and Pa" is below.
Previously: Bon Jovi and Warren Buffett, Together at Last Follow In The Mix on Twitter here
Dan DeLuca

, Inquirer Music Critic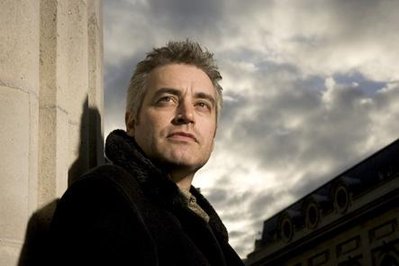 It's an established fact that Mt. Airy Englishman John Wesley Harding's Cabinet of Wonders is playing the WXPN Xponential Festival at Wiggins Park in Camden in July, but until now, we haven't known who will be in this edition of the Cabinet.
Now it can be told: The lineup for the musical variety show will be pop savvy songwriter Rhett Miller, excellent Memphian and sometime Harding collaborator Megan Reilly, comedian Eugene Mirman and novelist/musician Rick Moody.
Reached for comment, Harding, whose real name is Wesley Stace, said, "it's going to be outside, which is a first, so that's exciting. And I won't be able to wear my usual black suit and flouncy shirt, so that will mean a major revamp. And it's also going to be a very concise Cabinet: the Festival version.

Everyone on the show - Rhett, Eugene, Rick and Megan - is a close friend of the Cabinet, and knows how we do things, so I'm confident of Camden conquest."
Dan DeLuca

, Inquirer Music Critic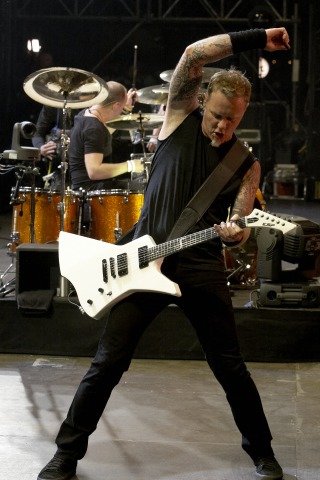 After 10 hours at Bader Field in Atlantic City on Saturday for the first day of Metallica's inaugural Orion Music + More festival, I headed back for more on Sunday, for a lineup that, for my money, was stronger and more varied, and turned out to be thoroughly satisfying.
But by any measure, Orion - despite the presence of the likes of indie fuzz-pop beach band Best Coast, Nashville hitmaker Eric Church (who got to New Jersey in time to celebrate his song "Springsteen"'s conquest of the country chart) and New Orleans brass band Soul Rebels - was pretty much hard as hell.
Sure, it's true that Orion - a festival named after a Metallica song named after a constellation that sound especially impressively when James Hetfield, pictured to the left, shouted out its three syllables with fists raised: OH-RYE-ONNNN!!! - is much more than merely a metal gathering.
Dan DeLuca

, Inquirer Music Critic

On stage at Bader Field in Atlantic City on Saturday night, James Hetfield seemed the happiest of men.

The song was "Creeping Death" from Ride The Lightning, the 1984 Metallica album that his thunderous rock band was playing in its entirety for the first time. During the chorus, the crowd of 20,000 plus sang one word over and over in unison: "Die! Die! Die! Die! Die" Hetfiield looked out at the sea of black clad fans of his band on the opening night of their first ever festival, and beamed. And bellowed: "Orion! You're beautiful!"

For its headlining set, Metallica waited for night to fall on one of the longest days of the year - and also for the finish of the intro music, AC/DC's "It's A Long Way To The Top (If You Wanna Rock and Roll) running into Ennio Morricone's "The Ecstasy Of Gold" - before hitting the stage with "Hit The Lights," the first song on their first album 1983's Kill 'Em All.
Dan DeLuca

, Inquirer Music Critic
The two-day Metallica-headlined Orion Music & More festival kicks off at Bader Field in Atlantic City today. My interview with James Hetfield from Friday's Inquirer is here. A sidebar on the auxilairy activities and other bands, including the Arctic Monkeys, Roky Erickson, Best Coast, Eric Church and Soul Rebels, is here.
The schedule, with Metallica doing 1996's Ride The Lightnning in its entirety on Saturday and 1991's Metallica in reverse order on Sunday, is here. There'll be a story about the first day of the fest in the Sunday Inquirer, and reports on the bands right here on In The Mix.
Previously: Neneh Cherry's That Cherry Thing Follo In The Mix on Twiter here