Archive: June, 2010
Dan DeLuca

, Inquirer Music Critic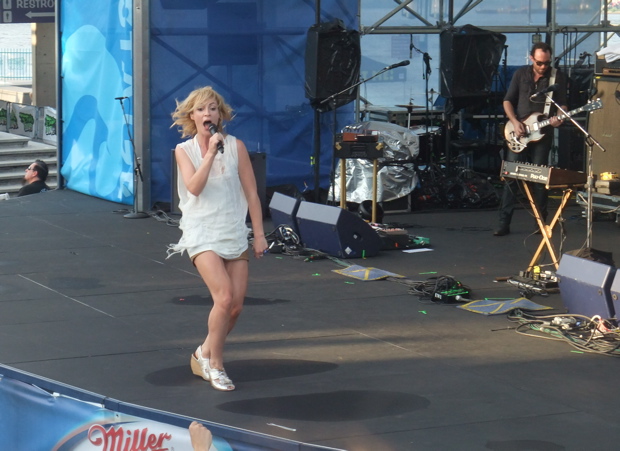 There's a pop music program again at the Great Plaza at Penn's Landing this summer, with the riverside venue revived as a more civilized alternative to the Festival Pier just up the road on Delaware Avenue. Things got swinging at a Radio 104.5 sponsored rock show on Monday. That's Emily Haines and guitarist Jimmy Shaw of Canadian pop band Metric above, and forthright punkers Against Me! below, with leader Tom Gabel to the left and new touring member Franz Nicolay, late of the Hold Steady, on accordion to the right.
This Friday Zooey Deschanel and Matt Ward of She & Him bring their retro-pop sounds to the Plaza. And besides the Philadelphia Orchestra's free show there on Saturday, there's a choice selection of well-suited shows coming up later in the season, with Jersey rockers Gaslight Anthem on July 29, blues-rock duo the Black Keys on July 30 and Jim James leading My Morning Jacket in on August 29.
Dan DeLuca

, Inquirer Music Critic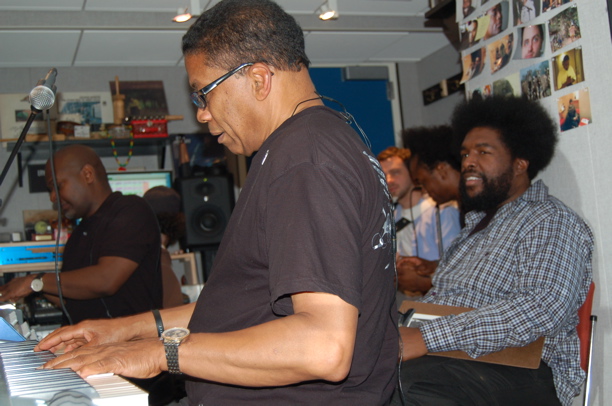 The Roots' How I Got Over is out, and my review is here. I spent the day with the Philadelphia band on the set of the Late Night with Jimmy Fallon show on release day. That story is here. Above is a shot of the band rehearsing backstage at 30 Rock with Herbie Hancock. Below are a trio of clips from the show: The Slow Jamming The News schtick featuring Brain Williams, a performance of "Dear God 2.0," with Jim James, and a Ladysmith Snack Mambazo ode to Ben & Jerry's.
Previously: Buried Beds Record Release Show
Dan DeLuca

, Inquirer Music Critic
Buried Beds, the West Philadelphia folk-flavored quintet fronted by Brandon Beaver and Eliza Jones, rock-out more than ever on Tremble The Sails, their first album since the 2006 full length debut Empty Rooms. The BBs celebrate the release of the by-turns lyrical ("Shepard's Keep"), bouncy ("Grandma's Bow") and raucous ("Your Modern Age") Tremble, which was produced by Spinto Band's Nick Krill, at Johnny Brenda's tonight as they top a triple bill that includes the bountifully talented B.C. Camplight and an acoustic opening set by Scott McMicken of Dr. Dog. Go here to hear Tremble The Sails.
Previously: Sun Airway at Johnny Brenda's
Dan DeLuca

, Inquirer Music Critic
Sun Airway, the dreamy new pop project from Philadelphia's Jon Barthmus, who formerly fronted Beatley indie-band the A-Sides, plays its first show ever at Johnny Brenda's tonight. The trippy "Infinity" is below, and there are a bunch of shimmering songs up on the band's MySpace page from the forthcoming Nocturne Of Exploded Crystal Chandelier, including the fetching "Put the Days Away," in which Barthmus sounds like a psychedelicized Julian Casablancas. I wish Barthmus (that's him with the Cokes) and his bandmate Patrick Marsceill would take that creepy picture of a unicorn cat down from their web site, but otherwise there's nothing to object to about this (already) Pitchfork-approved electro-indie band. Worth checking locals Ravens & Vultures and Eat You Birthday Cake open the show tonight at JB's.
Previously: How They Got Over
Sun Airway "Infinity" from klipcollective on Vimeo.
Dan DeLuca

, Inquirer Music Critic

The Roots' How I Got Over comes out today. Listen to it on their MySpace page here. The title song shares a name with a gospel hymn written by Rev. W. Herbert Brewster that became a Civil Rights anthem and has been recorded by Aretha Franklin, the Blind Boys of Alabama, Patti LaBelle and many others. The Philadelphia hip-hop band's "How I Got Over" is below, Mahalia Jackson's is below that, and yet another, totally different "How I Got Over," by Bay Area soul legend Darondo is at the bottom.

Previously: Second Paul McCartney Show Added
Dan DeLuca

, Inquirer Music Critic
The August 14 Paul McCartney show at the Wachovia Center sold out this morning in two minutes. A second show by the bass playing Beatle on his Up and Coming Tour, scheduled for August 15, has been added and is on sale now at ComcastTix.com and 1-800-298-4200.
Previously: New Pornographers at the Troc
Dan DeLuca

, Inquirer Music Critic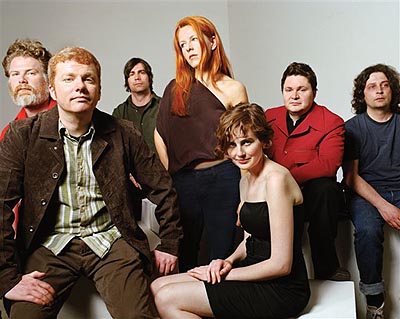 Canadian indie-rock power-pop aggregation The New Pornographers are at the Troc tonight. Between Carl Newman (second from left) and Neko Case (center) are they the band with the most talented redheads in rock? What do the NP's ginger contingent think of M.I.A.'s "Born Free" video? Together is the on-again, off-again band's fifth album. Steve Klinge's preview of the Troc show from Friday's Inquirer is here. The band's Jimmy Fallon performance from March is below.
Previously: The Ballad Of Manute Bol
Dan DeLuca

, Inquirer Music Critic
"Who's the man right over there who's so incredibly tall?/Who's the man who blocks the shots as high as City Hall?" Why Manute Bol, of course, the 7 foot 7 Sudanese former Sixer who died at 47 yesterday in Charlottesville, Va. Keith Pompey's Inquirer obituary is here. RIP to Bol, a folk hero so tall that he had the front seat of his Mercedes removed, and drove from the back. "The Ballad Of Manute Bol," by Kenn Kweder, the Bard of South Street, is below.
Previously: Chiddy Bang at Summer 618