Archive: May, 2009
Dan DeLuca

, Inquirer Music Critic
A busy night at the World Cafe Live on Friday with two clear highlights: The Avett Brothers, the North Carolina disciples of The Band, who opened ears with an early evening downstairs set (and who play a sold out Trocadero on Saturday night), following a strummy Rhett Miller. And later, upstairs in a crowded room coursing with hard-edged blues and soul power, Austin, Texas R & B revue Black Joe Lewis & the Honeybears, who absolutely killed it, mixing classic Slim Harpo deep fried Southern funk with the stand-up-and-be-noticed party tunes from their new Tell 'Em What Your Name Is! They have as much contagious fun on stage as any band as I've seen this year. The band is back in town on June 18, opening for the New York Dolls at the Troc.
Also on hand: New Jersey songwriter Pete Yorn, who was backed by a surprisingly adept seven-piece band but whose own voice and identity was lost in the mix (and who did a kinda cool cover of New Order's "Bizarre Love Triangle"); and the Delta Sprit, who I passed on in favor of a cheeseburger. And also The Revelations, featuring Tre Williams, who proferred a calm-after-the-storm old school soul vibe in contrast to Lewis' more hurried hyper- energetic tight approach, and closed a long day out with Bobby Bland's "Ain't No Love (In The Heart Of The City)."
Dan DeLuca

, Inquirer Music Critic

Extraordinarily creepy video for Grizzly Bear's gorgeous song "Two Weeks," from the new Veckatimest. Kind of reminds me of David Cronenberg's Scanners. The much gushed-over Brooklyn band is at the Trocadero on Tuesday.
Dan DeLuca

, Inquirer Music Critic

Other than LeBron James last night, this was the coolest thing I saw on television this week: Beastie Boys doing "So What'Cha Want," from the reissued Check Your Head, on Jimmy Fallon, with the Roots backing them up. Check out the Capt. Kirk Douglas guitar fills. The Roots Picnic, during which the Philadelphia band will back up Public Enemy, is June 6.
Dan DeLuca

, Inquirer Music Critic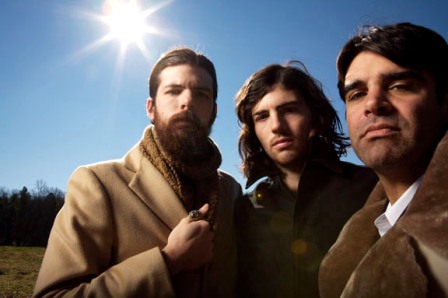 The annual Non-Comm radio convention is in town at the World Cafe Live, starting today. It's an industry gathering of (mostly) listener supported non-commerical adult alternative stations, of which WXPN is among the most influential in the nation. So music biz types will be schmoozing and discussing the fate of major labels and role of social media networks like Facebook and Twitter in marketing bands and brands, but more importantly, they'll be lots of acts like the Avett Brothers playing for the assembled muckety mucks. Non-industry types can get in on the action, with a single Thursday through Saturday pass going for $75, or $100 for a pair. Tonight's slate includes The Heartless Bastards, The Deep Vibration and Paleface, tomorrow evening has Rhett Miller, the Avetts, Pete Yorn and Black Joe Lewis & the Honeybears, among others, and Marshall Crenshaw and Zee Avi are playing Saturday afternoon. Full schedule and ticket info here.
Dan DeLuca

, Inquirer Music Critic

Jay Bennett, the former guitar player and multi-instrumentalist for Wilco, died over the weekend. He was 45. The cause of death is as of yet unknown. Here's the the Chicago Sun-Times obit. Bennett was a key player on Wilco albums from Being There to Yankee Hotel Foxtrot, and he also played on the Woody Guthrie Mermaid Avenue collaborations with Billy Bragg. He and Jeff Tweedy squabbled in Sam Jones' 2002 doc I Am Trying To Break Your Heart, and Bennett left the band. Two weeks ago, he sued Tweedy for unpaid royalities. Tweedy and the band released this statement on Monday: "We are all deeply saddened by this tragedy. We will miss Jay as we remember him -- as a truly unique and gifted human being and one who made welcome and significant contributions to the band's songs and evolution." Bennett, who wrote about needing hip replacement surgery and not having health insurance on his MySpace blog in April, had been working on his fifth solo album, Kicking At The Perfumed Air. Wilco's self titled album comes out June 30, and the band plays Frawley Stadium in Wilmington on July 10. Here's Wilco's "Miisunderstood," with Bennett on keyboards.
Dan DeLuca

, Inquirer Music Critic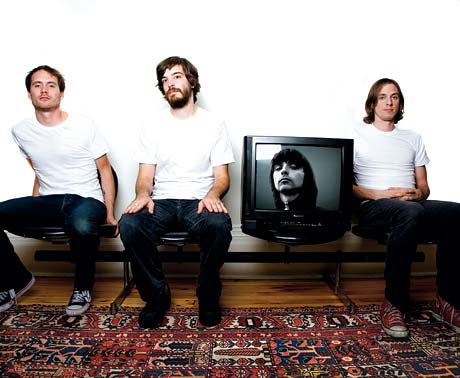 The Toronto electronic band with a bad word in their name are at Kung Fu Necktie tonight, with Crocodiles. Listen up. The video for "Love Allen" is here.
Dan DeLuca

, Inquirer Music Critic
Prodigiously bearded and always befuddling songwriter and actor Will Oldham - Bonnie "Prince" Billy to you - is at the Troc tonight. Kelefa Sanneh's superb profile from The New Yorker back in January is here. And there's another typically bobbing and weaving interview, from the Matewan and Wendy & Lucy thespian and Gothic and ghostly Americana songwriter who's shown up in R. Kelly and Kanye West videos, here. Back in March Oldham did a guest DJ spot on NPR. Sample his new Beware here, and say hello to "I Am Goodbye" below.
Dan DeLuca

, Inquirer Music Critic
Annie Clark, the arty indie-rock songwriter and guitar shredder who performs as St. Vincent, is at the First Unitarian Church tonight. My review of her new album, Actor, is here, and the video for the single "Actor Out Of Work" is below, along with a Black Cab session of the wide-eyed Clark killing the Beatles' "Dig A Pony" in the back seat of a London taxi.