Archive: April, 2011
Dan DeLuca, Inquirer Music Critic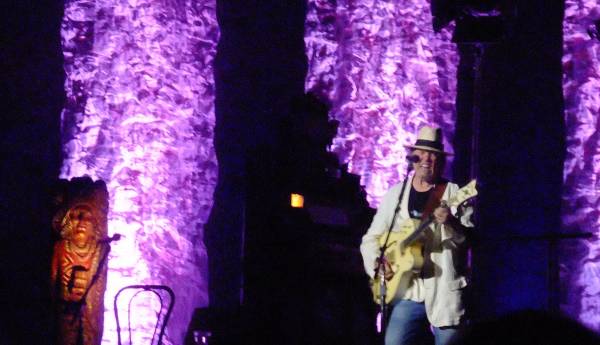 Dan DeLuca, Inquirer Music Critic
There's an impressive - though not particularly French - music bill at the PIFA Street Fair on South Broad Street on Saturday, headlined by Sharon Jones & the Dap Kings (that's them), who go on at 6 on the Pine Street stage, and who speak the international language of rugged Otis Redding-inspired '60s soul.
Dan DeLuca, Inquirer Music Critic
Last night in Las Vegas, MTV put on its inaugural O Awards for online music achievement. (Because with the Grammys condensing categories, more awards are needed.) Lady Gaga won Most Innovative Artist and Must Follow Artist on Twitter, and Kanye West, who was the only nominee in the category, won Best Tweet for "I hate when I'm on a flight and I wake up with a water bottle next to me like oh great now I gotta be responsible for this water bottle." I hate that too.
Dan DeLuca, Inquirer Music Critic
Nilsson, Schmilsson. Camplight, Schamplight. Melodious and gravely under appreciated Philadelphia piano man Brian Christinzio - who performs as B.C. Camplight - will shine a light tonight on the works of another cult hero, the late Los Angeles songwriter and John Lennon drinking buddy Harry Nilsson. Nilsson wrote "One" and "Without You," and sang Fred Neil's "Everybody's Talkin'" in Midnight Cowboy. Below, he does "Without Her." Tonight, Camplight does Nilsson at Johnny Brenda's. Illinois opens.
Dan DeLuca, Inquirer Music Critic
Let the celebrity alignment behind 2012 Presidential candidates begin. Beyonce has served a reminder that she's with Team Obama by releasing an exercise video of sorts in support of First Lady Michelle Obama's "Let's Move!" campaign against childhood obesity. In the clip, Queen B. shows up in a school cafeteria in short shorts and knee socks - dress code rules apparently being suspended that morning - and leads students though a non-partisan dance routine, with lyrics adapted from her 2007 hit "Get Me Bodied."
Dan DeLuca, Inquirer Music Critic
Phoebe Snow wasn't the only pseudonymous singer with the intials P.S. whose early death made unwelcome news yesterday. There was also Poly Styrene, the leader of femme punk pioneers X-Ray Spex, who was born Marianne Joan Elliot-Said, and who died of cancer at age 53 on Monday. "Little girls should be seen and not heard," Styrene said sarcastically at the start of her best known song, then shared her feelings on the matter: "Oh Bondage! Up Yours!" See that video below. My favorite Styrene quote is this: "I chose the name Poly Styrene cause it's lightweight and disposable and that's what pop stars are meant to be." Look for Sara Sherr's review of Styrene's new album, Generation Indigo, which came out yesterday, in this coming Sunday's Inquirer. And here's a track by track interview about the new album with the late singer.
Dan DeLuca, Inquirer Music Critic
British baby band Yuck play at the First Unitarian Church tonight, on the same bill with Australian indie psych rockers Tame Impala. (TI's dreamy '60s trip "Solitude Is Bliss" is here.) My interview with Yuck frontman Daniel Blumberg (that's him, crouching) from the Inquirer Wkend section is here. Below, "Georgia," from the debut album Yuck, which bears the influences of '90s American rockers Dinosaur Jr., Pavement and Sonic Youth.
Dan DeLuca, Inquirer Music Critic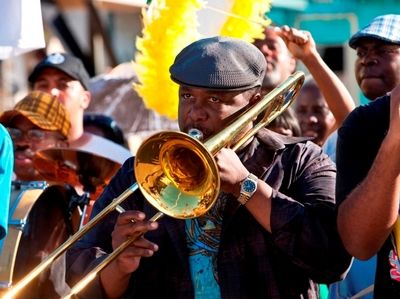 David Simons' post-Katrina New Orleans drama Treme returns on HBO at 9 o'clock on Sundays, starting tonight. I've got a piece about in the Sunday Inquirer A & E section here. That's Wendell Pierce pretending to blow the horn actually played by the ReBirth Brass Band's Stafford Agee. This season, every Monday a video of a complete song performance from the previous night's episode will be released on iTunes, starting tomorrow, with Galactic and the Drity Dozen Brass Band doing "From the Corner To The Block" with Juvenile. Below, a season preview with Bennie Pete and the Hot 8 Brass Band's "New Orleans After The City" as the backdrop.
Dan DeLuca, Inquirer Music Critic
As of this morning, the Fishtown Shad Fest is on for today at Penn Treaty Park, despite enough water falling out of the sky for the fish to really go to town. The event is pushed back by an hour or so, which means that Girls Rock Philly will be the first act on stage, later than their previously scheduled start time of noon. Also on tap, along with the Kenzinger: rap soul revue headliners Black Landlord, plus Spinto Band, West Philadelphia Orchestra and Springs. Below, the WP Orchestra does their gypsy punk jazz thing with "Burkan Cocek." Shad Fest details and updates here.
Dan DeLuca, Inquirer Music Critic
Femi Kuti, son of Afro-pop pioneer Fela Anikulapo Kuti (and older brother of fellow scion Seun Kuti), plays the World Cafe Live in West Philadelphia tonight with his band Positive Force. Nicole Pensiero's preview from the Inquirer Wkend section is here. "Beng Beng Beng" is below.