Archive: April, 2009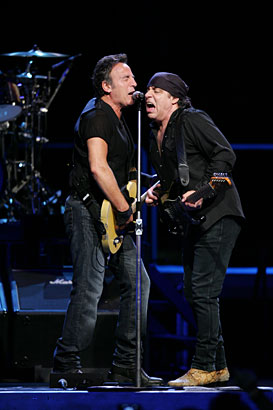 Were those really the last two times Bruce Springsteen will ever play the Spectrum? The concrete donut of a building is "slated for demolition" later this year, but when is it actually going down, down, down? There's a credit crunch going on, in case you haven't heard, and no announcement has been made as to when Ed Snider and company are actually going to start building the Philly Live complex that's supposed to go up in its place.
Meantime Springsteen & the E Street Band are clearly going to be on the road for the rest of the year, and they have no dates scheduled after an Aug. 2 show in Santiago, Spain. And last night, the Boss again made plain his affection for the venue that he's played 32 times. "These old venues build up a certain degree of soul," he said, calling it "a kind of shame" that it's supposed to be torn down. So buy it, Bruce! You and the E Streeters can be the house band.
Harry Kalas' voice rang out at the Spectrum last night: "We're going to have a pinch hitter here with the bases loaded and two outs in the 9th innning. It looks like Bruce Springsteen, just called up. They call him the Boss..." Kalas recorded the bit in 1985 at the request of Rob Charry, then of rock radio station WIOQ and now of sports talk radio WIP, when Springsteen came back to Philadelphia on the second leg of the Born in the U.S.A. tour to play a pair of shows at Veterans Stadium. (Those were the string of shows where he first played Seeds, the Reagan recession-era rager that he did both nights at the Spectrum this week. But I digress...)
Comcast-Spectacor PR guy Ike Richman passed it along, and the Boss used it last night as a genius bit of theater as an intro to "Thunder Road," complete with Springsteen muttering "Hard to believe, Harry!," Richie Ashburn style. it was the second biggest mind blower of the evening, right behind the mid-show cover of "London Calling."
"Here's the wind up, and the pitch... Swing and a long drive deep right center, it's gotta chance...A grand slam home run, Bruce Springsteen!" (Sorry folks, no "Outta here!") But there was a mock home run trot, with Springsteen blowing kisses to the crowd, right before the screen door slammed, and Mary's dress waved...
"Kitty's Back," and so was Patti. And Max Weinberg better watch his back. A "London Calling" out of nowhere and a Harry Kalas call of a Springsteen grand slam before "Thunder Road." Here's the Wednesday night set list from the 32nd - and last? - time Bruce Springsteen played the Spectrum.
Badlands/The Ties That Bind/Outlaw Pete/Spirit In The Night/Workin' On A Dream/Seeds/Johnny 99/Youngstown/Raise Your Hand/London Calling/Red Headed Woman/Thundercrack/Hungry Heart/Promised Land/Streets of Philadelphia/Kingdom of Days/Radio Nowhere/Lonesome Day/The Rising/Born To Run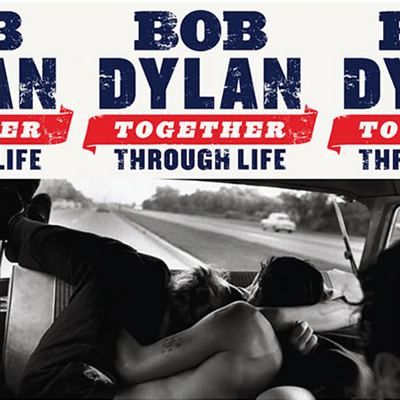 Bob Dylan's 33rd studio album, Together Through Life, is out today. Paste magazine has the whole album streaming here. And there's lot of other Dylan stuff up on the Paste site, like a Dylan trivia quiz. The Walt Whitman poem the album title is supposedly taken from, When I Peruse The Conquer'd Fame, is here. And my review from the Sunday Inquirer is here.
Great Springsteen show at the Spectrum on Tuesday night. Almost hurt myself jumping up and down during "Born To Run." The guy's still got a fire in his belly. That's David Swanson's photo above, with Max Weinberg lurking in the background..
Here's the 26 song set list: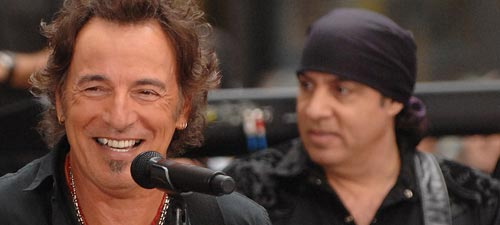 Little Steven - or, as he's credited on the cover, Miami Steve Van Zandt - authored the cover story in the new issue of the British music magazine Uncut. It's all about his budy Bruce Springsteen - "From Asbury Park To The Promised Land." You know, the guy that he's playing the Spectrum with for two nights, starting tonight. The story itself is not online - you'll have to hunt it down at Borders or Barnes & Noble magazine rack - but there's a link to the magazine's site here.
My interview with Van Zandt at last month's SXSW music festival in Austin, is in today's Inquirer. Read it here. The Underground Garage poobah also said a few things that didn't make the cut into the newspaper. He bellyaches quite a bit about the state of contemporary music, but he's got some vaild points. I asked him if it wasn't sometimes good for bands to be ignorant of self-imposed limitations, and he said: "I don't know, I see things differently now. I see greatness within limitations. It's easy to be original, to be perfectly honest. It's not easy to be genre specific, and be great. Try writing a hit song. Try writing a hit song in the old sense of the word. Write a Beach Boys song. Write a Chuck Berry song. Not easy. Not easy."
The Philadelphia Popped! Music Festival, which seemed doomed after plans fell through to expand to three days and relocate to FDR Park in South Philadelphia in partnership with Live Nation, is back on, albeit in scaled down form. Last year, the Fest took place on 33rd Street on the Drexel campus and featured Vampire Weekend, The Ting Tings and Gogol Bordello. This year, it will be part of the 2nd Street Festival in Northern Liberties on June 20. And it'll be free, with a local band focus. On the bill so far: Washingtonian Benjy Freree, plus Rock Plaza Central, the Blood Feathers, Birds of Maya, Magnet City Kids and the Chimeras. More names to come, and for more info go here.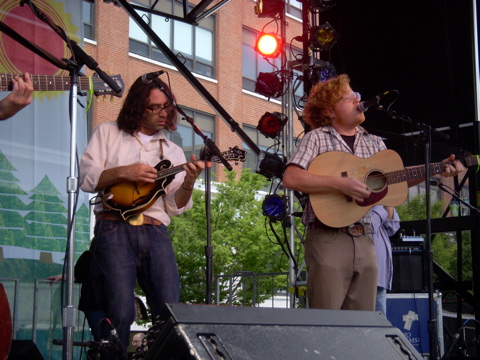 Philadelphia acoustic roots gospel quartet Hoots and Hellmouth have got a new album, The Holy Open Secret, coming out on June 2. Two songs are up on their MySpace. On Saturday, they're served up along with Iron, Gildon Works and the titlular fish at the Fishtown Shadfest at Penn Treaty Park. H & H go on at 3:30. Here they are busking away on "Forks & Knives."