Archive: March, 2009
Dan DeLuca

, Inquirer Music Critic

Sixer Andre Iguodala gave The Roots some Philadelphia company on Late Night with Jimmy Fallon last night. The show managed to misidentify the small forward twice, first as a power forward and then, on the video clip, as a center. Iggy did his job quite nicely, however, playing the Obama administration in a re-enactment of the rejection of G.M.'s bailout proposal. Watch it, and it'll make sense. Kind of. Later, Ozzy and Sharon Osbourne showed up for a cute little spoof of Matt Damon's Bourne movie trilogy.
Dan DeLuca

, Inquirer Music Critic

Prince's new 3 CD package, featuring two new discs, LotusFlowe3r and MPLSound, plus a third, Elixir, by his latest brunette protege, Bria Valente, went on sale exclusively at Target on Sunday for $11.98. The review is in Tuesday's Inky. Meantime, here's all three of the purple pipsqueak's performances on The Tonight Show with Jay Leno from last week, the coolest being when he hands over his shredded guitar to the audience at the end of "Dreamer."

"Ol Skool Company," 3/25 on Leno.

"Dreamer," 3/26 on Leno.

"Feel Good, Feel Better, Feel Wonderful," on 3/27 on Leno.

.
Dan DeLuca

, Inquirer Music Critic

1. Ida Maria, "Oh My God." Danish rock goddess, opening for Glasvegas, Friday at The Note in West Chester.

2. Saul Williams, "List of Demands." Spoken word rock-rap poet, with Les Claypool and O'Death at The Oddity Fair: A Mutated Mini-Fest, Friday at the Electric Factory.

3. Ezra Harpoon & the Harpoons, "Take Off Your Sunglasses. Young Dylany wordslinger, straight outta Tufts University. Saturday at the Khyber.

4. Gaslight Anthem, "The '59 Sound." Rock and roll romantics from New Jersey, with the Heartless Bastards, Saturday at the Trocadero.

5. Los Campesinos, "You! Me! Dancing!" Hyperactive Welsh indie collective ashamed to admit that they can't dance. Sunday at the TLA.
Dan DeLuca

, Inquirer Music Critic
Another print publication bites the dust. I read this in Brooklyn Vegan this morning: music magazine Blender is going out of business. It's a shame: Despite its predilection for cheesecake covers, Blender had a free wheeling, anything goes, not-genre-specific spirit that I preferred to the more demographically hamstrung Rolling Stone and Spin. But struck by shrinking ad revenues, recent issues were skinnier than Keira Knightley. (Well, maybe not that skinny.) Once the Kelly Clarkson issue is no longer on newsstands, that's it.
Dan DeLuca

, Inquirer Music Critic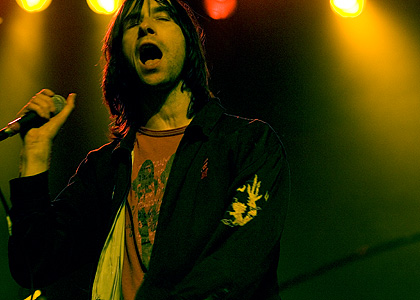 Fresh off SXSW, Scotsman Bobby Gillespie brings Primal Scream's raved-out Rolling Stones riffing to the Trocadero on Thursday. Below, the video from Primal Scream's "Country Girl," and below that an excerpt from Little Steven's SXSW keynote address in which he talks about the difficulties of British rock and roll bands breaking in America, and calls Gillespie a "drug addict."
Dan DeLuca

, Inquirer Music Critic

I'm emptying my digital media card, as it were. Here are some more band pics from
SXSW.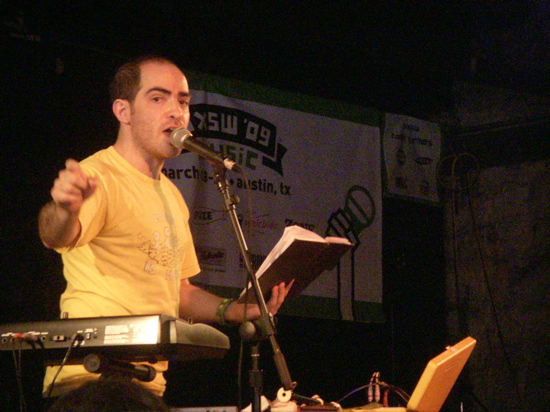 DJ Max Tundra gets a little reading in while turning "So Long, Farewell," from The Sound of Music into bouncy electronic music at the Pitchfork party at Emo's on Friday. He opens for Junior Boys at the First Unitarian Church on May 6.
Dan DeLuca

, Inquirer Music Critic

I snapped all the photos that I've been posting from SXSW for the past week myself on my trusty pocket-sized Nikon point and shoot camera. But try as one might to add to the digital glut coming out of SXSW - where every time you take a picture, a hundred other geeks are trying to the exact same shot, and there's a constant danger of incurring the wrath of the dude behind you whose view you're blocking when you obnoxiously hold you camera over your head - one can't be clicking in more than one place at once.

So here's some more shots from places I didn't get to, all taken by a fine gentleman named Oliver Gray, a concert promoter, author, language teacher, cricket enthusiast and all around excellent guy from Winchester, England who I had the good fortune to sit next to on the plane ride out of town from Austin to Chicago. Unlike myself, Gray, who's the author of Volume: A Cautionary Tale Of Rock and Roll Obsession, was smart enough to catch PJ Harvey and John Parish at Stubb's, and a bunch of other cool shows, and he kindly sent me a bunch of his pictures to post this morning.
Dan DeLuca

, Inquirer Music Critic

Here's a video of the Kanye West surprise apearance doing Common's "The Light" with Erykah Badu at the showcase for West's G.O.O.D. music label at the Fader Fort in Austin on Saturday. Kanye doesn't do much, but the Common and Badu freestyles towards the end capture them both at their best.