Archive: February, 2009
Dan DeLuca

, Inquirer Music Critic

It's a great music weekend in town, starting during the day Friday when Jason Isbell does the free-at-noon at World Café Live (then comes back to do full set at night). Here's a six-part sampling of three days particularly strong in international sounds, with a playlist at the bottom.

1. Jason Isbell, "Dress Blues." Friday at the World Café Live. Ex-Drive By Truckers singer and guitarist, a mighty fine songwriter and storyteller and fat toned guitar player whose sound leans towards '70s rock.

2. Magic Slim, Live from the Chicago Blues Festival. Not-slim magic man born Morris Holt who's grown into his role as a crowd pleasing elder statesman of the Chicago blues scene. Friday and Saturday at Warmdaddy's.

3. Thievery Corporation, "The Time We Lost Our Way." D.C. production duo Rob Garza and Eric Hilton, who bring a jazz and world rhythm sensibility to chilled out electronic grooves. Saturday at Electric Factory.

4. Juana Molina, "El Perro." The former Carol Burnett of Argentina builds up an ethereal, bewitching mélange of acoustic and electronic elements, mischievously turning the stage into her own sound lab. Sunday at the World Café Live.

5. Blitzen Trapper, "Wild Mountain Nation." Excellent, all-over-the-place Portland, Oregon indie-rock band. Sunday at the First Unitarian Church.

6. Mariza, "Rosa Branca." Portugese fado singer who looks like she stepped out of an El Greco painting, and makes beautifully melancholy music. Sunday at the Kimmel Center.

friday
Dan DeLuca

, Inquirer Music Critic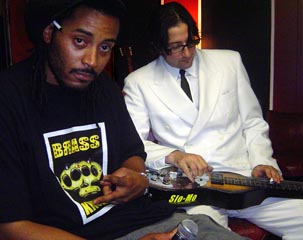 Bruce Springsteen had a pretty good week this week, winning his dispute with Ticketmaster over the concert ticket behemoth's practice of directing buyers to their legalized-scalping TicketsNow site. Here's something else good that the guy who was singing live at the Super Bowl (while the E Street Band were on tape) did recently: Play Slo-Mo, the Philadelphia band led by lap steel mastermind Mike Brenner and rapper Mic Wrecka, during his second spot as a guest DJ on Sirius XM E Street Radio.
The Boss seemed pretty familiar with the Slo-Mo ouevre. "You say who is Slo-Mo? The folks in Philadelphia know, or some of the folks in Philadelphia know," he said before calling three songs, "Happy Gets Lucky," "Wicked Son" and "Another Mountain" from 2001's Novelty "great stuff," and then spinning the geographically specific "Shackamaxon" from 2005's My Buzz Comes Back. Also on the playlist: Jenny Lewis, Social Distortion, Against Me!, Nas and Olu Dara, and ex-Philadelphians Marah.
In other Springsteen news, it was announced that he is indeed headlining the Glastonbury Festival in England on June 28, the day after doing London's Hyde Park with Dave Matthews and Gaslight Anthem, one of the young bands featured in Pitchfork's ongoing cross-generational tribute to the Boss, which will feature Philadelphia's Valencia, who are currently touring Australia, in a future installment.
Shackamaxon - Slo-Mo
Bruce Springsteen "The Wrestler" - Official Video
Dan DeLuca

, Inquirer Music Critic
The new U2 album, No Line On the Horizon, which comes out on Tuesday, is streaming on MySpace. Hear it here. I'll have a review in the Inky on Sunday.
That's the album cover on the right. Despite the title, I can't help but point out that the image by Japanese photographer Hiroshi Sugimoto, does indeed display a line on the horizon.
To announce No Line's arrival, Bono and the boys are doing lots of stuff. On Friday, the Irish foursome will perform three songs live on BBC1 radio at 1 p.m., heard stateside on satellite radio on Sirius channel 11 and XM 29. Next week, they're doing Letterman for five consecutive nights.
U2 - Get On Your Boots
Dan DeLuca

, Inquirer Music Critic

My interview with Asleep At The Wheel leader Ray Benson and his pal Willie Nelson is here and in today's Inquirer. Tonight at 10 Nelson and Benson and the rest of AATW will play live from Carl's Corner, Texas, broadcast on Willie's Place on XM Satellite Radio 13 and Sirius 64. Here's Willie and the Wheel doing "Hesitation Blues" on Letterman last week. Beneath that, a taste of the Willie And The Wheel disc, on Benson's Bismeaux label, which can be had here.

Speaking of Willie, he's got another new album coming in March. Well, not exactly new. It's Naked Willie, a collection of songs recorded between 1966 and 1970, for whose cover he took a cellphone picture of himself in the bathtub. (Thankfully, it didn't make the cut.) The concept for the album, produced by Nelson's longtime harmonica player Mickey Raphael, is to strip away the glossy original production and just leave Willie's voice and the work of a group of ace Nashville pickers unadorned, kind of like the treatment The Beatles Let It Be got in 2003.

And there's also a superb new Nelson tribute album called To Willie, by Phosphorescent, the one man Athens, Ga. indie folk band that is Matthew Houck. It focuses on downbeat Willie songs like "Reasons To Quit," "Too Sick to Pray" and "It's Not Supposed To Be That Way" and reminds you that Nelson is as much of a low-key genius when it comes to writing songs as he is when he's singing them. Check out To Willie here. It's excellent. Phosphorescent plays Johnny Brenda's on March 28.

willie and the wheel
Dan DeLuca

, Inquirer Music Critic

Conan O'Brien did his last show from New York on Friday, closing it out with a performance by The White Stripes, who've been on his show many times before. Meg's on guitar instead of drums on a folkie, halting and heartfelt "We're Going To Be Friends."
Dan DeLuca

, Inquirer Music Critic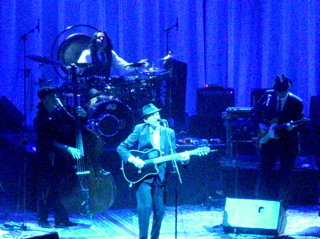 "I tried to leave you, I don't deny," Leonard Cohen slyly sang after skipping back on stage for his third encore, towards the end of his marvelous nearly three-hour show at the Beacon Theater in New York on Thursday.
But the dapper 74 year old Canadian song-poet just can't quit us, baby. The Beacon show – which, yes, included the deliciously apocalyptic "First We Take Manhattan" – was Cohen's first in the U.S. in nearly 15 years, an absence he alluded to when he quipped: "It's been a long time since I stood onstage in New York. I was 60 years old – just a kid with a crazy dream."
In the interim, Cohen joked, he'd taken a lot of "Prozac, Ephedrine and Tylenol, full strength" and while immersing himself in Buddhism, "turned to a study of religion and philosophy, but cheerfulness kept breaking through."
That cheerfulness was inescapable at the refurbished Beacon, where Cohen came across as the most munificent of bandleaders. He typically took off his fedora to humbly bear witness each time a solo was taken by member of his terrific sextet, whose members included Barcelona bandurria player Javier Mas, Hammond B-3 ace Neil Larsen and many of many wind instruments Dino Soldo.
Their prowess, and Cohen's surprisingly strong, sepulchral voice, was augmented by the femme chorus of Cohen collaborator Sharon Robinson, plus Webb sisters Charley and Hattie, who also played harp and guitar, and during one playful moment during "The Future," responded to an altered Cohen lyric about "white girls dancing" by doing cartwheels.
Cohen must be doing a lot of yoga these days – he dropped down on his knees to please more times than Carlos Ruiz in the course of the evening, and he did literally skip on and off stage at intermission and between encores. His state of mind seemed remarkably sanguine, too, for a guy who, he has alleged, has been bilked out of as much as $5 million from an unscrupulous former business manager.
That need of cash may well be why the versifier of wounded romanticism is out of retirement and back on the road, with a live album due in March, and a U.S. tour this spring with a Philadelphia date at the suitably classy Academy of Music on May 12. Tickets go on sale March 2 at 10 a.m at the Kimmel Center web site.
But whatever brought him back to Broadway, the assembled 2800 – who included Rufus Wainwright, Harvey Keitel and Adrian Grenier of HBO's Entourage (none of whom joined Cohen on stage) - had plenty of reasons to be delighted, as Cohen surveyed a four decade plus career, moving from gypsy jazz to Euro disco to stately folk-rock.
Bathed in blue light, he accompanied himself on guitar on "Famous Blue Raincoat," and struck a slinky Sinatra on the street corner pose in the doomy yet bemused "Everybody knows," and yep, along with "Suzanne," and "Chelsea Hotel No. 2" and "Sisters Of Mercy" and my personal favorite, "Tower Of Song" (best laugh line of the night: "I was born like this, I had no choice/I was born with the gift of a golden voice") he raised that golden voice to the heavens on "Hallelujah," the soulful plea that the late Jeff Buckley has rightfully elevated to sacrosanct status.
Great show, much more than satisfying than I could have reasonably expected. Now that Cohen's taken Manhattan, can't hardly wait till he takes Philadelphia. On 2/25, parts of the Beacon show wiill be streamed on NPR web page.
Dan DeLuca

, Inquirer Music Critic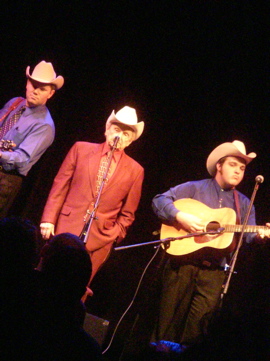 Last night I saw a septuagenarian, tonight I'm going one decade older, trekking up to to see bluegrass patriarch Dr. Ralph Stanley in Sellersville, where they're having a nice run of quality shows of late. (Ian McClagan and BeauSoleil are both there next weekend.)
Anyway, here's Dr. Ralph in his younger days doing "The Clinch Mountain Backstep," which sounds like some sort of cross between a clog dance and a Michael Jackson moonwalk, but really is just a display of clawhammer banjo virtuosity.
Dan DeLuca

, Inquirer Music Critic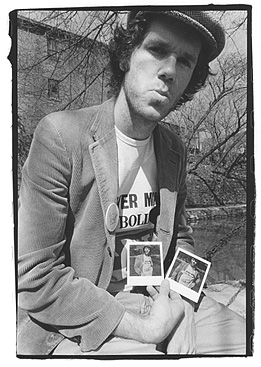 Last weekend his kids Rufus and Martha played the Kimmel Center on Valentine's Day, and tonight pater familias Loudon Wainwright III gets his say-so at the Sellersville Theater.

Below, witness the various stages of Loudo. Circa 1972, he's desperately pleading for someone to save his life, at least for one night, in "Motel Blues," a song he reprised on the new Joe Henry-produced Recovery.

And on Austin City Limits in 2004, he's singing abut Rufus, and his own dad, Life magazine journalist Loudon Wainwright Jr., on "A Father And A Son," from his 1992 Wainwright family masterstroke, History.