Archive: November, 2011
Dan DeLuca, Inquirer Music Critic
The Grammy nominations were announced on Wednesday night, with British singer Adele, producer and pop singer Bruno Mars and Eau Claire, Wisconsin indie band Bon Iver - the surprise choice - each pulling in nominations in three of the four major categories revealed in a live telecast on CBS from the Staples Center in Los Angeles.
Adele - whose last name is Adkins - is up for a total of six Grammys, all stemming from her commercial blockbuster of a sophomore release, 21.
But though he received only one in the major categories - a song of the year nod for "All Of The Lights" from last year's My Beautiful Dark Twisted Fantasy - Kanye West was the night's top nomination getter with seven, with most coming for Watch The Throne, his collaborative album with Jay-Z.
Dan DeLuca, Inquirer Music Critic
African desert nomads Tinariwen made their way to Stephen Colbert's Comedy Central studios on the west side of Manhattan yesterday, where they performed with Tunde Adebimpe and Kyp Malone of TV on the Radio. Performance and interview below. My review of this month's Tinariwen show at the Troc is here.
Dan DeLuca, Inquirer Music Critic
The Roots' new album, Undun, comes out next Tuesday. As of today, the song cycle about the life and death of the fictional Redford Stephens is streaming in its entirety over at NPR Music. The album cover photo is by Jamel Shabazz. Click here to hear it. Look for my review in Sunday's Inquirer Arts & Entertainment section and on philly.com.
Dan DeLuca, Inquirer Music Critic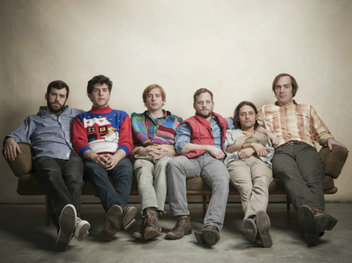 Philadelphia band Dr. Dog is back in action. Last week, the sextet did a surprise gig at Kung Fu Necktie in Fishtown, and their new album, Be The Void, which was recorded at their Meth Beach studio in Kensington, is due February 7 on Anti-. On one spin, it sounds like a keeper, a fuzzed-out psyched-up tinkering with the band's timelessly catchy retro-rock sound. Today the Scott McMicken and Toby Leaman fronted group announced a U.S. tour that will commence on February 1 in Columbus, Ohio and come to a close with two shows at the Electric Factory in Philadelphia on March 24 and 25. Below is the video for the deceptively jaunty first single, "That Old Black Hole," in which McMicken spins on the treadmill and does his best to skirt the abyss: "I don't want to fight, but I'm constantly ready / I don't rock the boat, but it's always unsteady."
Dan DeLuca, Inquirer Music Critic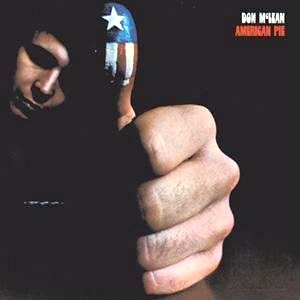 Saratoga Springs' loss is Philadelphia's gain. Apparently, the good people of upstate New York have long laid claim to Don McLean's "American Pie," which first charted 40 years ago this week and was long believed to be have been written on a series of napkins in the town's Tin & Lint bar, during a time period when he was a regular at the music venue Caffe Lena.
But now the truth can be told. In an interview with the Post-Star of Glen Falls New York - winners of the 2009 Pulitzer Prize - McLean dashed the hopes of Saratoga Springers this weekend when he revealed that he actually wrote the eight and half minute perennial bar singalong about the 1959 plane crash death of Buddy Holly in - well take a wild guess.
"Was the song written in Saratoga Springs?," McLean rhetorically asked a Post-Star reporter. "The answer is no. The song was written in Philadelphia, Pennsylvania... That is from the horse's mouth that's exactly what happened."
Dan DeLuca, Inquirer Music Critic
Rest in peace to Ken Russell, the 84 year old British director of Tommy, Women In Love and, more importantly, The Lair Of The White Worm, who died today. The almost always over-the-top Brit received the Philadelphia Festival of World Cinema's Phantasmagoria Award in 2002. Besides The Who's Tommy (which, truth be told, was not a good movie), he also directed Roger Daltrey in the forgettably baroque Lisztomania, which shares a title with the terrific 2009 breakthrough hit for the French pop band Phoenix. a.d. amorosi's interview with Russell from the 2002 Inquirer is here. My colleague's Steven Rea's most excellent appreciation of the director and sometime actor, which will appear in tomorrow Inquirer, is here. Watch Ann Margret - who's pictured with Daltrey and Oliver Reed, get covered in baked beans in Tommy here, and see Amanda Donahoe and Hugh Grant in the Lair of The White Worm trailer below.
Dan DeLuca, Inquirer Music Critic
Earlier this month, British folk-rock John Wesley Harding and his band The King Charles Trio came to Range Recording studios in Ardmore for an In The Mix Live session in support of the Philadelphia-based JWH's excellent new album The Sound Of His Own Voice. In this configuration, The King Charles Trio was a quintet, featuring Scott McCaughey plus Jenny Conlee-Drizos, John Moen, Chris Funk and Nate Query, all of Portland, Oregon's The Decemberists.
Dan DeLuca, Inquirer Music Critic
From Big Star and I to you, thank you friends. I'm so grateful for the things you helped me do. Happy thanksgiving, everybody.
Dan DeLuca, Inquirer Music Critic
When guests come on screen on the Late Night with Jimmy Fallon show, The Roots always greet them with walk-on music that's often subtle and usually witty. For Larry King, it was Roger Miller's "King of the Road," for Kourtney and Khloe Kardashian it was Meatloaf's "Two Out Of Three Ain't Bad."
Depending on your point of view, on Monday night, the Philadelphia band led by drummer Ahmir "?uestlove" Thompson either cleverly outdid itself or overstepped the bounds of acceptable taste while making their political beliefs all too plain in a way that's sure to be making their employers at NBC deeply uncomfortable.
Minnesota congresswoman and Republican Presidential candidate Michele Bachmann was the guest, and when she walked out to be meet Fallon, the wordless, unquiet music played by ?uestlove was a song by the great West Coast ska-punk band Fishbone called "Lyin' A-- Bitch."
The initial reaction from Roots watchers was laudatory - ?uesto retweeted one follower who wrote "@questlove huge ups to the fishbone tune for Bachman on jimmy tonight. perfect entry song for her!" Today, though, the mood hasn't been so sanguine. Fallon tweeted "@Questlove is grounded" and later "I'm honored that @MicheleBachmann was on our show and I'm sorry about the intro mess. i really hope she comes back."
Meantime, demands for an apology from the band, who release their new album Undun on Dec. 6, started adding up. Democratic New York Congresswoman Rep. Nita Lowey said in a statement: "I do not share Michele Bachmann's politics, but she deserves to be treated with respect. No female politician - and no woman - should be subjected to sexist and offensive innuendo like she was last night." And PBS' Gwen Ifill tweeted "You know what? The Roots and Jimmy Fallon should apologize. Really, @questlove, you're better than that."
Dan DeLuca, Inquirer Music Critic
One of the upsides of the singles-oriented world we live in is that big pop stars need to continually produce hit songs, lest they be forgotten by their fickle no-attention-span fans. And nobody works it as well as Rihanna, who releases an album every year, without a dud among them. This year's model, Talk That Talk (Def Jam ***) , is notable because while it remains highly-titillating - the Barbadian beauty is keen "to be your sex slave," apparently - it's largely free of the sturm und drang that marked such S & M-tinged self-consciously envelope-pushing efforts as 2009's Rated R. Instead, Talk That Talk sashays with a lighter touch, as with the throbbing club music blowout "We Found Love," which features a guest spot by Calvin Harris, or the grabby Notorious B.I.G.-sampling "Talk That Talk," which employs a guest rap by Jay-Z. Rihanna is never demure and often crass - see "Cockiness (Love It)" - but she's one Madonna acolyte who puts lessons learns from the Material Girl in to practice without being overly slavish. And while she's not given to highly ambitious artistic or deeply personal statements, she's a hook-singing hip-hop hitmaker par excellence with a distinctive siren's call that she rarely bludgeons the listener with. The "We Found Love" clip is below.