Archive: November, 2010
Dan DeLuca, Inquirer Music Critic
Reading Rainbow, the wife and husband duo of Sarah Everton and Rob Garcia who were the Weathervane Music Shaking Through artist of the month for November, are getting Pitchfork love this week. The black and white clip for "Always On My Mind" - a different song than the Willie Nelson/Pet Shop Boys one that might be in your head - is in a featured spotlight on the indie music bible's home page. Bully for them. The song is from RR's debut album Prism Eyes, which came out last week on the Hozac label. The nouvelle vague homage clip is directed by Amanda Finn. The Philadelphia band that shares a name with the LeVar Burton hosted children's show plays the Danger Danger Gallery in West Philadelphia on Dec. 16th.
READING RAINBOW always on my mind from amanda finn on Vimeo.
Dan DeLuca, Inquirer Music Critic
They're running out of aging classic rockers to attempt to unify the super-sized Super Bowl halftime audience, and with The Who, Bruce Springsteen, Tom Petty, U2 and Paul McCartney checked off the list, it's apparently time to give the gig to somebody who's making hits in the here and now. That would be the Black Eyed Peas, who, it was announced over the holiday weekend, will play Cowboys Stadium on February 6 during Super Bowl XLV. (I believe that means "45.") Will.I.Am, Fergie and those other dudes named Apl.De.Ap and Taboo will be there, but the Cowboys won't. The Black Eyed Peas' The Beginning comes out tomorrow. The first single, "The Time (Dirty Bit)," which has the unafraid-to-be-corny audacity to build itself around a sample of Bill Medley and Jennifer Warnes' Dirty Dancing hit "(I've Had) The Time Of My Life," is below.
Dan DeLuca, Inquirer Music Critic
Wyomissing's own Taylor Swift will embark on a gargantuan 19 country world tour in 2011, kicking off February 19 in Singapore. Circle the date, Swiftians: The country-pop princess will play Lincoln Financial Field next August 6, one of a half dozen stadium shows she'll do as part of an 87 date trek. In case you hadn't heard, Swift's third album, Speak Now, sold over a million units when it went on sale this month. Her Thanksgiving special is on at 8 on NBC on Thursday night, before Beyonce takes over at 9 on ABC. Tickets for the show at the Linc will go on sale in January.
Dan DeLuca, Inquirer Music Critic
At long last, The Spectrum is getting clobbered by a wrecking ball today. Bruce Springsteen's song of that name is here. Emmylou Harris' is below.
Dan DeLuca, Inquirer Music Critic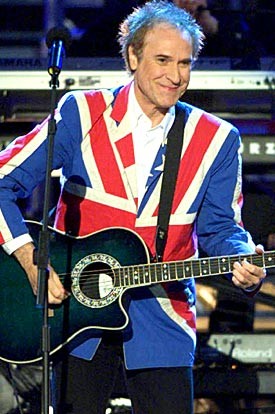 Kinks man Ray Davies has cancelled his four date U.S. tour, scheduled to kick off Wednesday in Boston and including Saturday's show at the Kimmel Center's Verizon Hall. According to a statement, the 66 year old Davies "did not want to cancel this tour but was ordered by his doctor not to fly or travel until his medical condition has stabilized to their satisfaction." What's wrong with the 66 year old songsmith who penned "Days" and "Waterloo Sunset"? He's not saying. Davies asks "that everyone respect his privacy so he can concentrate on a swift recovery." Refunds are available at the point of purchase. Get well soon, Ray.
Dan DeLuca, Inquirer Music Critic
Kanye West's long-awaited hotly-anticipated ego-inflated R-rated My Beautiful Dark Twisted Fantasy finally comes out Monday. It's a blast. I'll have a review in Tuesday's Inquirer. Meantime, here's West's worth-watching 35 minute art-movie The Runaway costarring Selita Ebanks as a Phoenix who falls from the Czech Republic sky.
Dan DeLuca, Inquirer Music Critic
Sufjan Stevens played Late Night with Jimmy Fallon last night, making his indie robot moves in full Royal Robertson-inspired costume regalia. Stevens' performance of the electro boppy "Too Much" from The Age of Adz topped off what my colleague David Stampone pointed out to me at jazzman Greg Osby's show at the Philadelphia Museum of Art last night (look for a review of that in Mondays' Inquirer) was a pretty great week for music on late night TV, what with Springsteen and The Roots' "Because The Night" on Fallon, Rihanna's "What's My Name" on Letterman, and the Arcade Fire on Saturday Night Live last Saturday.