Archive: January, 2012
Dan DeLuca

, Inquirer Music Critic

As you read first in the Spring Pop Arts preview that ran in the Inquirer's A & E section on Sunday, Feist will play the Academy of Music on May 8. Official announcement of that, and a tour that will kick off in April at the Coachella festival in California, comes today, a day after the Canadian songwriter born Leslie Feist released the new video for "The Bad In Each Other" from last year's Metals. Check out the video directed by Martin de Thurah, which appears to be shot partially in Mexico City and involves multiple inscrutable story lines, below. Tickets go on sale for the Academy show on Friday at livenation.com.

Previously: Leonard Cohen's Old Ideas Follow In the Mix on Twitter here
Dan DeLuca

, Inquirer Music Critic
Here's my *** 1/2 star review of Leonard Cohen's Old Ideas, which goes on sale today. Click here for a link to reviews of the Lana Del Rey's Born To Die and The Philly Soul collection Golden Gate Groove, which are also in today's Inquirer. Below, a stream of Old Ideas' "Show Me The Place."
Nobody seems to be beating up Leonard Cohen about having an artistic persona that's different from his true self. But the 77-year-old song-poet introduces the concept right at the start of Old Ideas, in which he slyly sing-speaks, "I'd love to speak to Leonard, he's a sportsman and a shepherd / He's a lazy bastard, living in a suit."
Actually, Cohen doesn't come off as the slightest bit lazy on Old Ideas, his first studio album in more than seven years and his best in 20. Cohen's creative juices were clearly renewed by the magnificent career-spanning tour that played the Academy of Music in Philadelphia in 2010. Produced with various helpers, including his paramour, singer Anjani Thomas, and Ed Sanders of the Fugs, Old Ideas was recorded with his Unified Heart touring band and is filled with bruised romantic songs - Cohen coyly sings that his ambition is to create "a manual for living with defeat" in the opening "Going Home."
Dan DeLuca

, Inquirer Music Critic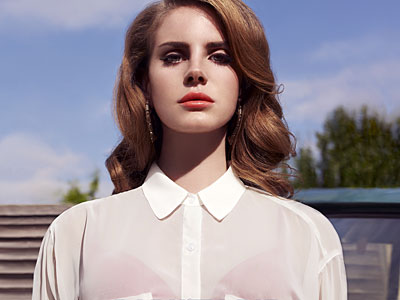 If only it was as much fun to listen to Lana Del Rey as it is to argue about her.
Since the singer born Lizzy Grant released the sultry, sumptuous, impossibly-jaded and yet thoroughly-romantic single "Video Games" last summer, the 25 year old's carefully constructed puffy-lipped persona has made her the focal point of an age-old authenticity debate. It's also added to the escalating hype for Born To Die (Interscope **) which, at long last, comes out on Tuesday.
For Schadenfreude-seeking Del Rey detractors who took pleasure in her barely-there performance on Saturday Night Live earlier this month and who have excoriated her for being "fake" - as if every performer who's stood in front of an audience hasn't projected an image different from their "real" self - there are reasons to say 'I told you so."
Dan DeLuca

, Inquirer Music Critic
Jack White is releasing his first solo album this spring.
It takes the excellent title Blunderbuss, and it comes out on Third Man/Columbia on April 24. The first single, "Love Interruption" sounds like it came from the quiet side of The White Stripes. White told the NME that Blunderbuss "was written from scratch, had nothing to do with anyone or anything else but my own expression, my own colors on my own canvas."
Hear "Love Interruption" below.
Dan DeLuca

, Inquirer Music Critic
There's a big Spring Arts Preview in the Sunday Inquirer A & E section this week. (Yeah, I know its winter, but it kind of feels like spring outside, doesn't it?) Between the paper and philly.com, I've got a total of 21 pop music picks to click. One of them is Sharon Van Etten, who will release her third album, Tramp, on February 7, and play Johnny Brenda's on Feb. 10. Below, please watch her do "Serpents" from a Late Night with Jimmy Fallon earlier this month.
Previously: Dr. Dog Day Follow In The Mix on Twitter here
Dan DeLuca

, Inquirer Music Critic
It's Dr. Dog Day.
Be The Void, the Philadelphia band's new album, comes out a week from Tuesday on Anti- Records. A flurry of activity begins at noon today, when the sextet play a free show at the World Cafe Live. That show's been sold-out for a week, but it'll be broadcast live on WXPN (88.5-FM).
Then later today, the Scott McMicken- and Toby Leamen-led psych-pop-rock outfit will be at Range Recordings in Ardmore for an In The Mix Live session with yours truly. I'll interview the band, they'll play a bunch of songs, and we'll begin posting it on philly.com and the Inquirer's Arnova tablet app late next week in advance of Be The Void's Feb. 5 release date.
Dan DeLuca

, Inquirer Music Critic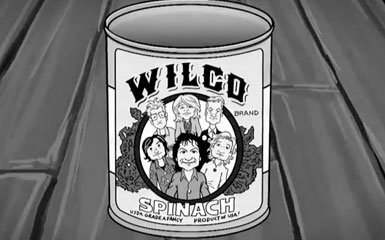 Jeff Tweedy makes the moves on Olive Oyl in the new animated video clip for "Dawned On Me" from the Chicago band's The Whole Love. It's the first new hand drawn Popeye cartoon in over 30 years.
I have to say, I feel bad for Popeye. He eats his Wilco spinach and uses the renewed strength to dispose of that cumbersome brute Bluto, only to have some hairy rock singer walk off with his girl. Oy!
The video was directed by Darren Romanelli. Wilco were also featured in last Sunday's Popeye comic strip. Take a look at that here.
Dan DeLuca

, Inquirer Music Critic
The moment so many indie-rock fans have been waiting for has finally arrived in Philadelphia: Jeff Mangum will play tonight at Irvine Auditorium on the University of Pennsylvania campus.
Mangum is, or was, Neutral Milk Hotel, the uber-influential - hey Colin Meloy of the Decemberists, where'd you get that sound? - indie act who released two albums, On Avery Island (1996) and the masterful In The Aeroplane Over The Sea (1998). Then, he made his myth grow by disappearing from the scene nearly completely until last fall, when he played a series of solo dates, starting with two shows at the All Tomorrow's Parties festival in Asbury Park in September.
I caught a Sunday afternoon Mangum show at the Paramount Theater in Asbury. For a guy who's seen his share of troubles and has avoided the limelight as assiduously as Dave Chapelle or Harper Lee, the 40 year old Mangum was relatively at ease on stage, wearing a newsboy cap as he sat surrounded by four acoustic guitars and encouraged a crowd that knew every word to every song to sing along. His tart, Celtic-tinged voice has lost osme range, but still sounds pretty great. The Louisiana native also covered one song by a different disturbed Texas songwriter in each show: once it was Roky Erickson's "I Love The Living You," and once Daniel Johnston's "True Love Will Find You In The End."