Archive: January, 2011
Dan DeLuca

, Inquirer Music Critic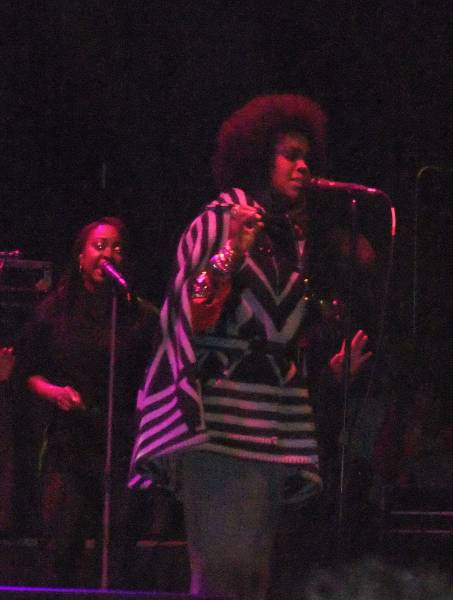 Sometimes negative buzz can be a good thing. You go in expecting little, you go home getting more than you bargained for. The chatter about Lauryn Hill's comeback has involved a lot of carping - she's late, she's wacky, she's mean. She did go on at midnight on the House of Blues in Atlantic City this weekend, but since when is that a crime againsrt humanity on a Saturday night? And the former Fugee did plenty to remind us of her unmatched combo skills as a singer and a rapper, drawing from the Fugees' The Score, The Miseducation of Lauryn Hill and including three Bob Marley and one Flamingos cover. That's her at the HOB above. My review of the show from Monday's Inquirer is here. A Theater of Living Arts date has been added for February 8.
Previously: To The Moon
Dan DeLuca

, Inquirer Music Critic
Former Inquirer music critic Tom Moon has just released an album of bossa nova-informed jazz on the Frosty Cordial label. It's called Into The Ojala and is credited to the Moon Hotel Lounge Project. You probably already read David Adler's interview with the author of the wide ranging sonic guidebook 1000 Recordings To Hear Before You Die, in last Sunday's Inquirer A & E section. But if not, you can do so here. Patrick Jaredwattananon's NPR piece on Moon, who also critiques music for NPR and was a saxophonist who played with Maynard Ferguson in a previous life, is here. Go here to hear "Thank The Eyes." Read more about the architectural inspiration for Into The Ojala here. Tonight, the seven member MHLP, which includes former Huffamoose guitarist Kevin Hanson, plays L'Etage at 6th and Bainbridge, above Beau Monde. Sets are at 8 and 10, so go early and stay late.
Previously: Oh, Portlandia!
Dan DeLuca

, Inquirer Music Critic
On my list of trials and tribulations endured in pursuit of rock and roll at the Tower Theatre over the years, I'd have to rank Wednesday night's Robert Plant / Band of Joy debacle right up there with the time I cut my head open on the ceiling at the bottom of the steps to the men's room at a screening of The Who's The Kids Are Alright, and the time I threw up in said men's room between sets at a Ramones / Debbie Harry / Tom Tom Club show. (And still filed my review on time, thank you very much.)
Not that I have any complaints about Plant's performance. As you can read here in Friday's Inquirer, it was a splendid 100 minutes, highlighted as much by old-time excavations like "Satan, Your Kingdom Must Come Down" and "Satisfied Mind" (with BOJ's Darrell Scott singing lead) as any of the five Led Zeppelin songs the five guys plus the fabulous Patty Griffin did, including "Rock and Roll."
(It has been pointed out to me by perspicacious reader Frank Signorello that Plant and Band of Joy actually did six Led Zep songs, if you include "Nobody's Fault But Mine." To which I say: Yeah, that's true, the original heavy metal hair farmers did do that song on Presence. But like so many Led Zep songs, it's not really a Led Zep song. It's a Blind Willie Johnson song, or at least that incomparable gospel-blues man did the first known recording of it in the 1920s. Plant and Page simply had the typically massive cojones to record it and put their own names down as writers. So I say, "Phooey!" That still makes five.)
Dan DeLuca

, Inquirer Music Critic
Portlandia, the sketch comedy show starring Saturday Night Live's Fred Armisen and Sleater-Kinney and Wild Flag guitarist (and NPR Music blogger) Carrie Brownstein, debuted last Friday on the Independent Film Channel. The second half-hour episode begins airing, and re-airing, tonight. It's pretty funny, satiric stuff that mostly hits its target as it mocks the self-serious sanctimony of locavore eco-warriors and bicycle activist hipsters in the highly caffeinated drizzle of the Brooklyn of the Pacific Northwest.
Pictured are Brownstein, guest star Jason Sudeikis and Armisen. Below are clips of the show's opening musical number, a skit involving a farm-to-table restaurant where you get to know the name of the chicken you're about to eat, and another joke that begins "Steve Buscemi walks into a feminist bookstore..." And below that is Brownstein's "Portlandia Theme Song," a chiming, heartfelt ode to the "arts and craft and movie makers, hacky sackers and vegan bakers" of her home town.
Previously: Robert Plant, Thunder Snow and "Rock and Roll"
Dan DeLuca

, Inquirer Music Critic

The plan is to go to see The Dismemberment Plan tonight at the First Unitarian Church. It's cold outside, but it'll be hot in there. It's the reunited Washington, D.C. indie band's first show outside it's hometown on its first tour in seven years. A Washington Post profile of the band is here. Sounds like you might be seeing them again at this year's Roots Picnic, judging by this Tweet.

Previously: Charlie Louvin, RIP
Dan DeLuca

, Inquirer Music Critic
Charlie Louvin, one half of the greatest country brother act of all time, has died after a long fight with pancreatic cancer, at 83. His brother Ira died in a car crash in 1965. Spine tingling Louvin classics like "When I Stop Dreaming," "Must You Throw Dirt In My Face" and the eerily beautiful murder ballad "Knoxville Girl" made the Louvin Brothers a powerful influence on younger artists like Gram Parsons, Keith Richards and Emmylou Harris. Charlie Louvin became a grandfather figure for a new generation of alt-country acts in recent years, recording a series of albums for the Tompkins Square label.
The Louvins' voices blended effortlessly, but they didn't always get along. "Jack Daniel's" was the culprit, Charlie told me in 2007, when he was touring for Charlie Louvin, which includes duets with George Jones, Elvis Costello and Jeff Tweedy. "I don't know how to handle a drunk. Still don't. I was the designated driver, way before they came up with that term. "
He had nothing but good things to say about his brother's musical talent, however. "He played the mandolin good, and was one of the greatest tenor singers ever. Bill Monroe used to say that there ain't but two tenor singers, and Ira Louvin's one of them. " Charlie Louvin also incudes "Ira," a song he wrote with Trent and Tim LeClaire. "I still hear you, off in the distance, your sweet harmony," he sang. "They'll never be another, because you can't beat family." "There aren't any lies in that song," Charlie said. "It's all true."
Dan DeLuca

, Inquirer Music Critic
Led Zeppelin frontman Robert Plant brings his Band Of Joy to the Tower Theater tonight. Personally, I'm pretty stoked for this one. The Plant-Alison Krauss date at the Mann Center in 2008 was one of the best shows I've seen in recent memory. And while I pretty much agree with everything my colleague Steve Klinge says in this preview from last Friday's Inquirer, I think I like Plant's new more electrified Buddy Miller-produced Band Of Joy better than the more precious T-Bone Burnett-produced Grammy grabbing 2007 Krauss collaboration Raising Sand. The Golden God's cover of Los Lobos' "Angel Dance" is below. And yes, Philadelphia, there will be Led Zep songs. North Mississippi All-Stars open.
Previously: Kanye Tops Rolling Stone Tweter List; ?uestlove and Diplo Crack Top Ten
Dan DeLuca

, Inquirer Music Critic
I'm putting together a list of upcoming albums and shows worth getting excited about - more on that in this coming Sunday's Inquirer A & E section - and Lykke Li's Wounded Rhymes is near the top. On her new single, "Get Some," the Swedish songstress sings, "I'm your prostitute, you're gonna get some." But keep your shirts on, boys and girls. Li, whose "Little Bit" was one of the standout singles of 2008, is not talking about that kind of prostitute.
As she told Pitchfork in an interview in November, "it's not about being a sex prostitute. It's about this power play in the war of the sexes. It's a rat race, like, "I'm in charge," "No, I'm in charge." A lot of times females are in charge because they kind of have the pussy power. If they say, "I'm you're prostitute," then they mean, "I'm the power."
Li went on to say that the inspiration for "Get Some," was Japanese novelist Haruki Murakami's mind blowing masterwork The Wind Up Bird Chronicle. "There's a woman that calls herself a mind prostitute and she goes into this man's mind so he thinks that they're getting it on; he fantasizes about her. They're not doing it, she's just in his mind to steal information." Wounded Rhymes comes out March 1.