Dan DeLuca, Inquirer Music Critic
After several show postponements and cancellations due to equipment being damaged in a truck accident, Kanye West got his 'Yeezus' tour up and running again at the Wells Fargo Center on Saturday night.
In a boldly unorthodox 2 hour 20 minute show that felt much longer, the rapping provocateur donned a series of masks, brought along his own mountain to the South Philadelphia arena and schooled the audience on the Willie Lynch Theory during his song "Runaway," at one point explaining how Kanye has to be Kanye thusly: "They beat that slave until he behave. But I don't want to behave. I just want to be me." He added that "If you're a fan of Kanye West, you're a fan of yourself." And oh yeah, Yeezus also said hello to an actor dressed as Jesus, who he addressed as "White Jesus."
Kendrick Lamar opened. West's set list is below. A full review will be up online on Sunday.
Dan DeLuca, Inquirer Music Critic
Rolling Stone has reported that Lou Reed, the profoundly influential rock songwriter who was a founder of the Velvet Underground in the 1960s and went on to prolific solo career, has died. He was 71.
Earlier this year, Reed underwent what was characterized as a life saving liver transplant. In June, he wrote on his web site, "I am a triumph of modern medicine, physics and chemistry...I look forward to being on stage performing, and writing more songs to connect with your hearts and spirits and the universe well into the future." But on Sunday, his literary agent Andrew Wylie confirmed that Reed died Sunday morning on Long Island of an ailment related to the transplant.
Reed had his greatest commercial success as a solo artist, and his best known song was "Walk On The Wild Side" the enduring 1972 hit produced by David Bowie that chronicled the exploits of assorted hustlers and denizens of the night at the New York club Max's Kansas City, and whose reference to oral sex went unnoticed by Top 40 radio censors a the time.
Dan DeLuca, Inquirer Music Critic
The title of Harry Dean Stanton: Partly Fiction, Sophie Huber's documentary which has its second Philadelphia Film Festival screening at noon on Sunday at the Ritz at the Bourse, is drawn from a song called "He's a Pilgrim."
Kris Kristofferson, who sings it in the movie, wrote it partly about Stanton. "He's a pilgrim and a preacher, and a problem when he's stoned," the song goes. "He's a walking contradiction, partly truth and partly fiction / Taking every wrong direction on his lonely way back home."
Huber's movie has plenty of music in it, with the now 87 year old charactor actor, whose long list of credits includes Paris, Texas, Alien, Repo Man, Wild at Heart, Cool Hand Luke, The Straight Story and Pat Garrett & Billy the Kid, singing several Mexican folk and blue mood country songs, plus "Danny Boy," as he sits in his Los Angeles living room.
Dan DeLuca, Inquirer Music Critic
The closely guarded new Arcade Fire album, Reflektor, which comes out Tuesday, is streaming for free on YouTube.
The Canadian band's follow-up to 2010's Grammy winning The Suburbs, produced by James Murphy and Marcus Dravs, plays in entirety in the lyric video below, over footage from the 1959 movie Black Orpheus.
Previously: Another 'American Beauty,' from Dogfish Head Follow In The Mix on Twitter
Dan DeLuca, Inquirer Music Critic
Dogfish Head, the justly esteemed craft brewers out of Milton, Delaware, have made music their business many times, from the Miles Davis-honoring fusion stout B*tches Brew, the annual Analog A-Go Go music fest and the Jon Langford artwork that adorns such specialty brews as Burton Baton and Raison D'Extra.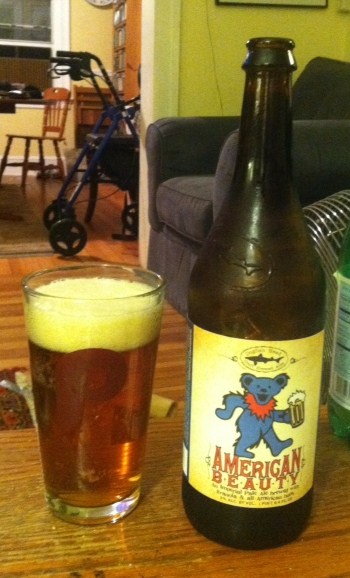 The latest synergistic endeavor to come out of the hop head of Dogfish top man Sam Calagione is American Beauty, an Imperial Pale Ale that shares a name with the 1970 album by the Grateful Dead. That's the LP with "Friend Of The Devil," "Truckin'," "Sugar Magnolia" and "Box of Rain." It's as good of a record as the Dead ever made, and along with Workingman's Dead, which contains "Casey Jones" and "Uncle John's Band," its hippie hillbilly music brew served up the radio songs that were most identified with the band for decades to come.
Dan DeLuca, Inquirer Music Critic
Dan DeLuca / Inquirer Music Critic
Pearl Jam played the first of two sold out shows at the Wells Fargo Center on Monday night.
"You were probably here when we tore down the Spectrum," Eddie Vedder told the crowd, referring to the storied arena across the street that the Seattle band played the final shows at in October 2009. "(Expletive) it, let's tear this place down, too. But we'll do it slowly, brick by brick. Let's make a long evening of it."
Dan DeLuca, Inquirer Music Critic
There's a musical memorial happening Friday night at Fergie's Pub for Steve Demarest, the much missed Philadelphia bass player. Demarest died on Oct. 5, the day after he collapsed at the Sansom Street watering hole between sets with roots-rock standouts John Train, with whom he played for almost 18 years.
Demarest's obituary from the Philadelphia Inquirer is here. Many of the bands and songwriters he played with during his 30 plus years on the music scene will perform at the two hour celebration, which kicks off at 6. Among them: Slo-Mo, Kenn Kweder, Chet Delcampo, Rodney Anonymous, Bunny Savage, and of course John Train, with whom he finished playng Butch Hancock's "Boxcars" minutes before he suffered an aortic dissection and lost consciousness two Fridays ago.
Mark Schreiber, who played drums alongside Demarest in John Train, said this about him: "Steve was a giving bass player. He didn't noodle and stuck to the soul of things. He had a excellent musical sensibility and broad musical vocabulary, so it was easy to collaborate, create and lock in. We've been a pretty tight rhythm section these past 14 years, and I'm going to miss him on my left (or right)." He sent along this video of Demarest doing a bass demonstration: http://youtu.be/r5WQBbkASZ0.
Dan DeLuca, Inquirer Music Critic
In Traveling Sprinkler, Paul Chowder, the poet protagonist of Nicholson Baker's 2009 novel The Anthologist returns and decides he's "had it with poetry."
Instead, he decides to buy himself a guitar at Best Buy and try his hand at songwriting. Like Baker - who kicks off the 215 Festival on Thursday with a reading (with Dara Horn) at the Free Library, followed by an appearance later that night at Underground Arts - Chowder has a very active mind and a background in classical music, as a bassoonist. Playing an instrument that "looked like a strange undersea plant that would live in the darkness of the Marianas Trench, near a toxic fumarole," Baker was once the fourth bassoonist in the Rochester Philharmonic.
Reading Traveling Sprinkler is educational and entertaining on many subjects, from chewing tobacco to U.S. drone attacks to Quaker meetings to Chowder's ex-girlfriend Roz to John Powell's score to The Bourne Identity to Norman Herzberg , "the great studio bassoonist of Los Angeles." That's because Baker, as has been his wont in previous stream-of-consciousness riffs like The Mezzanine and the dirty-minded House of Holes, tends to tell you pretty much everything he's thinking,