Dan DeLuca, Inquirer Music Critic
The line-up for the New Orleans Jazz & Heritage Festival has been announced, with Bruce Springsteen & the E Street Band, Arcade Fire, Alabama Shakes, Eric Clapton, Christina Aguilera, Public Enemy, Robin Thicke, Phish, Solange, Bobby Womack, Robert Plant, John Fogerty, The Head and the Heart, Tre Songz, Alejandro Escovedo, The Avett Br0thers and Chaka Khan among the non-native Louisianan headliners.
Of course, those big names are less than than half of the good reason to go to The City That Care Forgot for Jazz Fest, which takes place over the last weekend in April and the first weekend in May. Also on the bill: Allen Toussaint, Galactic, Kermit Ruffins & the Barbecue Swingers, BeauSoleil avec Michael Doucet, Irma Thomas, Trombone Shorty & Orleans Avenue, The Hot 9, Hurray for the Riff Raff, Sonny Landreth, Nicholas Payton XXX, John Boutte, Treme Brass Band, Geronimo Hunters Mardi Gras Indians, and more.
Springsteen and Arcade Fire both play the second weekend. Phish and Clapton are set for the first. This is the first U.S. Springsteen date announced for what is likely to be a full tour behind the new album High Hopes, which comes out today.
Dan DeLuca, Inquirer Music Critic
This weekend I finally caught up with Nothing Can Hurt Me, the documentary about the late great sui generis 1970s Memphis British Invasion-influenced power-pop band Big Star.
Drew DiNicola and Olivia Mori's 2012 film has been up streaming on Netflix since the first of the year, so there's no longer any excuse. The movie is essential for Big Star fans, and compelling on its own terms, though I can't say that I feel I know Alex Chilton all that much better than I did before I saw it. But then it doesn't seem like many of his fellow Memphians that talk about him in the movie knew the frequently self-destructive and sardonic mystery man very well when he was alive, either.
At one point, in the sad, subdued story, Big Star drummer Jody Stephens explains that he assumes Chilton must have been enjoying himself during the band's 1990s reunion shows, because he never knew the singer-guitarist to do anything he didn't want to do. That kind of guess work was required when it came to Chilton, who spoke and frequently sang with a mixture of sincerity and sarcasm that was difficult to parse.
Dan DeLuca, Inquirer Music Critic
I haven't seen The Jim Jones Revue live yet, so tonight at the North Star Bar is the night.
This Jim Jones is not a New York rapper or a kool aid drinking cult leader but a a howling British rock and roll singer who has taken frontman pointers from old time adrenalized showmen like Jerry Lee Lewis and Little Richard as well as more recent rip roarers like The Stooges and Nick Cave.
The band's latest album, last year's The Savage Heart, raises quite a ruckus, but word has it that the only way to go with The Jim Jones Revue is to see them on stage because, as one web wag put it, they put on "a ferocious and almost unfeasibly exciting live show."
Dan DeLuca, Inquirer Music Critic
Reunited rap duo OutKast, Canadian alt-rock heroes Arcade Fire and British stadium rockers Muse will headine the Coachella Valley Music and Arts Festival, the first mega music festival of the season to announce its full lineup.
Other notable acts on the three day fest, which once again will take place over two weekends from April 11-13 and April 18-20 in Indio, California, include The Replacements, Broken Bells, Bryan Ferry, Haim, Blood Orange, Lorde, Lana Del Rey, Girl Talk, Skrillex, Beck, Neko Case, Empire of the Sun, Neutral Milk Hotel, Trombone Shorty, Disclosure, Chance the Rapper and Philadelphia's Waxahatchee.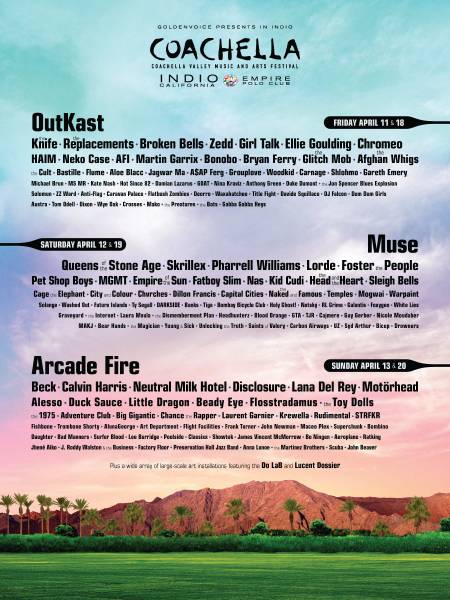 Dan DeLuca, Inquirer Music Critic
Bruce Springsteen's new album, High Hopes, which goes on sale on January 14, is streaming at cbs.com. Three songs from his 18th studio album will be featured in this coming Sunday's episode of the network drama The Good Wife.
My *** review from Sunday's Inquirer A & E section is here. Below, check out a clip of Springsteen and the E Street Band covering The Saints' "Just Like Fire Would," a studio version of which is included on the album, on tour in Australia last year.
Previously: RIP, Phil Everly of the Everly Brothers Follow In The Mix on Twitter
Dan DeLuca, Inquirer Music Critic
Phil Everly of the pioneering country-pop harmonizing duo the Everly Brothers died on Friday at age 74. His AP obituary is here.
The brothers were a profoundly infuential pop music force. Bob Dylan once said they "started it all," and they were enormously popular in the UK, shaping the sound of bands like The Beatles and The Hollies. And that's to say nothing of their great heads of hair. (Phil was the fair haired one.)
Phil and Don, who's 77, also fit firmly in the tradition of battling rock and roll brothers: In 1973, they broke up during a show at Knott's Berry Farm in southern California, with Phil throwing down his guitar and storming off stage. Last year, Billie Joe Armstrong of Green Day and Norah Jones recorded a heartfelt tribute album called Foreverly, a song by song recreation of the 1958 Everlys album Songs Our Daddy Taught Us.
Dan DeLuca, Inquirer Music Critic
Songs I failed to put on my 2013 Christmas music mix, Pt. 1. "Toymageddon" tells the tale of the coming Toypocalypse, when Christmas toys finally come to their senses and and take their revenge upon humans. The video features Yo La Tengo, Ira Glass of National Public Radio's This American Life and comedian Eugene Mirman. From the upcoming 2776 comedy album. Thd single is available on iTunes.
Previously: A 2013 Christmas Mix Follow In The Mix on Twitter
Dan DeLuca, Inquirer Music Critic
Get jingly with it: My annotated Christmas playlist for 2013 is in Thursday's Inquirer.
It features Nick Lowe, Diplo, Mary J. Blige, Kelly Clarkson, Bright Eyes, Brother Joe May, Work Drugs, Joe King Carrasco, Joshua Bell, and Johnny Mathis, among others. Punch in Christmas code B89T and read the story here. Click below to listen to a Spotify version of a mix that's slightly different from the one in the paper because a few of the songs are not available on the streaming service..
Previously: Nirvana, Kiss, Hall & Oates go into the Rock and Roll Hall of Fame Follow In The Mix on Twitter