Dan DeLuca, Inquirer Music Critic
The lineup for WXPN-FM's Xponential Music festival, to be held in Camden's Wiggins Park and the Susquehanna Bank Center, is filling out.
Dan DeLuca, Inquirer Music Critic
I interviewed Mick Jagger the other day in advance of the Rolling Stones' 50 & Counting tour which comes to the Wells Fargo Center on June 18 and 21. Click here to read all about it in the Sunday Inquirer A & E section.
Rolling Stones Sympathy for The Devil
Dan
|
Myspace Video
Dan DeLuca, Inquirer Music Critic
The Rolling Stones have added a second show to the closing stand of their 50 & Counting tour at the Wells Fargo Center. In addition to June 18, the Stones will also now be playing on 21. Tickets for both shows go on sale through ComcastTix.com at 10 a.m. on Monday.
Dan DeLuca, Inquirer Music Critic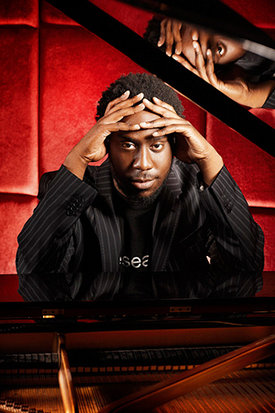 The nominees for best R&B album at the 2013 Grammy awards included some boldfaced names, including R. Kelly, Anthony Hamilton, Tyrese and Tamia. The well-deserving surprise winner, however, was jazz pianist Robert Glasper, for Black Radio, his genre-bending set that mixed funk and soul into the a blend stirred by contributors including Eryka Badu, Lalah Hathaway, Mos Def and Philadelphians Bilal and Music Soulchild.
Dan DeLuca, Inquirer Music Critic
Jay-Z released a new song called "Open Letter" this morning that's a sort-of musical press conference, an editorial on "the Black CNN," as Chuck D. called rap back in the day.
Dan DeLuca, Inquirer Music Critic
The line-up for the 2013 Budweiser Made in America festival was announced on Wednesday, one act at a time, via a Spotify playlist. It started with Nine Inch Nails and ended with Beyonce.
Dan DeLuca, Inquirer Music Critic
The second annual WXPN Music Film Fest is upon us this weekend.
Dan DeLuca, Inquirer Music Critic
Tickets for the Rolling Stones show at the Wells Fargo Center on June 18 - the last tour stop on their '50 and Counting' tour, go on sale next Monday at 10 in the morning through ComcastTix.com or at 1-800-298-4200.
It'll cost you, to get your 'Satisfaction": The basic price range goes from $150 to $600. (Don't complain! That's over $100 cheaper than the band charged for its top priced ducat during its three show New York-New Jersey run in December.)
There will, however, be some deals available. "Over 1000" seats in the 20,000 capacity hockey arena will go for $85, and the location of those tickets, which will be sold in pairs, will not be revealed until the buyers pick them up the night of the show, with some being "among the best seats in the house," such as the standing stage side area known as the "Tongue Pit," according to a press release.
Dan DeLuca, Inquirer Music Critic
Jay-Z's Made in America festival will return to Philadelphia's Benjamin Franklin Parkway on Aug. 31 and Sept. 1 of this year.
Dan DeLuca, Inquirer Music Critic
Former English Prime Minister Margaret Thatcher died following a stroke on Monday.
The so called Iron Lady, who held office from 1979 to 1990, was arguably as influential on 1980s pop culture as Ronald Reagan, who she came to office eight months before and stayed in power two months longer than.
Punk rock was already in full flower when the Tory leader began dismantling the welfare state and touting free market economics while teaming with her good friend Reagan in Cold War political pursuits, but throughout her time in power Thatcher continually inspired New Wavers, ska bands and pop music makers of all stripes to protest her very existence.