Dan DeLuca, Inquirer Music Critic
The second annual Make Music Philly is coming up on June 21. It's a bigger event this year, capped by a concert with pint-sized soul dynamo Lee Fields & the Expressions and veteran DIY rocker Ted Leo, plus a harmonica jam session with John Colgan-Davis at the Great Plaza at Penn's Landing.
That show, along with all of the other music going on as part of Make Music Philly, is free. MMP includes over 50 events with more than 300 performers, with events ranging from the Black Pearl Chamber Orchestra playing Beethoven's Ninth Symphony at the Robin Hood Dell East to Ben Arnold, Cookie Rabinowitz, The Doublewides, Pete Donnelly and The Fractals at the Gorgas Park in Roxborough to Sara Abo-Harb playing at the Franklin Institute in the afternoon and the Hard Rock Cafe at night in Center City.
Make Music Philly is part of National Music Day, a tradition that started in France in the 1980s and has been spreading across American cities over the past decade. Radio station WXPN is spearheading the event, which gets started with a play along percussion event with the Philly Drum Project in LOVE Park on the 21st - the longest day of the year. Here's the Inquirer's story about the city wide event last year:
Dan DeLuca, Inquirer Music Critic
One of the most vital of of New Orleans brass bands, the Soul Rebels, play World Cafe Live tonight.
It's tempting to label the band as among the young generation of Crescent City horn and percusion ensembles - and in fact, the group founded by Derrick Moss and Lumar LeBlanc are young'uns in comparison to long in the tooth groups like the Treme, Dirty Dozen and even ReBirth Brass bands. But in fact, the Rebels first came together in 1991, and have been stretching the boundaries of tradition for decades now.
When I heard them at the New Orleans Jazz & Heritage festival this year, it was a cacophonous version of Jay Z and Justin Timberlake's "Holy Grail" that pulled me over to the Congo Square stage, and the picture above is of the band performing with New Orleans' "Queen of Bounce," Big Freedia.
Dan DeLuca, Inquirer Music Critic
Stephen Colbert apologized last night for The Colbert Report being named by the University of Pennsylvania Annenberg Public Policy Center as a more reliable source of information on campaign finance reform than news channels like CNN, MSNBC and Fox News, as well as broadcast news outlets and newspapers.
To celbrate, the Comedy Central host swigged from a bottle of Dom Perignon, which he implied he paid for with money raised by his Colbert Super Pac ("Making A Better Tomorrow, Tomorrow"), and claimed "I never intended to be an educator. What's next: Getting paid like one?"
"I let you down, Nation," Colbert said. "Clearly, I must work harder, at informing you less."
Dan DeLuca, Inquirer Music Critic
Halfway through his set at the Festival Pier on Saturday night, after trading verses with Black Thought of The Roots on "Nuthin' But a G Thang," Snoop Dogg said a few words.
"I'd like to thank The Roots for inviting me to be part of this prestigious event," said the California rapper, resplendent in a red throwback Phillies cardigan that matched the knit cap worn by Roots drummer Ahmir "Questlove" Thompson. "It's the seventh year, right? Lucky 7, for me."
And lucky, too, for attendees of this year's Roots Picnic, the now traditional kick off to summer concert season. The show at the expanded and refurbished Pier - now with a sand rather than blacktop floor, so it resembles a place a picnic might actually take place - began at noon with New Zealand duo Electric Wire Hustle.
Dan DeLuca, Inquirer Music Critic
The set times for bands at Saturday's Roots Picnic at the refurbished Festival Pier have been announced.
Get there by 8:30 p.m. if you want to se The Roots and Snoop Dogg, by 6:45 if you can't miss Janelle Monae, 5:25 if you're jonesing for The War on Drugs, 2:30 if you burn for Just Blaze and 1:30 if you're hot for Philly rapper Chill Moody.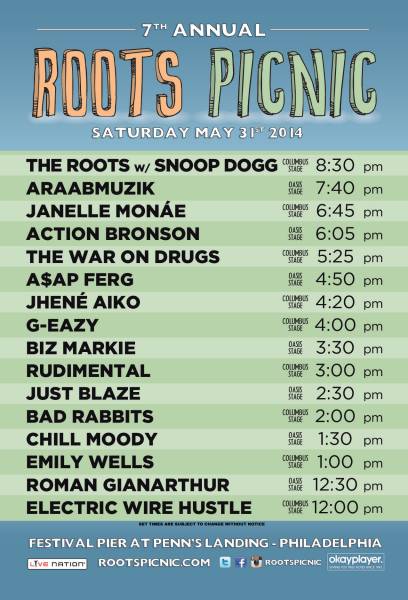 Dan DeLuca, Inquirer Music Critic
If it's Memorial Day weekend, there must be action down the shore at Memories in MAHR-gate, as motor mouthed Philadelphia radio legend Jerry Blavet would say.
On Sunday, the Geator will be joined by generations-younger simpatico rockers Low Cut Connie at the Absecon Island club. LCC, mutually fronted by piano pounding South Jersey native showman Adam Weiner and Birmingham, England guitarist-drummer Dan Finnemore, will play a cocktail hour set at 5, and another, during which they will be joined by the Geator and perhaps a special guest, 9ish. Details here.
A Low Cut Connie story I wrote during SXSW, where Rocco Avallone's above photo was taken, is here. A clip of the band playing Ray's Birthday Bar in South Philly is below.
Dan DeLuca, Inquirer Music Critic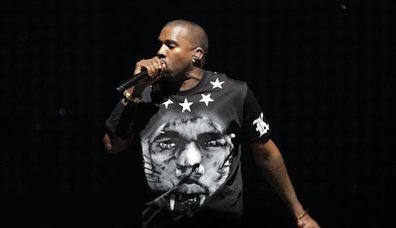 For two years, Philadelphia had the Budweiser Made In America festival all to itself.
Last month, however, it was announced that the Jay-Z curated fest would go bi-coastal in 2014., taking place simultaneously both here and in Los Angeles on Labor Day weekend.
Whatever agita that news created - was Made in America going Hollywood? Would the Left Coast take all the best acts? - was calmed downed when it was announced that Kanye West will headline MIA in Philadelphia, which this year on August 30 and 31 on the Ben Franklin Parkway.
Dan DeLuca, Inquirer Music Critic
On Saturday, Bob Dylan turns 73.
Two nights earlier, Philadelphia songwriters Jon Houlon, Kenn Kweder and Skip Dennenberg will host their 10th annual Bob Dylan Birthday Bash at Rembrandt's in the Art Museum area.
All told, 40 performers will cover the Bard. Don't think twice: You won't hear any song more than once. The evening, which will begin at 7 sharp, starts with Kweder singing "I Dreamed I Saw St. Augustine" and close round about 11 with Ben Arnold turning through "My Back Pages," with the aid of special guests.