Dan DeLuca, Inquirer Music Critic
Bruce Springsteen will release his 18th studio album, High Hopes, on January 14th.
It will be his first with a title track he didn't write himself: "High Hopes" is a cover of a song written by Tim Scott and recorded in 1990 by the L.A. rock band The Havalinas. Springsteen first recorded the song, which you can watch and listen to a lyric video of below, in 1996. He re-recorded it earlier this year in Australia, while tourng Down Under with Rage Against the Machine guitarist Tom Morello, filling in for Steven Van Zandt who was off in Norway shooting his Netflix show, Lillyhammer.
The complete High Hopes track list includes a number of covers and songs that have long been in the Springsteen repertoire, including "American Skin (41 Shots)," which was inspired by the police shooting of immigrant Amadou Diallo in New York in 1999 (and which he performed in honor of Trayvon Martin in concerts this year) and "Dream Baby Dream," his cover of the No Wave band Suicide, which he closed out dates on the 2005 Devils & Dust tour. There's also a version of the title track to his 1995 album The Ghost of Tom Joad, presumably rocked out with Morello on guitar.
Dan DeLuca, Inquirer Music Critic
The great Texas roadhouse rocker Joe Ely plays the Sellersville Theater tonight.
The Lubbock, Texas native and founding Flatlander was once lionized by The Clash - "There ain't no better blend, than Joe Ely and his Texas men," Joe Strummer sang on Sandinista's "If Music Could Talk" - and has always been an electric live performer and captivating raconteur. With his own rugged story songs and the mystical country compositions of his compadres Butch Hancock and Jimmie Dale Gilmore, he's got quite the songbook of American vernacular music to pull from.
Below, check out Ely circa 1990 with David Grissom on guitar blasting through "Are You Listening, Lucky?" plus a solo acoustic "Because Of The Wind" of more recent vintage.
Dan DeLuca, Inquirer Music Critic
Kanye West stood on the Wells Fargo Center stage Saturday night with his face covered by a stylish executioner's mask that made him look like a high couture Mexican wrestler, and attempted to explain himself.
In so doing about two-thirds of the way through his grueling, boldly unorthodox 2 hour and 20 minute 'Yeezus' tour, the proudly provocative rapper, producer and fast food eater - he had dinner at Wendy's on 15th and Chestnut with fiancee Kim Kardashian on Friday - talked about "the Willie Lynch theory" of keeping African Americans in order by punishing them in public.

"They beat that slave till he behave," West said during an improvised interlude in "Runaway," from his 2010 maximalist masterwork My Beautiful Dark Twisted Fantasy. "But I don't want to behave. I just want to be me."
By any measure, he succeeds in that endeavor. Just as Yeezus, the album, ignored commercial considerations by valuing noise over rhythm or melody, the Yeezus tour largely put aside crowd pleasing conventions in order to pursue its auteur's peculiar vision. Love him or hate him, Kanye is relentlessly committed to being true to Kanye.

Opening up with a barrage of confrontational Yeezus assaults - "On Sight," "New Slaves," "Send It Up" - West came out swinging in the first date of the tour since several shows were canceled or postponed after the stage set was damaged in a truck accident.
Dan DeLuca, Inquirer Music Critic
After several show postponements and cancellations due to equipment being damaged in a truck accident, Kanye West got his 'Yeezus' tour up and running again at the Wells Fargo Center on Saturday night.
In a boldly unorthodox 2 hour 20 minute show that felt much longer, the rapping provocateur donned a series of masks, brought along his own mountain to the South Philadelphia arena and schooled the audience on the Willie Lynch Theory during his song "Runaway," at one point explaining how Kanye has to be Kanye thusly: "They beat that slave until he behave. But I don't want to behave. I just want to be me." He added that "If you're a fan of Kanye West, you're a fan of yourself." And oh yeah, Yeezus also said hello to an actor dressed as Jesus, who he addressed as "White Jesus."
Kendrick Lamar opened. West's set list is below. A full review will be up online on Sunday.
Dan DeLuca, Inquirer Music Critic
Rolling Stone has reported that Lou Reed, the profoundly influential rock songwriter who was a founder of the Velvet Underground in the 1960s and went on to prolific solo career, has died. He was 71.
Earlier this year, Reed underwent what was characterized as a life saving liver transplant. In June, he wrote on his web site, "I am a triumph of modern medicine, physics and chemistry...I look forward to being on stage performing, and writing more songs to connect with your hearts and spirits and the universe well into the future." But on Sunday, his literary agent Andrew Wylie confirmed that Reed died Sunday morning on Long Island of an ailment related to the transplant.
Reed had his greatest commercial success as a solo artist, and his best known song was "Walk On The Wild Side" the enduring 1972 hit produced by David Bowie that chronicled the exploits of assorted hustlers and denizens of the night at the New York club Max's Kansas City, and whose reference to oral sex went unnoticed by Top 40 radio censors a the time.
Dan DeLuca, Inquirer Music Critic
The title of Harry Dean Stanton: Partly Fiction, Sophie Huber's documentary which has its second Philadelphia Film Festival screening at noon on Sunday at the Ritz at the Bourse, is drawn from a song called "He's a Pilgrim."
Kris Kristofferson, who sings it in the movie, wrote it partly about Stanton. "He's a pilgrim and a preacher, and a problem when he's stoned," the song goes. "He's a walking contradiction, partly truth and partly fiction / Taking every wrong direction on his lonely way back home."
Huber's movie has plenty of music in it, with the now 87 year old charactor actor, whose long list of credits includes Paris, Texas, Alien, Repo Man, Wild at Heart, Cool Hand Luke, The Straight Story and Pat Garrett & Billy the Kid, singing several Mexican folk and blue mood country songs, plus "Danny Boy," as he sits in his Los Angeles living room.
Dan DeLuca, Inquirer Music Critic
The closely guarded new Arcade Fire album, Reflektor, which comes out Tuesday, is streaming for free on YouTube.
The Canadian band's follow-up to 2010's Grammy winning The Suburbs, produced by James Murphy and Marcus Dravs, plays in entirety in the lyric video below, over footage from the 1959 movie Black Orpheus.
Previously: Another 'American Beauty,' from Dogfish Head Follow In The Mix on Twitter
Dan DeLuca, Inquirer Music Critic
Dogfish Head, the justly esteemed craft brewers out of Milton, Delaware, have made music their business many times, from the Miles Davis-honoring fusion stout B*tches Brew, the annual Analog A-Go Go music fest and the Jon Langford artwork that adorns such specialty brews as Burton Baton and Raison D'Extra.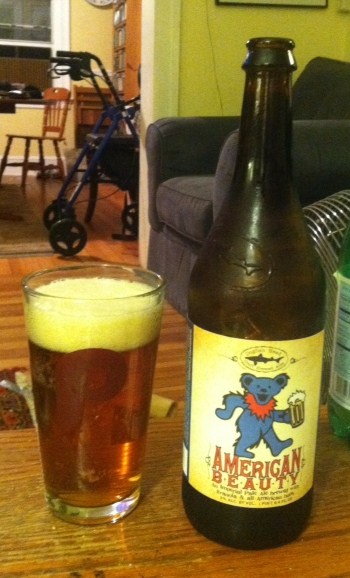 The latest synergistic endeavor to come out of the hop head of Dogfish top man Sam Calagione is American Beauty, an Imperial Pale Ale that shares a name with the 1970 album by the Grateful Dead. That's the LP with "Friend Of The Devil," "Truckin'," "Sugar Magnolia" and "Box of Rain." It's as good of a record as the Dead ever made, and along with Workingman's Dead, which contains "Casey Jones" and "Uncle John's Band," its hippie hillbilly music brew served up the radio songs that were most identified with the band for decades to come.