Dan DeLuca, Inquirer Music Critic
Philadelphia alt-metal band Baroness distinguished themselves last year with the breakthrough Yellow & Green, the band's most broad ambitous and best album to date. The U.S. tour meant to get underway last fall didn't, due to a near fatal bus accident last August outside Bath, England.
Read all about the band, and that near tragic day, in my interview with them from Thursday's Inquirer. That's here. Check out the quartet playing "The Line Between" in the video shot by David Swanson in the quartet's North Wales rehearsal space this week.
Dan DeLuca, Inquirer Music Critic
This year's Non-Comm radio convention wrapped up on Friday night, with standout performances from Laura Mvula, The Lone Bellow, Free Energy and The Relatives, the re-united gospel quintet from Dallas, Texas.
First up was Mvula, the seriously talented British singer-songwriter with an arresting stage presence and distinctly dignified vocal delivery. On stage and on her just-released debut album, Sing to the Moon, Mvula, who's from Birmingham, plays piano and proffers her own brand of chamber-soul. On Friday, her band featured a harp, cello and electric violin, with surprising arrangements putting handclaps and multi-part harmony to use, while puling from gospel and funk. She bears watching.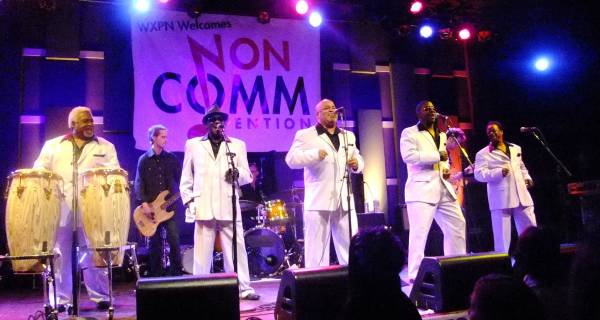 The Relatives closed out the confab, dressed in matching white suits and sporting (not too) choreographed stage moves. Formed by brothers Gean and Tommie West (second from left and far right) in 1970, the band broke up ten years later before recently reforming and recording their new album The Electric Word with Jim Eno of Spoon producing. The unique niche is psychedlia and funk-flavored gospel. While praising the Lord - "Make time for The Man / Try to live right if you can," they sang on Friday, while backed by a band of young white musicians - they came on like "Psychedlic Shack" era late period Temptations.
Dan DeLuca, Inquirer Music Critic
I had a busy night on Thursday.
Dan DeLuca, Inquirer Music Critic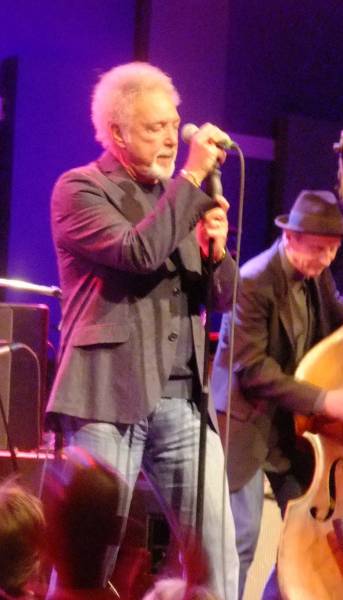 As good as Tom Jones sounded musically - and the blues, gospel and R & B living lounge lizard's voice is in great shape - at the World Cafe Live on Thursday during the second day of the 2013 Non-Commvention, the 72 year old Welshman's stage patter was even better.
Do you know who Paul McCartney wrote "The Long and Winding Road" for? Tom Jones, that's who. That's according to Jones, who was playing the Triple A / Adult Alternative radio confab a day before performing for paying customers at the TLA on South Street tonight.
Back in 1970, Macca responded to Jones' repeated entreaties to write him a song by serving up "TLAWR," but his handlers advised him not to record it becasue he had a different hot hit single at the time. instead, The Beatles put it on Let It Be, and Jones finally got around to covering the Liverpudlian's "(I Want To) Come Home," on his rock solid new Ethans Johns produced Spirit In The Room.
Jones opened with a robust take Leonard Cohen's "Tower Of Song" and his set drew exclusively from Spirit and his 2010's Praise & Blame, which gave him reason to cover Richard Tompson and Blind Willie Johnson and talk about the late nights he and Elvis Presley spent in Vegas singing gospel songs in their hotel suite. ("Yeah, I'm sure that's what they were doing," one wag at the WCL quipped.)
Dan DeLuca, Inquirer Music Critic
First the Susquehanna Bank Center, then Late Night with Jimmy Fallon and finally the World Cafe Live: French rockers Phoenix have been bussing up and down the New Jersey Turnpike this week in support of their new album Bankrupt!
If it was Wednesday, Thomas Mars and crew must have been at the WCL for WXPN's Non-Commvention confab of radio muckety mucks. Sandwiched between an acoustic Kurt Vile upstairs that didn't work so well due to conversational cacophony and a closing set by rumbling Link Wray-style Portland retro rockers Sallie Ford & the Sound Outside, Phoenix was the stellar attraction on an action packed evening, that also included sturm and drang folkie John Murry, bluegrass celebs Steve Martin & Edie Brickell with the Steep Canyon Rangers and pleasantly poppy 1980s funksters The Tom Tom Club.
Dan DeLuca, Inquirer Music Critic
The annual radio confab known as Non-Comm kicks off tonight at the World Cafe Live in West Philadelphia, with Steve Martin & Edie Brickell, Kurt Vile and Phoenix among the marquee names slated to take the stage.
Dan DeLuca, Inquirer Music Critic
Yesterday, Canadian astronaut Chris Hadfield tweeted a video of himself singing David Bowie's "Space Oddity" as he and his guitar floated around the International Space Station.
Dan DeLuca, Inquirer Music Critic
"We made this album because we don't like you," Adrian Younge told me the other day.
He was joking, I think. But let me explain: The album in question is Adrian Younge Presents Twelve Reasons To Die starring Ghostface Killah, the hip-hopera that tells the story of Tony Starks, the fictional Mafia hit man alter ego of the Wu Tang Clan rapper, who goes to war with a crime family known as the 12 DeLucas.
The DeLucas think they have done Starks in when they dump his body in a vat of boiling oil in an Italian record plant, but when the 12 records made from that vinyl are played ... well, let's just say that's when they need to beware of the stare of the Ghostface Killah.
Dan DeLuca, Inquirer Music Critic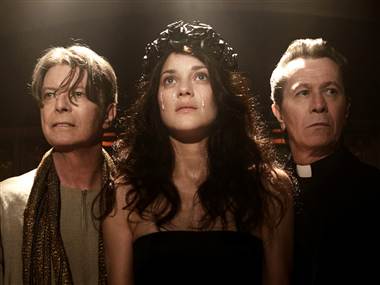 So far, David Bowie has made good on his promise to not tour in support of The Next Day, his potent comeback album (his first in 10 years) which came out in March.
The Thin White Duke is doing a good job, however, of keeping himself in the news in the absence of any live dates. After featuring actress Tilda Swinton in the clip for "The Stars (Are Out Tonight)," he ups the ante with the video for the album's title track, which features British actor Gary Oldman, who plays a corrupt priest, and Oscar winning French thespian Marion Cotillard, who depicts a dancing girl afflicted with stigmata.
Bowie himself appears as a Christlike rock singer in a decadent lounge full of sinning clerics, whom Oldman lashes out at after Cotillard begins spewing blood from her wrists. Like "The Stars," the at times NSFW video was directed by Floria Sigismondi.
Dan DeLuca, Inquirer Music Critic
Country rock crooners The Mavericks and British guitar god Richard Thompson (with his Electric Trio) will headline the Philadelphia Folk Festival when it's held at the Old Pool Farm in Upper Salford Township for the 52d time from August 16 to 18.

This year's bill also includes Texas swing band Asleep at the Wheel (fronted by Montgomery County native Ray Benson), modern jug band Carolina Chocolate Drops, ukulele wiz Jake Shimabukuro, David Uosikkinen's In The Pocket: The Essential Songs of Philadelphia, Camden county vintage rocker Ben Vaughn, bluesman Otis Taylor and gospel knockouts Como Mamas.