Stevens headed to Kings? Halak deal a stunner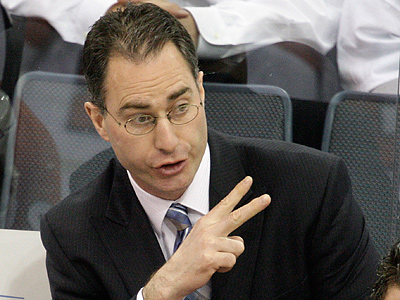 The Los Angeles Kings could be close to adding former Flyers coach John Stevens as an assistant. The Kings, also known as Flyers West, have been granted permission to talk with Stevens, the Los Angeles Times reported. The Kings already have three of their leaders who previously worked for the Flyers: Head coach Terry Murray, general manager Dean Lombardi and assistant general manager Ron Hextall. The connections have raised speculation about the Flyers acquiring one of the Kings' goalies, Jonathan Quick or Jonathan Bernier. Jeff Carter could be used as trade bait. Speaking of Los Angeles, Flyers' executive will head there for the draft next weekend. The first round will be held Jun 25, with rounds 2-7 the next day. The Flyers don't pick until the third round _ 89th overall. They also have selections in the fourth, fifth, sixth and seventh rounds. If the Flyers had won the Stanley Cup, their third-round pick would have gone to Anaheim as part of the compensation for Chris Pronger. The Flyers lost to Chicago in the Finals, four games to two. The NHL Network announced it will re-air all six games of the Finals in their entirety, along with the Blackhawks' parade on a day-long Saturday with Stanley. The telecast beings at 9 a.m. Saturday and comprises more than 14-hours of coverage. * * * * * * * * * * * *
Stevens headed to Kings? Halak deal a stunner

The Los Angeles Kings could be close to adding former Flyers coach John Stevens as an assistant.
The Kings, also known as Flyers West, have been granted permission to talk with Stevens, the Los Angeles Times reported.
The Kings already have three of their leaders who previously worked for the Flyers: Head coach Terry Murray, general manager Dean Lombardi and assistant general manager Ron Hextall.
The connections have raised speculation about the Flyers acquiring one of the Kings' goalies, Jonathan Quick or Jonathan Bernier. Jeff Carter could be used as trade bait.
Speaking of Los Angeles, Flyers' executive will head there for the draft next weekend. The first round will be held Jun 25, with rounds 2-7 the next day.
The Flyers don't pick until the third round _ 89th overall. They also have selections in the fourth, fifth, sixth and seventh rounds.
If the Flyers had won the Stanley Cup, their third-round pick would have gone to Anaheim as part of the compensation for Chris Pronger.
The Flyers lost to Chicago in the Finals, four games to two.
The NHL Network announced it will re-air all six games of the Finals in their entirety, along with the Blackhawks' parade on a day-long Saturday with Stanley. The telecast beings at 9 a.m. Saturday and comprises more than 14-hours of coverage.
* * * * * * * * * * * *
It sure seems Montreal could have gotten a lot more from many teams _ including the Flyers _ than it received from St. Louis in Thursday's stunning deal for goalie Jaroslav Halak.
The Canadiens recieved just two prospects (Lars Eller and Ian Schultz) for the 25-year-old playoff hero. Montreal was apparently worried it would have to pay too much for Halak in arbitration. Still, it was shocking it dealt Halak instead of Carey Price....and didn't get more in return.
Any why did the Habs pull the trigger so quickly without shopping Halak at next week's NHL draft?