Jaromir Jagr (groin injury) will not play Monday against visiting Carolina. There is a good chance he will return to the lineup Wednesday against the host Islanders.
Jagr told reporters Monday he used acupuncture to take away the groin pain.
Andreas Nodl, who has missed the last six games - five with a knee injury - will replace Jody Shelley in Monday's lineup.
***
The Flyers unveiled their Winter Classic jerseys today (see photo). Your impressions?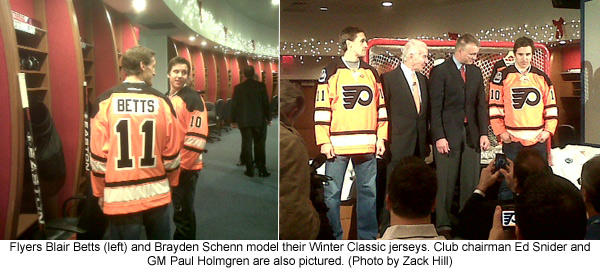 * * *
With the news Sunday that Pittsburgh's Sidney Crosby will return to action Monday against the Islanders, it means the Flyers get to face him six times.
Assuming, of course, he stays healthy.
By a quirk in the schedule, the Flyers have not faced the Penguins yet this season.
Crosby is generally regarded as the NHL's best player. It will be ineresting to see if he is a shell of his former self, or if he returns to form after recovering from post-concussion syndrome.
The Flyers will next face Pittsburgh on Dec. 8 at the Wells Fargo Center. They play in Pittsburgh _ in Jagr's "homecoming" _ on Dec. 29.
With Crosby back, does that make Claude Giroux the NHL's second best player? Third?
Your thoughts...
* * *
Follow Sam Carchidi on Twitter @BroadStBull.
---

Get exclusive videos and analysis in our new app for iPhone and Android. Download it here.