Boosh, Shelley in lineup vs. surging Canucks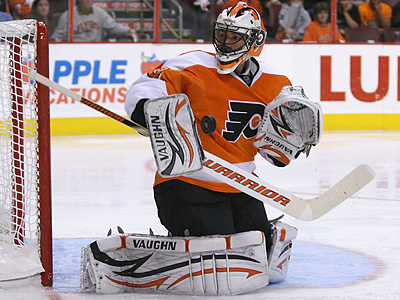 VANCOUVER, British Columbia _ In somewhat of a surprise, Brian Boucher will start Tuesday night in Vancouver. Sergei Bobrovsky is 7-1-1 with a 2.00 goals-against average in nine road starts this season. Boucher is 2-7-1 with a 3.70 goals-against average in his career against the Canucks. But Boucher has been the hotter goalie lately. In his last seven starts, he is 6-0-1 with a 1.66 GAA and .943 save percentage. His 2.11 GAA is fourth in the NHL. * * * * * Winger Jody Shelley, the team's good-natured enforcer, will return to the lineup Tuesday as the Flyers try to increase their dominance in Vancouver. They are 10-0-4 here since 1989. Dan Carcillo will be a healthy scratch. After being suspended for two games, Shelley was a healthy scratch in the next two contests. "We're deep and everybody wants to play. And when you do something that gets you out of the lineup _ whether it's a suspension or you're not playing well, then someone else is chomping at the bit to get in," Shelley said after Tuesday's morning skate at the Rogers Arena. He said he understood why he sat out the two extra games. "The team was playing well, and that's how it goes," he said. "It's a tough lineup to break up when you're winning every game and guys are playing well." Shelley was asked if Tuesday's game against the surging Canucks was a measuring stick for the Flyers. "The measuring stick for us is to make sure we play the same way every night," he said. "That's the most intimidating thing you can be as a team _ consistently hard to play against. Everyone talks about how we're (playing) the West and how the West is different. It doesn't matter. We always talk about our identity, and if we play to our identity and roll in here and play our way, that's what we have to do to build and grow. "It's not a measuring stick because of our opponent. It's more, 'What do you have after a loss, after a break.' " The Flyers, who play nine of the next 10 games on the road, have a bad taste from their last game, a 5-0 loss to visiting Florida on Dec. 20. "If you look at the big scheme of things, it's probably not a terrible thing, either," he said of the embarrassing defeat. "It's easy to get way too comfortable….when you have all success and don't have that. I think it works out in the long run to be a good thing. Or it CAN work out to be a good thing." * * * * *
Boosh, Shelley in lineup vs. surging Canucks

VANCOUVER, British Columbia _ In somewhat of a surprise, Brian Boucher will start Tuesday night in Vancouver.
Sergei Bobrovsky is 7-1-1 with a 2.00 goals-against average in nine road starts this season. Boucher is 2-7-1 with a 3.70 goals-against average in his career against the Canucks.
But Boucher has been the hotter goalie lately. In his last seven starts, he is 6-0-1 with a 1.66 GAA and .943 save percentage. His 2.11 GAA is fourth in the NHL.
* * * * *
Winger Jody Shelley, the team's good-natured enforcer, will return to the lineup Tuesday as the Flyers try to increase their dominance in Vancouver. They are 10-0-4 here since 1989.
Dan Carcillo will be a healthy scratch.
After being suspended for two games, Shelley was a healthy scratch in the next two contests.
"We're deep and everybody wants to play. And when you do something that gets you out of the lineup _ whether it's a suspension or you're not playing well, then someone else is chomping at the bit to get in," Shelley said after Tuesday's morning skate at the Rogers Arena.
He said he understood why he sat out the two extra games.
"The team was playing well, and that's how it goes," he said. "It's a tough lineup to break up when you're winning every game and guys are playing well."
Shelley was asked if Tuesday's game against the surging Canucks was a measuring stick for the Flyers.
"The measuring stick for us is to make sure we play the same way every night," he said. "That's the most intimidating thing you can be as a team _ consistently hard to play against. Everyone talks about how we're (playing) the West and how the West is different. It doesn't matter. We always talk about our identity, and if we play to our identity and roll in here and play our way, that's what we have to do to build and grow.
"It's not a measuring stick because of our opponent. It's more, 'What do you have after a loss, after a break.' "
The Flyers, who play nine of the next 10 games on the road, have a bad taste from their last game, a 5-0 loss to visiting Florida on Dec. 20.
"If you look at the big scheme of things, it's probably not a terrible thing, either," he said of the embarrassing defeat. "It's easy to get way too comfortable….when you have all success and don't have that. I think it works out in the long run to be a good thing. Or it CAN work out to be a good thing."
* * * * *
Former Flyer Ryan Parent finished a minor-league conditioning stint and was recalled by the Canucks. He is expected to be a healthy scratch on Tuesday.
* * * * *
For constant Flyers updates, follow me on Twitter at www.twitter.com/BroadStBull.
* * * * *
Get exclusive videos and analysis in our new app for iPhone and Android. Download it here.