Archive: August, 2012
Sam Carchidi, Inquirer Staff Writer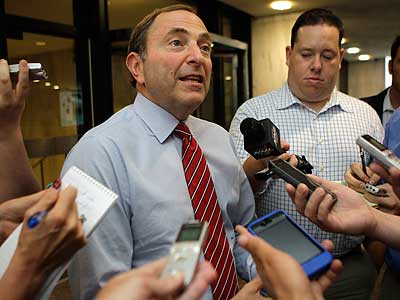 Gary Bettman, the NHL commissioner, says fans will return to games even if the league has another lockout.
Based on history, he's probably right.
But Bettman, whose league lowered some of its demands in Tuesday's negotiating session - gradually moving to a 50/50 share of the revenue, and not rolling back existing players' contracts - is being naive if he thinks a lockout won't hurt his sport.
Sam Carchidi, Inquirer Staff Writer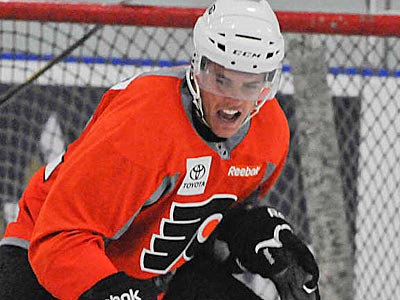 Center Nick Cousins, regarded as the Flyers' top prospect, was charged with sexual assault and arrested, the Sault Ste. Marie, Ontario, police said on Sunday.
"We are aware of the unfortunate situation involving Nick Cousins. Due to lack of information available to us, we will not comment at this time," Flyers general manager Paul Holmgren said in a statement.
Cousins, 19, and two of his Sault Ste. Marie Soo Greyhounds teammates _ Mark Petaccio, 18, and Andrew Fritsch, 19 _ were charged with sexual assault against a female known to them, according to a release from the Salt Ste. Marie police.
Sam Carchidi, Inquirer Staff Writer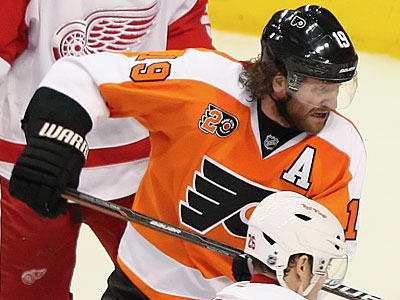 Flyers winger Scott Hartnell signed a six-year extension today, the club announced.
Hartnell, 30, is coming off a season in which he scored a career-high 37 goals.
Terms were not released, but the 11-year veteran reportedly will have a cap hit of $4.75 million per season.
Sam Carchidi, Inquirer Staff Writer
As the countdown begins toward Sept. 15 _ the day the Collective Bargaining Agreement expires and the NHL could be headed toward another asinine lockout _ here's a Flyers quiz to replace the rhetoric being spewed by Gary Bettman, Donald Fehr and a cast too long to name.
The first person who responds with all 10 correct answers will receive a copy of the book "Bill Campbell: The Voice of Philadelphia Sports," which includes a DVD of Bill's greatest broadcasts, including Wilt Chamberlain's 100-point game and the Eagles' last NFL championship win.
If you respond on this page or via Twitter, please include your e-mail address.
Sam Carchidi, Inquirer Staff Writer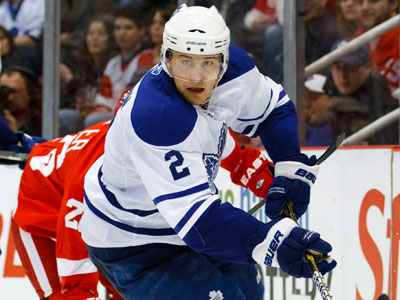 While on vacation, here are a handful of observations, most of which are Flyers-related:
The Flyers had 103 points last season, one in which their lineup included Jaromir Jagr, Matt Carle, James van Riemsdyk and Andrej Meszaros (for a while). If the season started today, they have the look of a team that would collect, say, 93 points.
Barring the signing of Shane Doan or a trade for Bobby Ryan or Keith Yandle, the Flyers will need continued improvement from their talented sophomores if they are going to be considered a serious contender.
The good news: The Flyers will have LOTS of cap room when Meszaros and/or Chris Pronger go on LTIR, so they will be able to make a major move during the season.
More good news: The regular season means little. Just get hot at the right time (see the Flyers in 2010 and the Kings last season) and you can go far in the playoffs. Yes, the Kings had Jonathan Quick, but I have a hunch Ilya Bryzgalov is going to have a bounce-back season.
If I'm setting the odds, the Rangers are the Stanley Cup favorites.
Off hockey for a second, The Newsroom has charged past Breaking Bad as TV's best show.
Saw "The Watch" last week. It may not be the worst movie ever made, but it is a strong contender. It almost makes "Jack & Jill" look good. Almost.
I thought the Flyers should have gotten more in the JVR trade, but with Meszaros expected to miss a good part of the season and the Flyers failing to sign either Ryan Suter or Shea Weber, Luke Schenn is suddenly more valuable than van Riemsdyk would have been.
I'm in the minority, but I think the NHL season will start on time. Quite simply, there's too much to be lost by a lockout.
Unlike last year, I'd be shocked if a rookie earned a spot on the Flyers during training camp. Defenseman Brandon Manning will try to prove that theory wrong.
Follow Sam Carchidi on Twitter @BroadStBull.
Sam Carchidi, Inquirer Staff Writer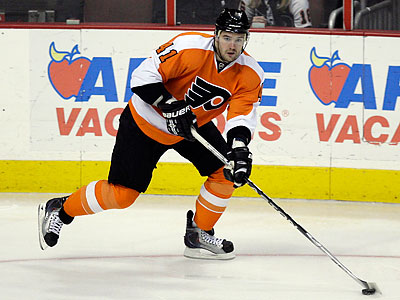 The Flyers' summer of discontent has gotten worse.
The team announced defenseman Andrej Meszaros had surgery Tuesday to repair a torn right Achilles tendon and would be sidelined indefinitely. The surgery was performed by Steve Raikin at Jefferson Hospital.
Last month, the Flyers signed Shea Weber to an offer sheet and envisioned having the league's best defense.