Archive: July, 2012
Sam Carchidi, Inquirer Staff Writer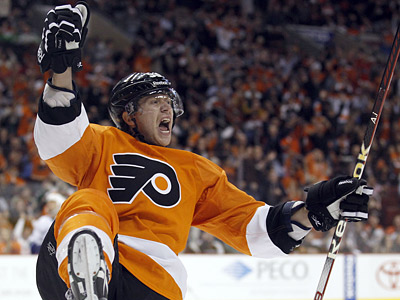 After a summer of discontent, there was finally some positive news for the Flyers on Thursday as they signed RW Jake Voracek to a multi-year pact.
That means the top line is probably set. Voracek is expected to be on a unit with Claude Giroux and Scott Hartnell.
In that set up, the 6-foot-2, 214-pound Voracek would replace his idol, Jaromir Jagr, on the first line. Jagr signed with Dallas earlier this month.
Sam Carchidi, Inquirer Staff Writer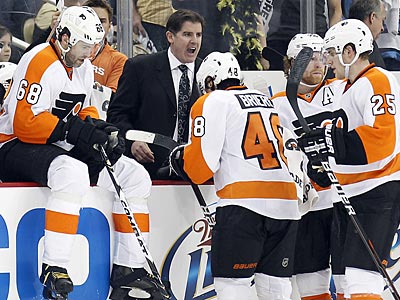 GM Paul Holmgren told The Inquirer that Flyers' coach Peter Laviolette will be given an extension and that he expects the deal to be completed within a week - and perhaps by the end of the weekend.
Laviolette has directed the Flyers to back-to-back 47-win seasons. You have to go back to the mid 1980s to find a time when the Flyers had more victories in consecutive seasons.
Holmgren said after the season that Laviolette would get an extension, but the general manager has been busy with free-agent matters. Now the sides are close to hammering out a deal.
Sam Carchidi, Inquirer Staff Writer
In a conference call with reporters on Wednesday, Flyers GM Paul Holmgren said he doesn't plan to pursue another RFA from an opponent this summer, added he was close to resigning Jakub Voracek, and claimed his pursuit of RFA Shea Weber was only because of his stature _ and not because he is unhappy with his defense.
"We have to move forward," he said.
Holmgren hinted that the Bobby Ryan trade talks are not dead.
Sam Carchidi, Inquirer Staff Writer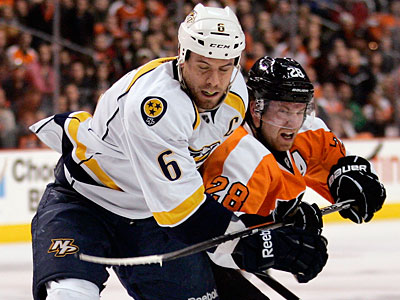 Two sources with knowledge of the situation confirmed that the Flyers and Nashville Predators have NOT had any trade talks since star defenseman Shea Weber signed a 14-year, $110 million offer sheet last Wednesday.
That would seem to suggest that Nashville plans to match the Flyers' offer. Either that, or the Predators are delaying trade talks because they are trying to get the Flyers to call with a sweet proposal.
This is high-stakes poker, folks.
Sam Carchidi, Inquirer Staff Writer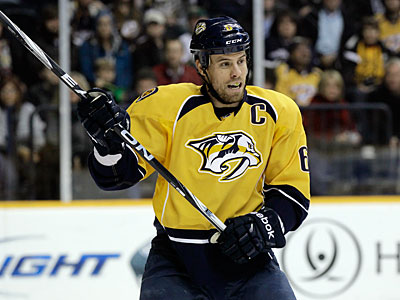 Shea it aint so.
The Flyers have struck out with another marquee free agent.
Nashville announced it had matched the Flyers' 14-year, 110-million offer sheet to star defenseman Shea Weber, who thus is retained by the Predators.
Sam Carchidi, Inquirer Staff Writer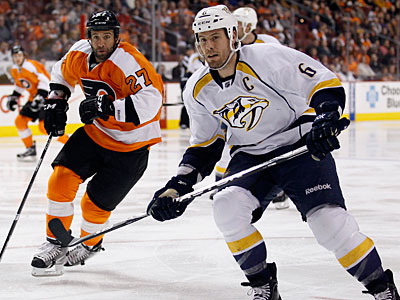 As this is being written, there are a little less than 48 hours until Nashville has to make a decision on whether to match the Flyers' bold,14-year, $110 million offer to star defenseman Shea Weber.
There are mixed signals being sent.
The fact that Nashville has not talked to Weber since he signed the offer sheet Wednesday leads one to believe the Predators are not going to sign the restricted free agent.
Sam Carchidi, Inquirer Staff Writer
The Flyers hope they have found Chris Pronger's successor.
His name is Shea Weber, a 6-foot-4, 232-pounder who is arguably the game's best all-around defenseman.
They signed a 14-year offer sheet for a reported $110 million late Wednesday night for Weber, a restricted free agent with Nashville. Weber, owner of one of the game's hardest shots, had 19 goals and anchored Nashville's stellar defense last season.
Sam Carchidi, Inquirer Staff Writer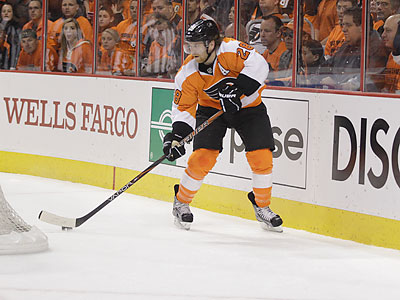 In baseball, many top-flight free-agents have selected teams because they thought their ballpark was tailored to their strengths.
For the Flyers' sake, it's a shame that same thinking isn't applied by the premier NHL free-agents.