Archive: July, 2011
Sam Carchidi, Inquirer Staff Writer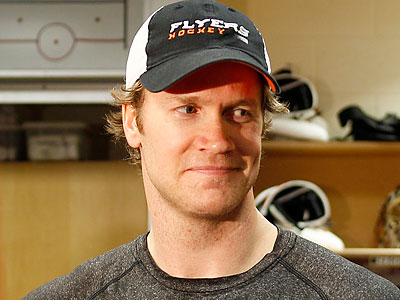 All the moves the Flyers have made during a dizzying off-season probably won't mean much if future Hall-of-Famer Chris Pronger doesn't return to form.
And it's going to take a while for that to happen.
Pronger, in an interview Wednesday on TSN radio, said he didn't know if he would be ready for the start of training camp on Sept. 16. Pronger is recovering from back surgery, and he is limited to walking on a treadmill and light bike riding.
Sam Carchidi, Inquirer Staff Writer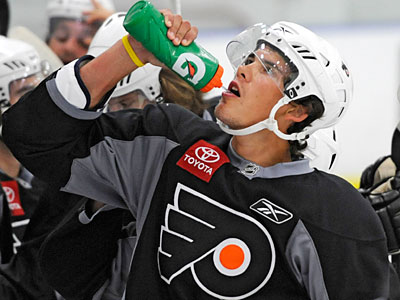 In all likelihood, towering defenseman Oliver Lauridsen will start the season with the AHL Adirondack Phantoms.
But the 6-foot-6, 236-pound Denmark native with the l-o-o-o-n-g reach raised some eyebrows during the opening of the Flyers' prospect camp Wednesday in Voorhees.
He was one of the most impressive players on the ice _ outshining highly touted Brayden Schenn in a one-on-one drill _ and could be in the mix as the Flyers try to figure out who will be their sixth defenseman during training camp in September.
Sam Carchidi, Inquirer Staff Writer

The Flyers' prospect camp was held before a huge crowd at the Skate Zone in Voorhees on Wednesday.
Among the "name" Flyers prospects who were there: Brayden Schenn, Sean Couturier, Matt Read, Erik Gustaffson, Mike Testwuide, Ben Holmstrom, Zac Rinaldo, Tom Sestito, Marc-Andre Bourdon, Kevin Marshall and Eric Wellwood.
Oliver Lauridsen (remember the name), a 6-6, 220-pound defenseman from Denmark, was impressive in a one-on-one drill in which he defended the highly touted Schenn.
Sam Carchidi, Inquirer Staff Writer
(UPDATED at 11 p.m. on July 5)
Could Steven Stamkos become a member of the Flyers?
Well, it's still HIGHLY doubtful, but an NHL source told The Inquirer that the Flyers will put a trade offer together for the Tampa Bay superstar if the Lightning feel they cannot sign him.
Sam Carchidi, Inquirer Staff Writer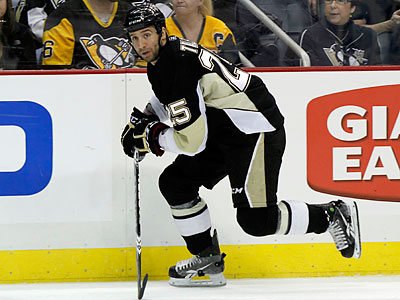 The Flyers will apparently have to restructure the five-year, $9 million contract they gave to free-agent forward Max Talbot on Friday.
According to TSN, the Flyers violated the Collective Bargaining Agreement by reducing Talbot's salary by more than 50 percent between the third and fourth years -- from $2.25 million to $1 million.
There is a slight chance the Flyers will be fined for the oversight.
Sam Carchidi, Inquirer Staff Writer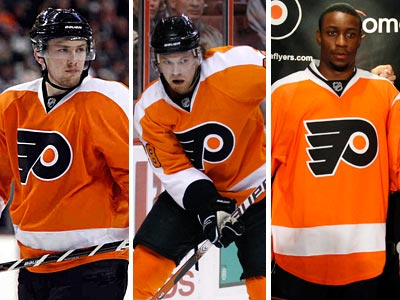 The Flyers failed to sign free-agent winger Simon Gagne, who opted for a two-year deal with Los Angeles on Saturday that will pay him a total of $7 million ($3.5M per season).
The Flyers have about $3.3 million in cap space _ $4.4 million after Ian Laperriere goes on the LTIR list _ and still need to sign RFA winger Wayne Simmonds.
A deal with Simmonds is expected to be finalized in a few days.
Sam Carchidi, Inquirer Staff Writer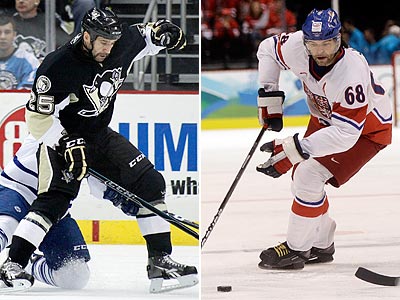 Didn't the Flyers say they wanted to get younger?
On Friday, they signed 39-year-old winger Jaromir Jagr, the five-time NHL scoring champion who played the last three seasons in Russia.
The Penguins and Red Wings dropped out of the bidding earlier in the day.
Poll: Do you like the Jagr signing?

(10115 votes)