Archive: May, 2012
Sam Carchidi, Inquirer Staff Writer
Flyers general manager Paul Holmgren strongly refuted a Facebook rumor that defenseman Chris Pronger was retiring and moving to St. Louis with his family.
Holmgren said on Thursday night that Pronger, who missed most of the season with post-concussion syndrome, is hoping to get better and return to action next season. He is still experiencing headaches, the GM said.
"There's no truth to him retiring," Holmgren said.
Sam Carchidi, Inquirer Staff Writer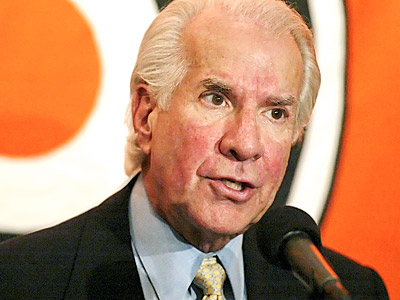 For Ed Snider, founder of the Flyers, this offseason has a different feel than last year.
Even though the Flyers were eliminated in the second round for the second straight season, Snider is much more optimistic about the team's direction.
"To me, every year we want to win the Cup, so if we don't win the Cup, it's an unsuccessful year," said Snider in a phone interview Tuesday from his mansion in Santa Barbara, Calif., just prior to playing in a tennis match. "Having said that, I'm really, really happy with an awful lot that happened during the course of season and even in the playoffs."
Sam Carchidi, Inquirer Staff Writer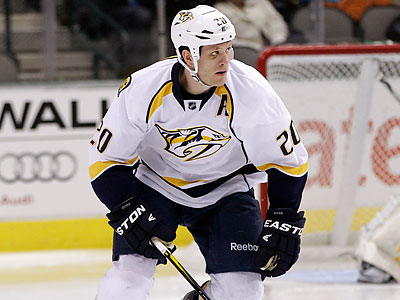 Nashville defenseman Ryan Suter and New Jersey winger Zach Parise - expected to be the top unrestricted free agents on July 1 - are at the top of a lot of teams' wish lists.
The Flyers are believed to be among those teams.
That said, the team's defense, if healthy, isn't in bad shape - even if Chris Pronger cannot return from concussion symptoms.
Sam Carchidi, Inquirer Staff Writer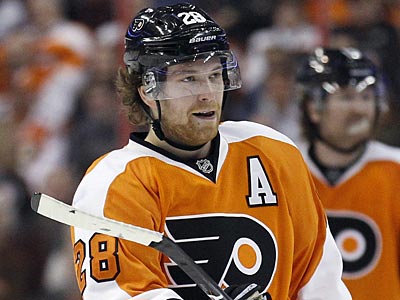 The Flyers announced Saturday that Claude Giroux (wrist), Wayne Simmonds (finger) and Matt Carle (stomach muscle) underwent surgery recently.
The team also said James van Riemsdyk (hip) and Kimmo Timonen (back) will have surgeries during the upcoming week.
Timonen's recovery is listed as the longest _ eight to 10 weeks.
Sam Carchidi, Inquirer Staff Writer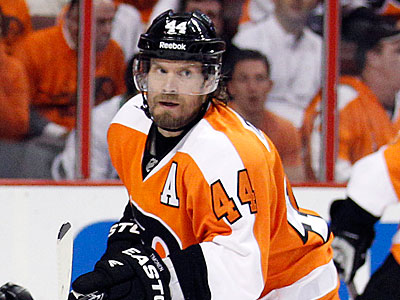 Several Flyers will undergo offseason surgery, the team will announce during the upcoming week.
Paul Holmgren, the Flyers' GM, said he would have a report a few days ago, but the list is apparently so lengthy that it had to be delayed while more players get examined to see if surgery is required.
One of the Flyers' biggest problems in the stunning five-game loss to New Jersey was that they had problems getting out of their defensive zone. Injuries to defenseman Kimmo Timonen and Nick Grossmann contributed; both had knee injuries, among other ailments, and both are expected to be on the lengthy surgery list.
Sam Carchidi, Inquirer Staff Writer
The Flyers cleared out their lockers in Voorhees on Thursday, and there were many newsy items that were learned.
Here are some of them:
** Jaromir Jagr was given several chances to say he wanted to return to the Flyers. He did not bite. It appears he will test the FA market.
Sam Carchidi, Inquirer Staff Writer
Flyers goalie Ilya Bryzgalov refused to talk to reporters during the team's postseason media day Thursday, but he candidly told a Russian newspaper he was fed up with the scrutiny he was under during his first year with the club.
"What I lived through this season I wouldn't wish to an enemy," he said to reporter Natalia Bragilevskaya of SovSport. ". . . I need to keep working. I understand the fans. They paid their money and want the show. But many forget that we are not robots, but living people. We have feelings, worries."
The comments were translated and posted on Puck Daddy at Yahoo.
Sam Carchidi, Inquirer Staff Writer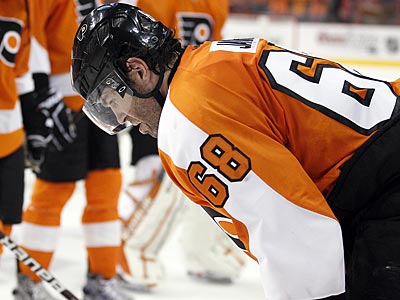 Now that their season is over, where do the Flyers go from here?
Well, one of the first things on general manager Paul Holmgren's agenda is trying to resign defenseman Matt Carle ($3.4 million cap hit this year) and right winger Jaromir Jagr ($3.3 million), a pair of potential unrestricted free agents. The Flyers would like to sign both players, a source said.
The Flyers have $61.2 million committed to next year. If Chris Pronger is on the long-term injured reserve list again next season, the Flyers will get $4.9 million of cap relief.