Archive: April, 2012
Sam Carchidi, Inquirer Staff Writer
How important is Tuesday's Game 2 between the Flyers and New Jersey Devils?
Well consider this: The Flyers are 18-0 in series when they win the first two games.
They are just 17-15 in series that start with one win apiece.
Sam Carchidi, Inquirer Staff Writer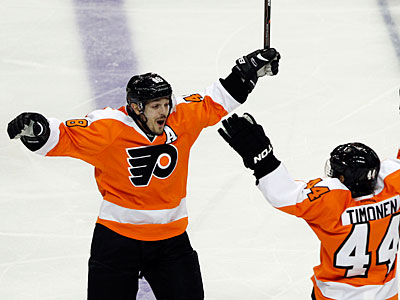 The numbers don't lie: Danny Briere has been "Mr. Postseason" in his career.
In 104 career playoff games, he has 106 points. He has 26 goals in his last 41 playoff games.
Oh, and he has seven goals in seven playoff games this season, including the overtime tally in the Flyers' 4-3 win over New Jersey on Sunday at the electric Wells Fargo Center.
Sam Carchidi, Inquirer Staff Writer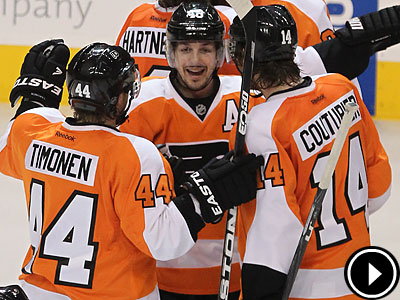 Danny Briere scored in overtime to lift the Flyers past the New Jersey Devils in overtime, 4-3, in Game 1 of their Eastern Conference semifinal series. The Inquirer's Sam Carchidi breaks down the game from the Wells Fargo Center.
Sam Carchidi, Inquirer Staff Writer
Is New Jersey's Marty Brodeur making his Final Tour?
Brodeur, arguably the best goalie in NHL history, will turn 40 during the Flyers-Devils series. He hasn't said this will be his last season, but he hasn't said it won't be, either.
Brodeur was the difference in the Devils' 3-2 double-overtime win over Florida in Game 7, and he is a player - make that a LEGEND - whom the Devills will rally around as the series takes shape.
Sam Carchidi, Inquirer Staff Writer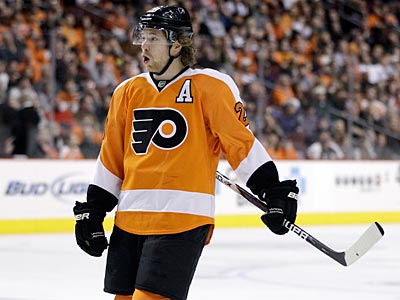 Another day, another Flyer bypassed in the voting for an NHL award.
Center Claude Giroux was the latest Flyer to be overlooked. He was not one of the three finalists for the Hart Trophy, given to the league's MVP.
After pretending he didn't know what the Hart Trophy represented, Giroux said. "At the end of the day that's not the trophy I want."
Sam Carchidi, Inquirer Staff Writer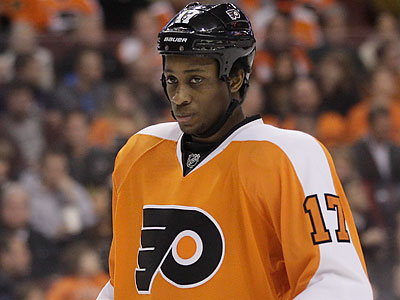 Flyers winger Wayne Simmonds was sickened by the dozens of racist and vulgar comments that Twitter users directed at his close friend, Washington's Joel Ward, after he scored an overtime goal to defeat host Boston, 2-1, in Game 7 of their first-round series Wednesday.
"It's the Internet. They can say whatever they want, and they don't have to show their faces," said Simmonds, who, like Ward, is one of 28 black players in the NHL. "It's disgusting. Things like that have happened to me before. It's not something you want to happen, but it's sad in this day and age that it continues to happen."
Simmonds, 23, and Ward, 31, both grew up in Scarborough, Ontario, but they didn't meet until about five years ago. They have trained together in the last two off-seasons.
Sam Carchidi, Inquirer Staff Writer
Good news in Flyerdom: Defenseman Nick Grossmann practiced in a regular (contact-permitted) jersey Thursday in Voorhees for the first time since he suffered an apparent concussion in Game 4 against Pittsburgh.
It appears Grossmann, the Flyers' most physical defenseman, will be ready for the start of the next series.
The Flyers will find out after Thursday's conference quarterfinals which team they play in the next round.
Sam Carchidi, Inquirer Staff Writer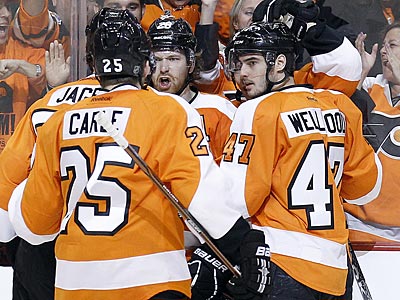 The Turnpike Series has been set.
The fifth-seeded Flyers finally learned their second-round opponent early Friday morning. It's sixth-seeded New Jersey, which scored a 3-2 double-overtime win at third-seeded Florida in Game 7.
The Flyers will have home-ice advantage, and they will host Game 1 on Sunday at 3 p.m.