Archive: March, 2013
Sam Carchidi, Inquirer Staff Writer
This just in: The Flyers have some fight in them, after all.
Depleted by injuries to their defense, they have still managed to get points in three straight games and have climbed to within two points of the eighth-place New York Rangers in the East.
They stunned the visiting Washington Capitals in overtime on Sunday, 5-4, by overcoming a two-goal deficit in the final 7:12 of regulation.
Sam Carchidi, Inquirer Staff Writer
With about 400 fans cheering loudly, the Flyers unveiled a statue of Bobby Clarke and Bernie Parent hoisting the Stanley Cup during a ceremony Saturday morning outside of Xfinity Live.
The seven-foot bronze statue commemorates the Flyers' championship teams in 1974 and 1975, and it sits outside the pub "Broad Street Bullies," the nickname of those teams.
Clarke, Parent and club officials spoke at the ceremony, which was attended by former Flyers Reggie Leach, Bill Barber, Joe Watson, Don Saleski, Orest Kindrachuk and Bob Kelly .
Sam Carchidi, Inquirer Staff Writer
Ed Snider, the Flyers' chairman, said GM Paul Holmgren's job is safe after a stirring ceremony unveiling a statue of Bobby Clarke and Bernie Parent at Xfinity Live on Saturday.
Asked about the status of coach Peter Laviolette, Snider said he and Holmgren would talk after the season.
Not exactly a ringing endorsement, but the feeling here is that Laviolette will return and the Flyers will want to judge him in a "normal" season, one that has a legitimate training camp.
Sam Carchidi, Inquirer Staff Writer
So far, so good.
Oliver Lauridsen made an impressive NHL debut on Saturday, helping the Flyers surprise the Boston Bruins, 3-1, and inch to within four points of eighth place in the East.
The 6-foot-6, 220-pound Lauridsen was part of a makeshift defense that was used because of injuries to Braydon Coburn, Nick Grossmann and Andrej Meszaros. Of that trio, only Grossmann is expected to return in the regular season.
Sam Carchidi, Inquirer Staff Writer
Flyers coach Peter Laviolette is not second-guessing himself because of injuries sustained last week by Danny Briere and Nick Grossmann.
In PRACTICE.
"They were pretty freak things," Laviolette said on Friday.
Sam Carchidi, Inquirer Staff Writer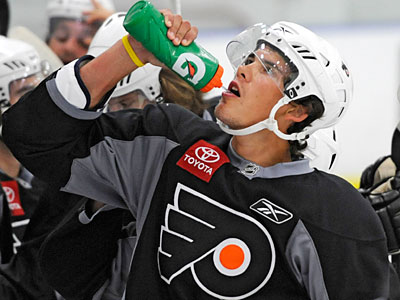 The Flyers are recalling defenseman Oliver Lauridsen, a 6-foot-6, 220-pound Denmark native to replace the injured Braydon Coburn.
Lauridsen, who just turned 24, has played almost two full seasons with the AHL Phantoms. A stay-at-home defenseman, he had six points in 59 games with Adirondack this season.
A seventh-round draft pick (196th overall) in 2009, Lauridsen is expected to make his NHL debut Saturday afternoon against visiting Boston. He will not be the tallest person on the ice. That distinction will belong to Boston's 6-9 Zdeno Chara.
Sam Carchidi, Inquirer Staff Writer
Braydon Coburn became the latest Flyers defenseman to go down with an injury.
Coburn suffered an unspecified second-period injury and did not return in the Flyers' 4-3 shootout loss to the visiting New York Islanders on Thursday.
In the last six days, defensemen Nick Grossmann, Andrej Meszaros and Coburn have been sidelined, leaving the blue line extremely thin.
Sam Carchidi, Inquirer Staff Writer
The Flyers recalled Erik Gustafsson from the minors while the Pittsburgh Penguins acquired Jarome Iginla.
Yeah, that sounds like a perfect way to describe the way this season has gone for the two bitter rivals.
The Flyers have lost seven of their last nine games, incluidng three in a row, and are 14th in the 15-team East. The Penguins have won 13 straight and are atop the conference.